CAN YOU HELP ME PICK THE PERFECT PRODUCT?
Of course! Feel free to call us at 800-777-4439 and we'll ask you what you're looking for and offer suggestions.
You may also use our Live Chat feature when our Pack Experts are available online, located in the lower right corner of our site: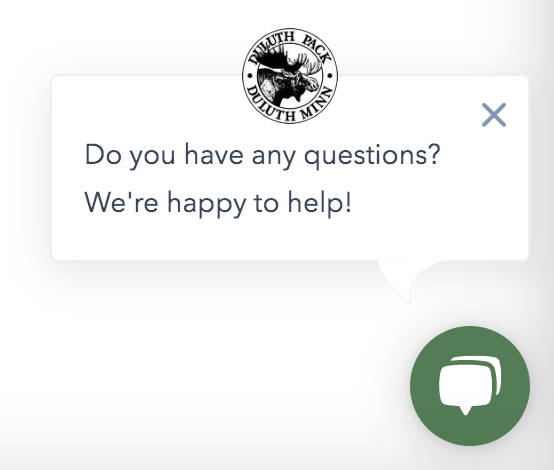 Or, email us at: customerservice@duluthpack.com
WHAT ARE YOUR RETAIL STORE HOURS?
Fantastic question! We would love for you to swing by our store. Check out our Retail Store Page for all the information you'll need. After visiting us, you'll understand why our retail store is consistently voted the #1 Outdoor Retail Store in the Twin Ports.
WHAT FORMS OF PAYMENTS DO YOU ACCEPT?
We accept Mastercard, VISA, American Express, and Discover credit cards. We also accept PayPal and Klarna. We do not accept personal checks, money orders or COD payments.
WHAT IS KLARNA?
Klarna gives you the best options to pay later. Buy what you want – when you want it, just select Klarna at checkout. Spread the cost of your purchase into 4 interest-free installments that are charged from your debit or credit card every 2 weeks. Want to learn more? Just visit Klarna or ask one of our Pack Experts!
HOW DO I USE A COUPON CODE?
That's awesome that you have a coupon code! Codes are simple to use, just enter the code during the checkout process, and you'll get a notification if it worked. Remember, most of the time, coupon codes can't be used on items that are on sale or preorder items. If you have a code that isn't working, we hope you understand there are dozens of codes residing on coupon sites that simply never existed. If you think there is an error and that your code is valid, feel free to call our customer service team at 800-777-4439 and we'll verify the authenticity of your code and can even help place your order.
IF I FORGOT TO ADD A COUPON CODE TO MY ORDER, WHAT CAN I DO?
Once you have submitted your order, our team is unable to process any changes to it. If you have a code you forgot to apply, call our customer service team at 800-777-4439 and we can cancel your order. At that point, you can place a new order online, or we can take your order over the phone.
I ORDERED THE WRONG PRODUCT! HOW CAN I CHANGE IT?
It's okay, we all make mistakes. Unfortunately, once you have submitted your order, our team is unable to process any changes to it. However, if you'd like to change, add, or remove an item from your order, please give our customer service team a call at 800-777-4439 and we can cancel your order. At that point, you may place a new order online, or we can place your order over the phone.
THE PRODUCT I WANT IS BACKORDERED. WHAT'S UP WITH THAT?
We offer over 300+ unique products, most of which are available in all 15 of our canvas colors. While we do our best to keep our most popular colors and styles in stock and ready to ship, some of our products are made to order and subject to a backorder period that can range from 2-3 weeks and up to 4-6 weeks during our busiest seasons. If you order a backordered item, our craftspeople immediately begin work on handcrafting it - literally - just for you. Once it's completed, we'll send it out the door. Please contact our Customer Support Team to learn more.
HOW DO I RETURN ITEMS?
Duluth Pack, of course, allows returns! We're sad your order didn't work out, but we'll try to make the return as painless as possible.
Return item(s) purchased on website:
Returns must be within 30 days of purchase for a refund. After 30 days, your order can still be returned in exchange for store credit.
Duluth Pack 2nds, clearance items, used merchandise, and consignment items are not eligible for returns or exchanges.
With that out of the way, here is what you need to do to get your return started:
Please navigate to our Returns Page. Enter your order number and email in the form and click the RETURN ITEMS button.

Select the item(s) you would like to return, and click NEXT at the bottom of the page.

Select a reason for your return and click NEXT.

Select how you would like your refund processed. We charge $8.99 for returns as that helps cover our shipping costs.

Finally, click CONFIRM.
At this point, we will review your return. If approved, you will automatically receive a shipping label in your email. Please print the label, add it to your box and drop the package off at your nearest shipping location.
Once we receive your return, we'll inspect it for damage and if all looks well, we will process your return minus the $8.99 fee. Please allow us 3-5 days for us to process your return.
Return item(s) purchased at Duluth Pack Retail Store:
Merchandise must be new and unused with all tags attached. Receipts are required for all returns/exchanges. Purchases made with credit or debit cards will only be issued if the cardholder is present. Cash purchases will be refunded with cash up to $100. Any cash order exceeding $100 will result in a business check from Duluth Pack. Checks will take 2-3 weeks to process. Items returned whose purchase price cannot be verified will be refunded with store credit at lowest sold price. Returns must be processed within 30 days of purchase.
Gather your eligible item(s) with their original tags and/or packaging and your receipt. Bring to our Retail Store at:



365 Canal Park Drive
Duluth, MN 55802



* If you must mail, please include contact information to process the return




 

​Find an associate and we'd be happy to assist you!




 

That's it! We hope you shop with us again!
DO YOU SHIP INTERNATIONALLY?
Of course we do! International orders can be shipped via UPS or USPS. Orders shipped via USPS are delivered in cooperation with the destination country's parcel service. Any applicable taxes, duties, and fees charged by the destination country or the carrier that are due upon pick-up or delivery are the responsibility of the recipient. Shipments to freight forwarding locations are strictly prohibited.
WHAT IS WAXED CANVAS?
Canvas is a naturally water-resistant material. The densely woven cotton fibers force water to ball up on the surface. Eventually, if not brushed off, those water droplets will saturate into the canvas. Waxed Canvas (sometimes known as oilcloth or tin cloth) helps prolong this process by coating the fibers with water repellent wax. Our "Waxed Canvas" comes to us pre-treated with paraffin, a petroleum based wax. The wax application is applied to the cotton fibers prior to being woven into actual canvas. This provides a far deeper and longer lasting waxing as opposed to wax being applied to the surface of a bag. The wax treatment will fade over time, and you may notice a decrease in its water resistance properties. You can re-wax your pack with our Canvas Wax.
WHAT IS THE GREAT LAKES COLOR?
Great Lakes is our black canvas with black trim and nickel hardware instead of the brown trim and brass hardware on the "black" color option.
DO YOU ACCEPT DONATION REQUESTS?
Due to increased donation requests, Duluth Pack has created a request guidelines step by step process to make the experience as streamlined as possible. Please visit our Donation Request page for more information.