Cheers to the holiday season, time with family, and of course, great cocktails! This Christmas, add a little flair to your holiday-themed drinks with these easy mixed drink recipes that will make you look like a bartending pro! Whether you are hosting a small gathering, a large holiday party, or want to add some of the holiday spirit to a quiet evening curled up in a blanket, these recipes will be a hit!
Easy Eggnog Cocktail (1 Serving)
Eggnog is a holiday tradition for Christmas, and this recipe by Mantitlement is super delicious! So grab a glass or a mug to sip this tasty cocktail.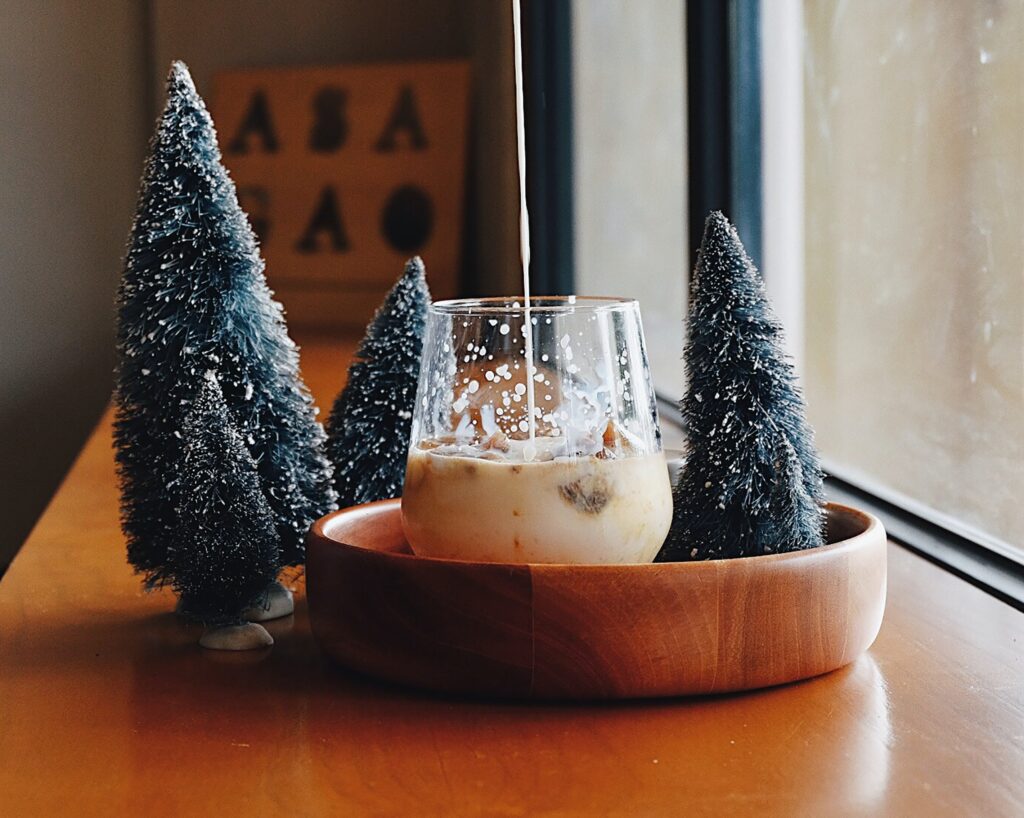 Ingredients
1-ounce Amaretto
1-ounce vodka
2 ounces of store-bought eggnog
pinch of nutmeg
pinch of cinnamon
Caramel sauce for rimming the glass
Directions
Rim a cocktail glass with caramel sauce.
Shake the eggnog, Amaretto, and vodka together in a shaker filled halfway with ice.
Strain into a cocktail glass and garnish with more cinnamon.
Christmas Punch (20 servings)
Suppose you are planning a holiday party and looking for an excellent alcoholic beverage. In that case, this recipe by Well Plated is a delicious mixed drink option. 
Ingredients
1 large bag of ice
5 cups 100% cranberry juice* 40 ounces, NOT cranberry juice cocktail
2 bottles of very dry sparkling wine (750 ml bottles), such as champagne, cava, or Prosecco
2 cups apple cider
1 1/2 cups diet ginger ale (12 ounces) (from 1 can or poured from a liter bottle)
1 1/2 cups dark rum or brandy (12 ounces)
2 oranges thinly sliced into rounds
1 cup fresh cranberries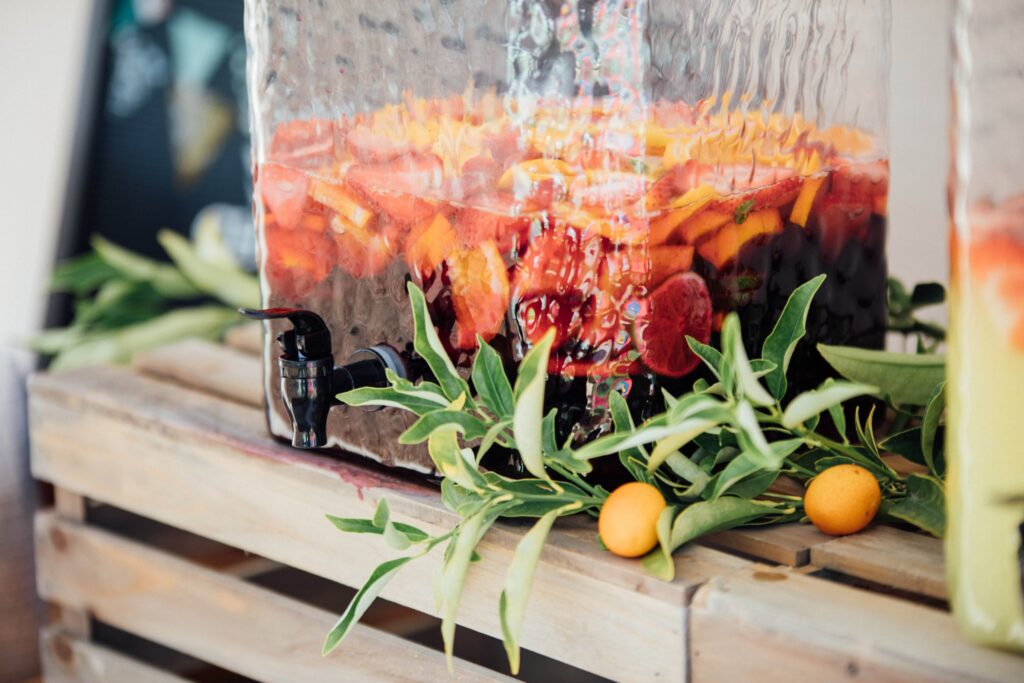 Directions
Make sure all the ingredients are well chilled. Fill a large punch bowl with ice. Top with cranberry juice, sparkling wine, apple cider, ginger ale, and rum.
Stir gently to combine. Top with orange slices and fresh cranberries. Enjoy!
Note
*IMPORTANT NOTE ON CRANBERRY JUICE: Look for a juice that is marked 100% cranberry, but that has a blend of other juices, usually apple, added. If you purchase 100% pure cranberry juice without any other fruits used, it may be too tart for your taste. If this happens, you can sweeten the punch to your liking by stirring in 1/4 to 1/2 cup of simple syrup.
The Grinch Cocktail (1 Serving)
This cocktail recipe is by The Toasty Kitchen. They also have a recipe for a non-alcoholic Grinch punch that makes a fun mocktail for a holiday party! This is a great drink to sip while curled up on the couch with a blanket and watching nostalgic Christmas movies!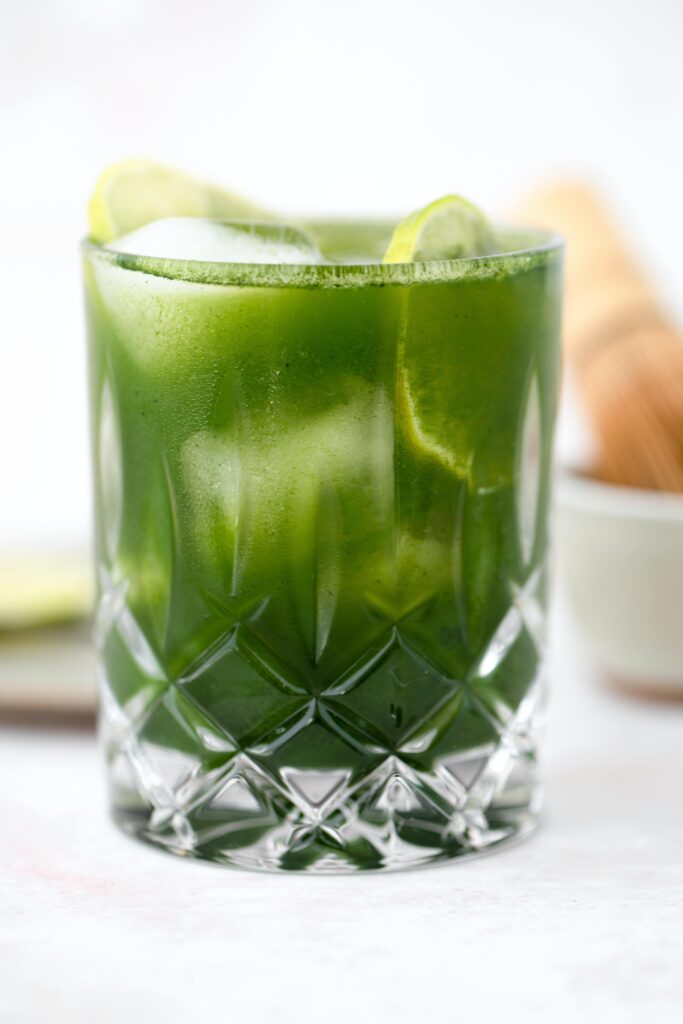 Ingredients
1 ½ ounces Midori liqueur
1-ounce clear rum
5 ounces lemon-lime soda
1 maraschino cherry
Directions
Fill a lowball glass with ice. Add midori liqueur and rum. Top with lemon-lime soda and stir gently to combine.
Top with a maraschino cherry, and enjoy.
Mistletoe Martini Cranberry Christmas Cocktail (1 Serving)
This recipe by Mix That Drink is a true chef's kiss under the mistletoe! A martini is a fan favorite drink for many, and this cocktail recipe makes a great martini drink. Make sure to properly chill your beverage to make the liquor smooth to the taste.
Ingredients
1 1/2 ounce vodka
1/2 ounce elderflower liqueur
1 1/2 ounce cranberry juice
1/2 ounce simple syrup
Cranberries
Mint leaves
Directions
Fill a cocktail shaker halfway with ice.
Pour in the vodka, elderberry liqueur, cranberry juice, and simple syrup.
Shake until chilled.
Strain into a martini glass.
Garnish by tossing in a few cranberries, and floating mint leaves on top.
The Ultimate Winter Sangria Recipe (6 Servings)
Are you having a family gathering? This recipe by Joyful Healthy Eats is an excellent option for small groups. It can also be easily multiplied based on your needs! You will want to prepare this drink in the morning before the party, so make sure to create enough for the entire night!
You will also need some cookware essentials to create this drink.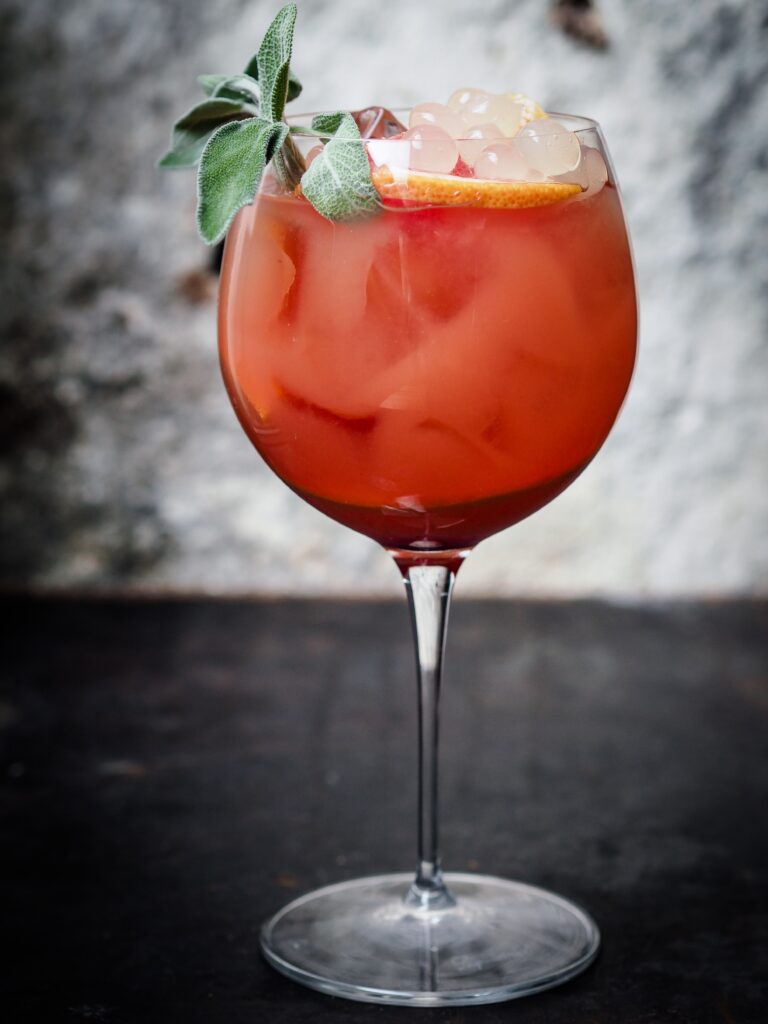 Ingredients
2 tablespoons agave nectar
1/4 cup grand marnier
1/4 cup brandy
1 orange, halved and then sliced
1 lime, sliced
1 pear, sliced
1/2 cup pomegranate seeds
2 sticks of cinnamon
1 bottle of dry red wine (Cabernet Sauvignon)
3/4 cup ginger ale
Directions
Add agave nectar, grand Marnier, brandy, orange, lime, pear, pomegranate seeds, and cinnamon sticks to a large pitcher. Stir to combine.
Pour in the entire bottle of red wine.
Cover and place in refrigerator for 1-2 hours. (the longer it sits, the better it will taste)
Right before you are about to serve, add the ginger ale to the sangria mixture.
Pour over ice or serve chilled.
Mrs. Claus Cocktail (1 Serving)
Are you looking for another take on a classic spiked eggnog recipe? Then, this recipe by KJ & Company is for you! This mixed beverage recipe creates a sweet alcoholic drink that tastes how we think Christmas feels.
You can sip this out of any glass or mug!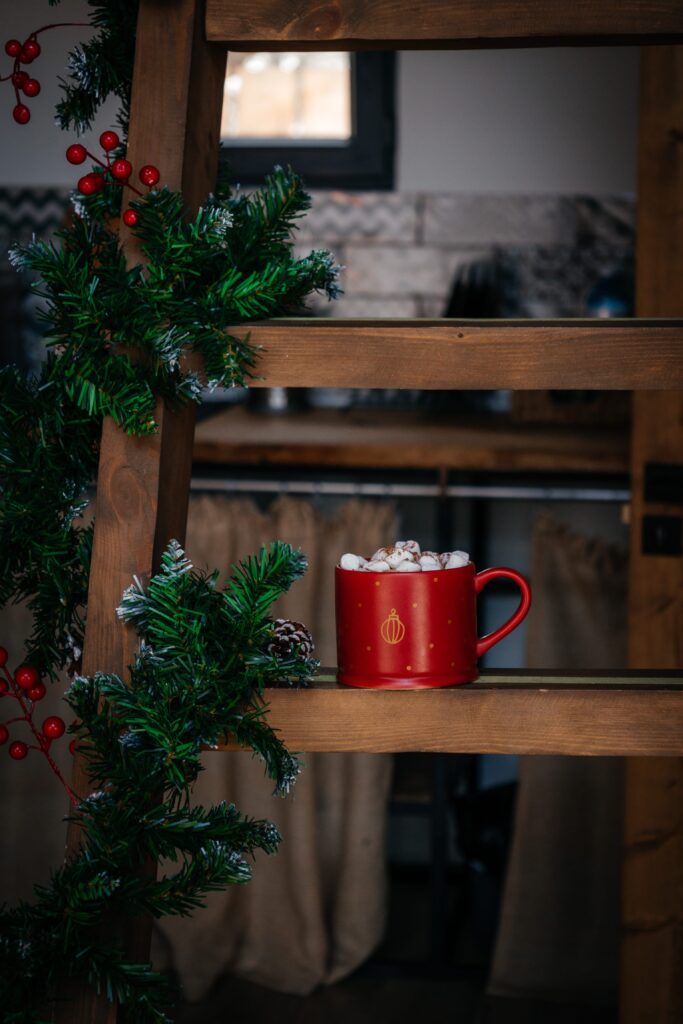 Ingredients
1 cup eggnog
1 shot (3 tablespoons or 1.5 ounces) of white chocolate liqueur
1 tablespoon peppermint Schnapps
Whipped cream for garnish
Crushed candy canes for garnish
Directions
Pour the eggnog, white chocolate liqueur, and peppermint Schnapps into the desired glass and stir to combine thoroughly.
Garnish with a dollop of whipped cream and a sprinkle of crushed candy cane.
Enjoy!
2-Ingredient Cranberry Mimosa (2 Servings)
Sometimes known as the poinsettia cocktail, this recipe by Stress Baking for a cranberry Mimosa is an easy cocktail option!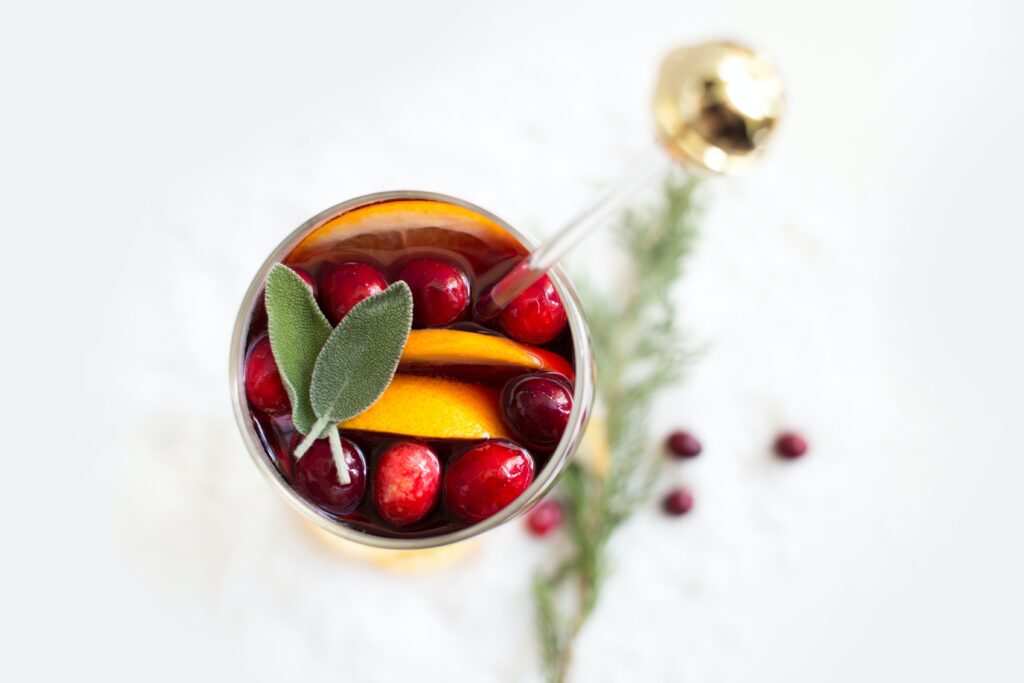 Ingredients
4 ounces cranberry juice, not cranberry juice cocktail
8 ounces of sparkling wine, champagne, or prosecco
Sparkling sugar for garnish
Fresh cranberries, for garnish
Fresh rosemary sprig for garnish
Directions
Rim two champagne glasses with a bit of water or simple syrup, then dip in sparking sugar.
Pour ¼ cup cranberry juice into each champagne glass.
Add ½ cup sparkling wine to each glass.
Top with a few fresh or frozen cranberries and serve immediately. Enjoy!
These are some delicious drink recipes to try this holiday season that will impress at any party. Try them with friends or family to find your favorite holiday go-to cocktail recipe! If you enjoy these recipes and want to try other great cocktail recipes, you can find them on the Duluth Pack blog, The Pack Report, in their Good Eats section.
Happy sipping, friend!
*Disclaimer: Must be 21 years old or older to drink legally.
GOVERNMENT WARNING: (1) According to the Surgeon General, women should not drink alcoholic beverages during pregnancy because of the risk of birth defects. (2) Consumption of alcoholic beverages impairs your ability to drive a car or operate machinery and may cause health problems.