Are you looking for great cookie recipes for a holiday party at work, a cookie swap, or at home with your family? Regardless of what has inspired you to do some baking, you need a fantastic recipe to get you started! Duluth Pack has curated a list of amazing cookie recipes so you can create the best desserts this holiday season! So grab your Duluth Pack Apron, cookie cutters, and other cooking essentials!
Chewy Sugar Cookies (4 Dozen Cookies)
When we think of the holidays, we always think of sugar cookies! This recipe by the Food Network does not disappoint! Try this recipe out the next time the kids want to help in the kitchen, or whip up a batch yourself and share it with friends!
If you want to flatten your cookies, you can use the bottom of a glass to do so for even pressure!
Ingredients
1 teaspoon baking soda
1/2 teaspoon baking powder
1 cup softened butter
2 3/4 cups all-purpose flour
1 1/2 cups white sugar
1 egg
3 to 4 tablespoons buttermilk
1 teaspoon vanilla extract
Sprinkles or colored sugar for decorating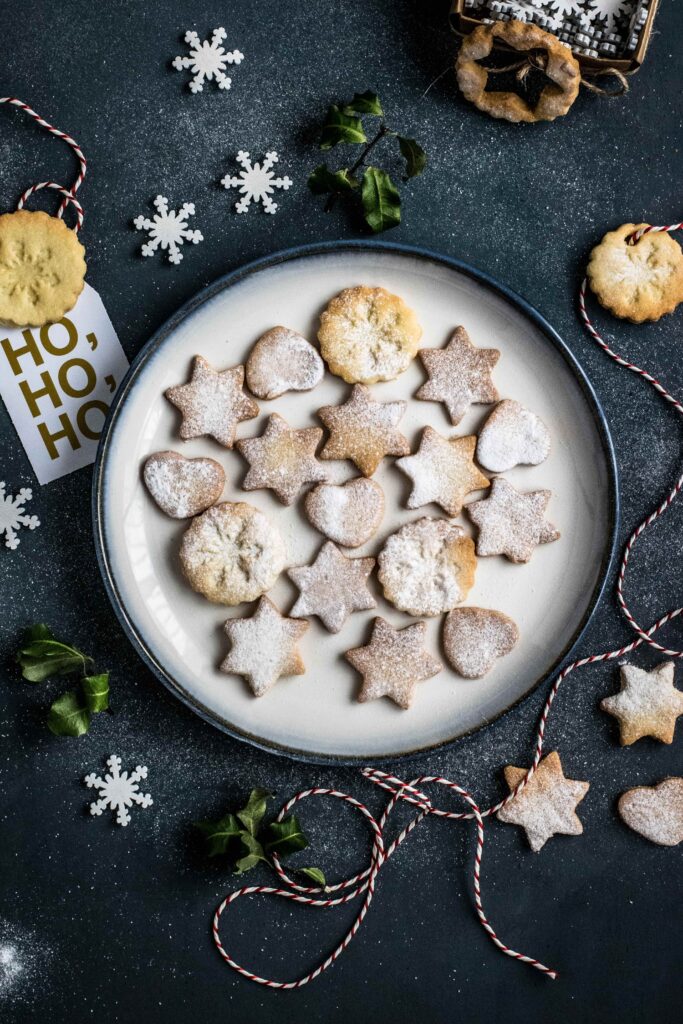 Directions
Preheat oven to 375 degrees F.
In a small bowl, stir flour, baking soda, and baking powder. Set aside.
In a large bowl, cream together butter and sugar until smooth. Beat in the egg and vanilla. Gradually blend in dry ingredients. Add enough buttermilk to moisten the dough and make it soft, not wet.
Roll rounded teaspoons of dough into balls and place them on an ungreased cookie sheet. With a brush or fingers, moisten the top of each cookie with the remaining buttermilk and slightly flatten the top of each cookie. Sprinkle with raw sugar or colored sprinkles.
Bake for 8 to 10 minutes or until slightly golden. Let stand for 2 minutes before removing to cool on a rack.
The Most Amazing Chocolate Chip Cookies ( 3 Dozen Cookies)
Chocolate chip cookies with milk are a classic during the holiday season. This recipe by Joy Food Sunshine is sure to be your new go-to chocolate chip cookie recipe! Create the perfect gooey chocolate chip cookie using these simple instructions!
Ingredients
1 cup salted butter, softened
2 large eggs
1 cup white (granulated) sugar
1 cup light brown sugar packed
2 tsp pure vanilla extract
3 cups all-purpose flour
1 tsp baking soda
½ tsp baking powder
1 tsp sea salt
2 cups chocolate chips (or chunks or chopped chocolate)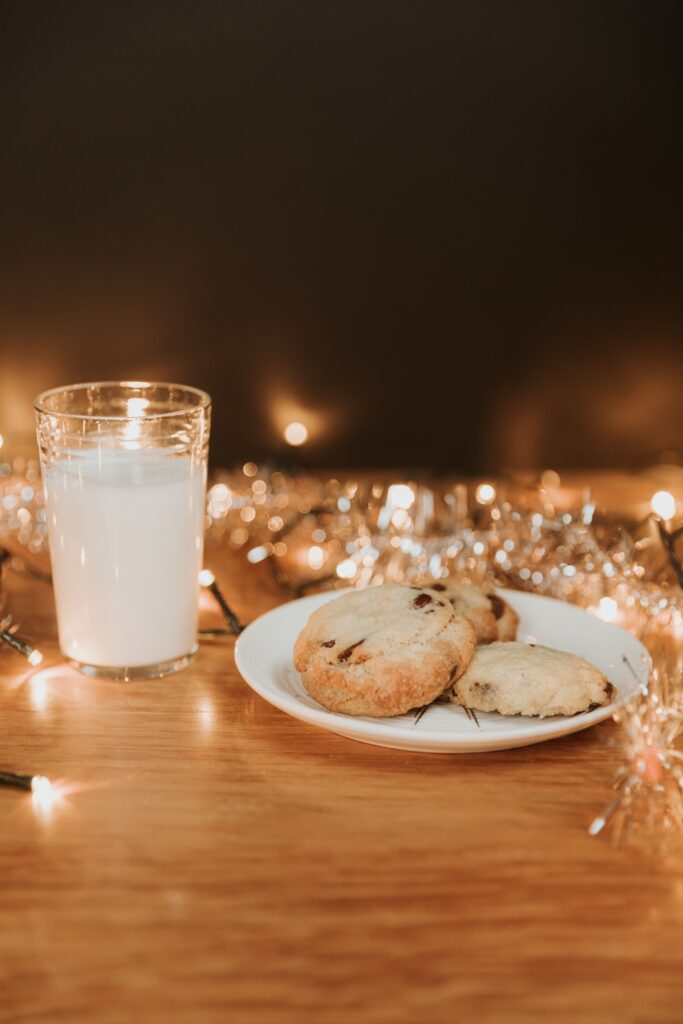 Directions
Preheat oven to 375 degrees F. Line a baking pan with parchment paper and set aside.
Mix flour, baking soda, salt, and baking powder in a separate bowl. Set aside.
Cream together butter and sugars until combined.
Beat in eggs and vanilla until fluffy.
Mix in the dry ingredients until combined.
Add a 12 oz package of chocolate chips and mix well.
Roll 2-3 TBS (depending on how large you like your cookies) of dough at a time into balls and place them evenly spaced on your prepared cookie sheets. (Alternately, use a small cookie scoop to make your cookies).
Bake in preheated oven for approximately 8-10 minutes. Take them out when they are just BARELY starting to turn brown.
Let them sit on the baking pan for 2 minutes before removing them to the cooling rack.
Notes
Recipe information calculated based on this recipe making 36 cookies – 2 TBS of dough a piece)
When you remove the cookies from the oven, they will still look doughy. This is the secret that makes these cookies so absolutely amazing! You do NOT want to overbake your cookies!
Classic Peanut Butter Cookies (4 Dozen Cookies)
This recipe is by Sally Sadler on All Recipes creates a large batch of cookies so you can share them with all the essential people in your life!
Ingredients
1 cup unsalted butter
1 cup crunchy peanut butter
2 large eggs
1 cup white sugar
1 cup packed brown sugar
2 ½ cups all-purpose flour
1 ½ teaspoons baking soda
1 teaspoon baking powder
½ teaspoon salt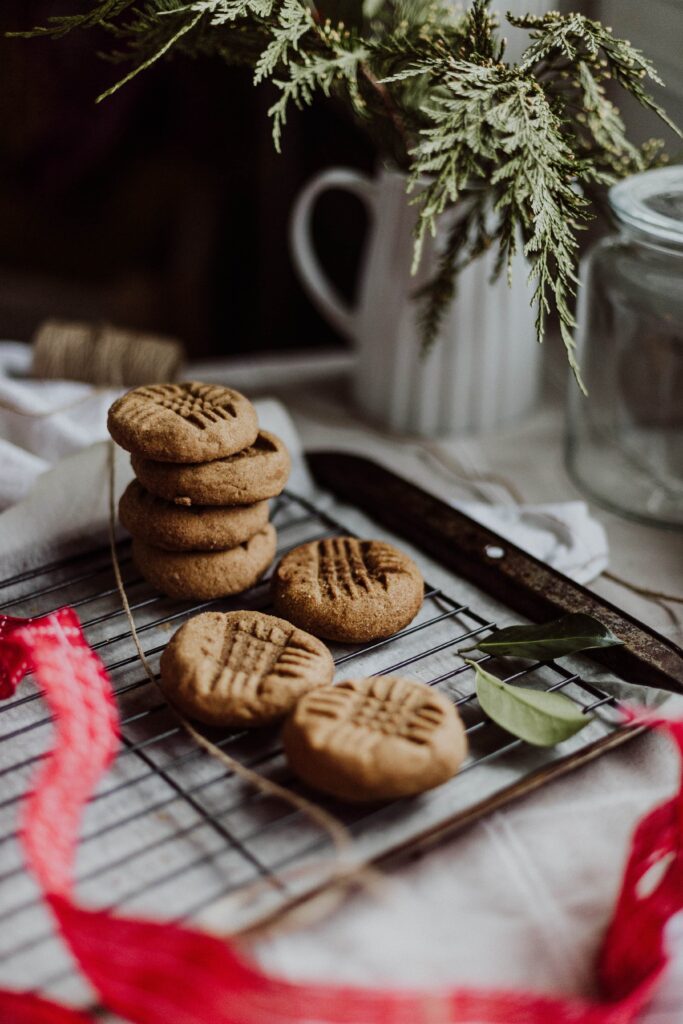 Directions
Beat butter, peanut butter, white sugar, and brown sugar with an electric mixer in a large bowl until smooth; beat in eggs.
Sift flour, baking soda, baking powder, and salt into a separate bowl; stir into butter mixture until dough is combined. Chill cookie dough in the refrigerator for 1 hour.
Preheat the oven to 375 degrees F (190 degrees C).
Roll dough into 1-inch balls and place 2 inches apart onto ungreased baking sheets. Flatten each ball with a fork, making a crisscross pattern.
Bake in the preheated oven until edges are golden, about 10 minutes. Cool on the baking sheets briefly before removing them to a wire rack to cool completely.
Tasty Linzer Cookies (14 Cookies)
Linzer Cookies are a classic Christmas cookie. This delicious dessert is created by putting two shortbread cookies with jam in the middle of them. This recipe by Ahead Of Thyme takes under an hour to complete and is well worth the wait!
Make sure to put your Duluth Pack Apron on before starting this recipe to protect your clothing from powdered sugar.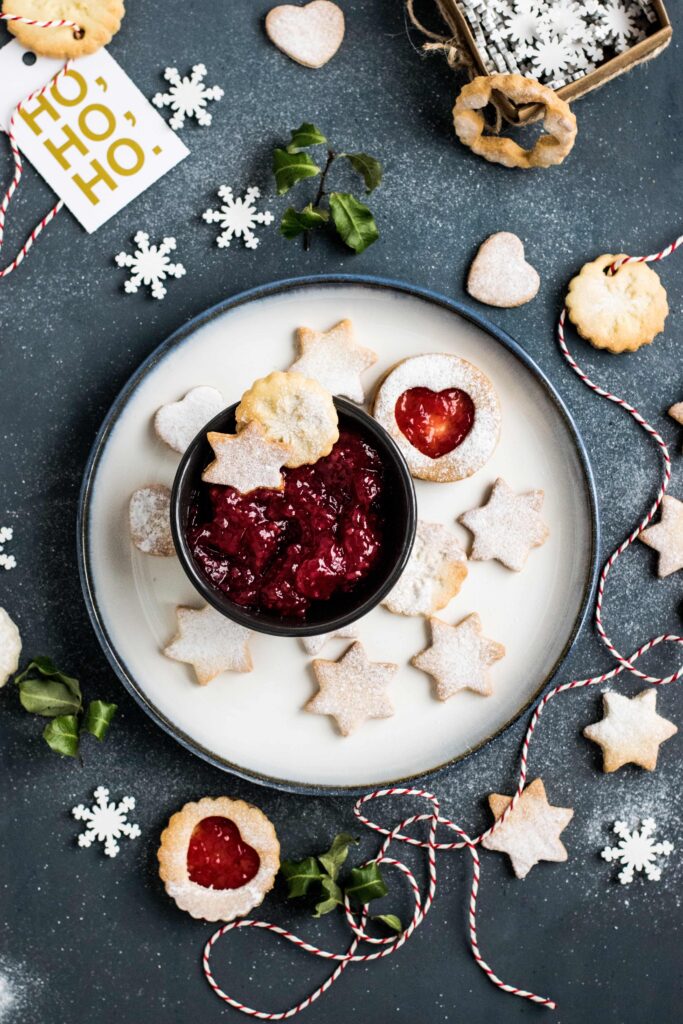 Ingredients
1 cup butter, softened
½ cup Confectioner's sugar (icing sugar)
1 teaspoon pure vanilla extract
¼ teaspoon salt
2 cups all-purpose flour
For Assembling
1-2 tablespoons confectioners' sugar
3-4 tablespoons raspberry jam (Or other jam of choice)
Directions
Cream the butter and sugar together in a large bowl using a hand mixer or stand mixer until soft and fluffy, about 2 minutes on medium speed.
Add vanilla and salt and continue to beat until fully incorporated. Gradually add flour, and mix until your mixture forms into a dough mass.
Use your hands to form the dough into a ball, then shape it into a flat disc. Cover tightly in plastic cling wrap, and chill in the refrigerator for 30 minutes.
Preheat oven to 350 F, and line a half-sheet baking pan with parchment paper or a silicone mat.
Once the dough is chilled, lightly dust a clean surface with flour, and place the dough on top. Use a rolling pin to roll out the dough until it is ¼-inch thick. Use Linzer cookie cutters to cut out the cookies. On half of the cookies, use a smaller cookie cutter to cut shapes in the center of the cookie. Remove the smaller cookie shapes and bake them as separate little shortbread cookies. You can also roll them together with the scraps to cut out more cookies.
Place the cookies half-inch apart on the lined baking sheet, and chill in the refrigerator for another 10 minutes while the oven is preheating.
Bake the cookies for 8-10 minutes or until the edges just start to brown. Allow the cookies to cool on the baking sheet for 5 minutes, then transfer them onto a wire cooling rack to cool completely to room temperature.
Then, dust confectioners' sugar on the cookies that have the center cut out. Then, spread some raspberry jam on the bottom halves of each cookie (the cookies that do not have the center cut out), leaving a small ⅛-inch border around each cookie. You can use a knife or a piping bag with a round piping tip to pipe the jam onto the cookies.
Carefully place the tops of the cookies on the jammy bottoms. Be careful not to smudge the sugar on top. You can fill the open centers with more jam if desired.
First-Place Coconut Macaroons ( 1.5 Dozen Cookies)
If you love coconut, you will not be disappointed by this recipe From the Taste of Home. These Coconut Macaroons are quick and tasty to whip up! This recipe also makes a small batch so that you can consume them within a week to avoid them going stale!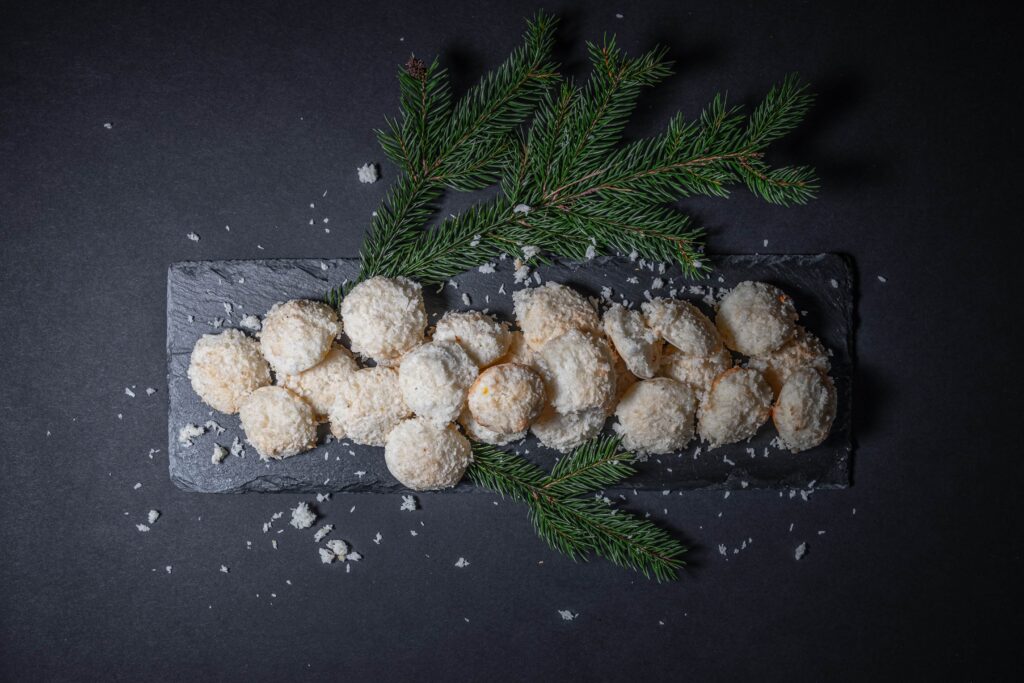 Ingredients
1-1/3 cups sweetened shredded coconut
1/3 cup sugar
2 tablespoons all-purpose flour
1/8 teaspoon salt
2 large egg whites, room temperature
1/2 teaspoon vanilla extract
Directions
Preheat oven to 325°. Mix coconut, sugar, flour, and salt in a small bowl. Add egg whites and vanilla; mix well.
Drop by rounded teaspoonfuls onto greased baking sheets. Bake until golden brown, 18-20 minutes. Cool on a wire rack.
Notes
Coconut macaroons may spread due to too much moisture. Try adding another tablespoon of flour or whisking your egg whites until fluffy. (Here are other ways to prevent cookies from spreading.)
Coconut macaroons can last up to 1 week if you store them in an airtight cookie storage container. To make them last longer, you can freeze them by placing them in a single layer on a sheet pan in the freezer. Once the individual cookies are frozen, you can store them in a flat-bottomed airtight container with layers separated by parchment paper or waxed paper.
Chocolate Crinkle Cookies (18 Cookies)
This cookie recipe by Makinze Gore with Delish is known for the holiday season, but you can enjoy this recipe anytime! With so much chocolate, this cookie is full of flavor. You will definitely want a glass of milk to pair with this cookie.
Ingredients
1 3/4 c. all-purpose flour
3/4 c. unsweetened cocoa powder
1 tsp. kosher salt
1 tsp. baking powder
3/4 tsp. baking soda
1/2 c. (1 stick) butter, melted
3/4 c. granulated sugar
1/2 c. packed brown sugar
3 large eggs
Powdered sugar for rolling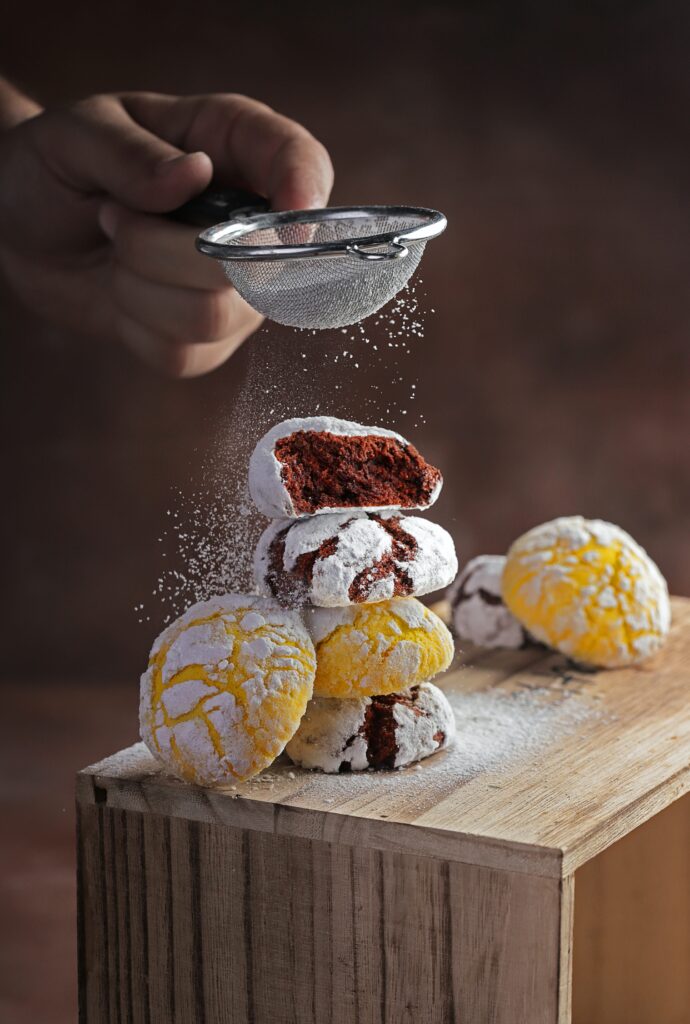 Directions
Combine flour, cocoa powder, salt, baking powder, and baking soda in a large bowl.
In a medium bowl, whisk together melted butter, sugars, and eggs until well combined. Pour into dry ingredients and mix until just combined. Cover the bowl with plastic wrap and refrigerate for 2 hours.
Preheat oven to 350° and line 2 large baking sheets with parchment. Place powdered sugar in a small bowl. Scoop about 2 tablespoons of dough and roll into a ball. If the dough is too sticky, wet your hands slightly to help roll the dough. Roll dough into powdered sugar, coating well, and then place on prepared baking sheet 2″ apart. After rolling all the dough in powdered sugar, roll each piece again in powdered sugar. This will help get a more dramatic crinkle when the cookies bake.
Bake cookies until cookies puff and crack, about 14 minutes. The edges will just be set, but the cracks will still look slightly underdone. Let them cool on a baking sheet.
Take out your baking sheets and turn on your holiday playlist to get in the holiday mood this season! While you try out these top-rated recipes, you can plan your holiday shopping. Then, as your cookies bake, check out Duluth Pack's excellent gift guides for unique gifts and stocking stuffers this holiday season! This way, you will have both gifts and treats ready for the Christmas season!
Happy baking, friend!