When we think of self-care and ways to relax after a long day or a long week, one of the great ways to do so is with cozy comforts in your home. To start your relaxation off right and put away your briefcase or work tote. Then you can grab a comfortable blanket, a book, and a Lakehouse Candle to start relaxing.
Lakehouse Candle Co. is a local Minnesotan candle company that was founded by two University of Minnesota Duluth graduates and best friends – Hannah and Adriana. These two ladies found inspiration up the North Shore and the stunning lakes around them. Now Hannah and Adriana create 100% natural soy wax candles. These candle have crackling eco-friendly wood wicks that are crafted in enjoyable and delightful scents. They use quality fragrance essential oils for rich scents that fill your home, but do not overpower it.
Duluth Pack is proud to carry and support another local USA Made brand like this small company. Duluth Pack carries a number of the Lakehouse Candle Co. scents, including their own custom scent – exclusively available this holiday season – to represent the smell of the Duluth Pack Flagship Retail Store. Think of the rich smells of leather and the impactful and fresh scents of the outdoors. A hint of musk brings an earthy tone to the front notes.
Looking to start your day off with that same cozy feeling? Light a Lakehouse Candle Co. candle, grab a Duluth Pack mug, and a cup of coffee or tea to start your day off with that cozy feeling, so you can keep it with you throughout the day! Learn more about the candle scents that Duluth Pack carries, so you can find the ideal scent for your home. This way you can bring tranquility into your home and feel like you are at the cabin for the evening.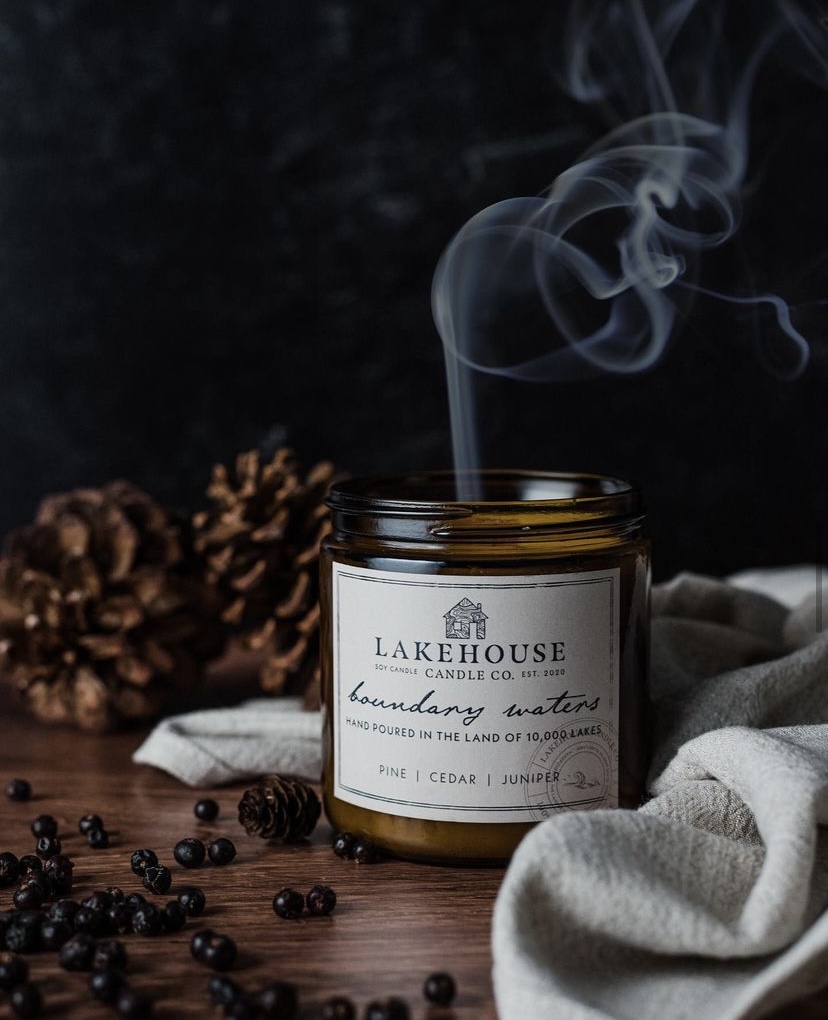 Boundary Waters
Think of the moment you wake up in your tent after spending the night under the stars with a campfire and friends. You take a deep breath in through your nose and the smells of nature flood your senses. The Boundary Waters natural soy wax candle has a scent that brings this feeling into your home! The quality fragrant scents that are used in the Boundary Waters candle include: pine, cedar, and juniper for a down-to-earth and rugged scent. This candle has an eco-friendly crackling wood wick that makes small popping sounds like a campfire to fully set the mood during its burn time of 60-70 hours.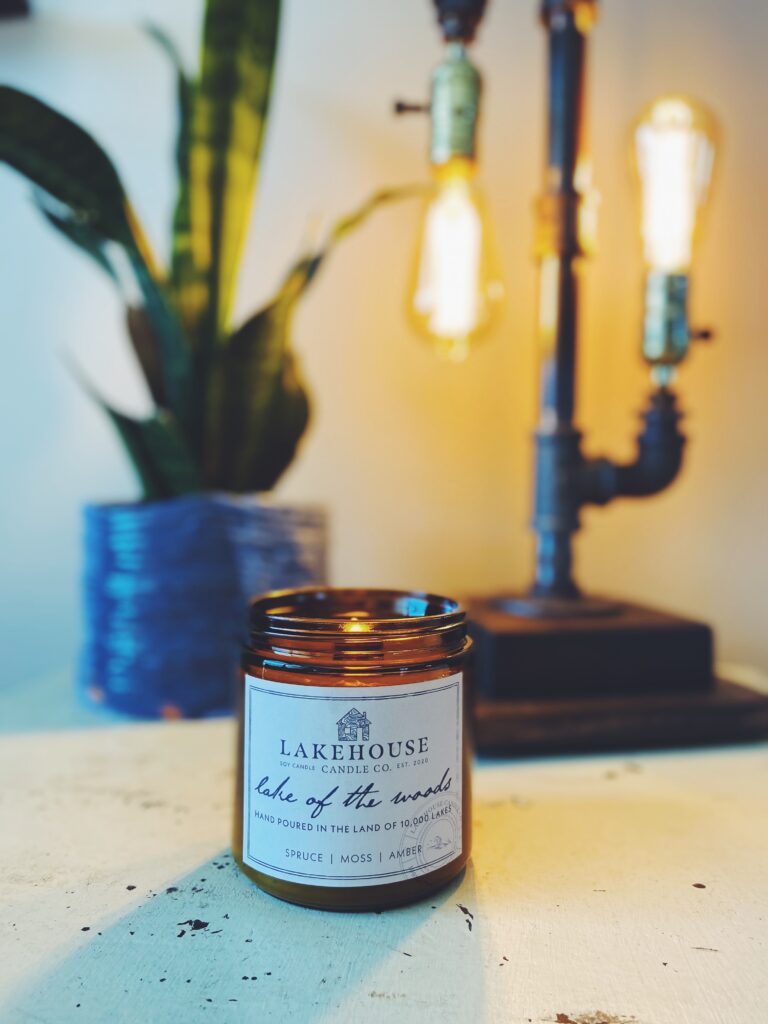 Lake Of The Woods
Utilizing quality fragrance scents from essential oil blends like spruce, moss, and amber, the Lake Of The Woods candle is an earthy scent that brings a sense of warmth to the home. Lakehouse Candle Co. uses 100% American grown soy wax to hand pour their candles and create the rich scents that you smell whenever you twist the black metal lids of the aesthetically pleasing glass amber jar.
Lake Superior
If you are looking for a clean subtle scent to create a unique ambiance in your home, the Lake Superior candle by Lakehouse Candle Co. is an excellent choice. This American grown soy candle features premium essential oil fragrances like dark musk, amber, and sandalwood. Light the eco-friendly wooden wick to fill your home with this soothing scent and take your mind to the stunning great lake. The classic glass amber jar will easily match many decors and complete a room.
The Northwoods
Lakehouse Candle Co. created The custom Northwoods candle for Duluth Pack, to encompass the company's flagship retail store. In the Duluth Pack retail store you can find the American heritage brand's handcrafted canvas and leather packs and other quality outdoor gear. To recreate the scent of walking the storefront Lakehouse Candle Co. used premium scents like leather, moss, and light musk. This rugged candle highlights the scents of the iconic brand's premium line of American cowhide and bison hide leathers. This candle creates a feeling of premium relaxation. The moss and light musk bring earthy tones that do not overpower your home, but rather elevate it. With a 60-70 hour burn time, you can enjoy this scent and the tranquility it brings into your home when lit, time and time again.
How To Care For Your Candle
When lighting your candle you should trim the tip of the wick with a nail clipper or scissors. This will help the candle burn more evenly and prevent burrowing. You will also want to ensure the candle melts fully when you light your delightful scent for the first time. This will encourage an even burn and help prevent burrowing as well. Now you know more about the scent profiles of Lakehouse Candle Co. to pick your favorite scent. Pick which candle you want to bring home and then you can add other great ways to unwind and recharge. Adding these ways to unwind will help you feel fully ready for whatever comes next. Here are a few of the best ways to relax and destress while your candle scent is burning.
Practice deep breathing
Read a book for pleasure
Be mindful and write down a list of positive things in your life
Practice yoga
Watch a movie you enjoy
Reset your day with a warm bath or shower
Listen to a podcast
Practice a hobby
These activities are all great ways to enjoy your personal time and relax. Bringing in the feeling of being outdoors inside with these wonderful American Made candles also helps to unwind. These candles can be found online at DuluthPack.com and at the flagship retail store in Duluth, MN. This is the same city where the Lakehouse Candle Co. founders met and began their entrepreneurial pursuits as well! Enjoy these refreshing scents and take time to bring comfort into your home.
Happy relaxation time, friends!