With fall comes several holidays and more gatherings of friends catching up over drinks and food. To celebrate the fall season Duluth Pack has gathered a variety of holiday cocktails to make with your friends. Along with these delicious cocktails you can also create a mocktail or two!
Grab a glass and let's get shaking with these easy drink recipes!
Pumpkin Pie Martini (4 Servings)
This martini recipe is by the Noble Pig is a show stopper if you are entertaining. There are some prep steps for this cocktail if you want to go the extra mile so make sure you read the full recipe before you begin.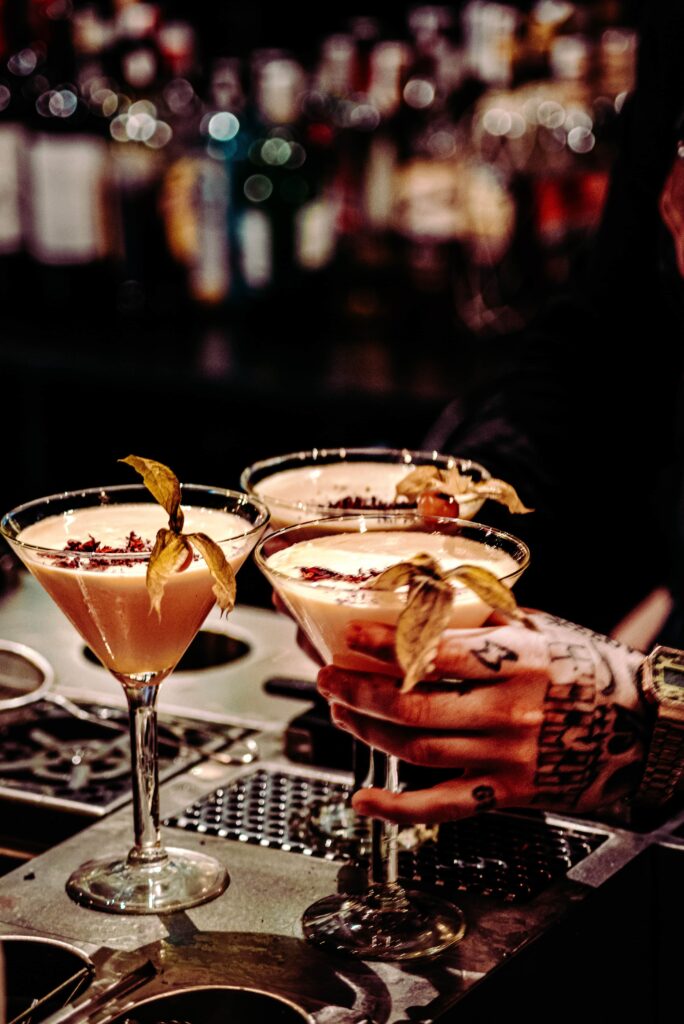 Ingredients
Frozen Whipped Cream: (optional)
1/2 cup heavy cream*
2 tbsps. confectioners' sugar
Cocktail
2-3 tsps. cinnamon sugar for the rim
1/4 cup vanilla vodka such as Absolut brand
1/4 cup Creme de Cacao liqueur (clear)**
1/2 cup heavy cream*
1-1/2 tsps. pumpkin pie spice, more for sprinkling on top
Directions
Dip the edges of your martini glasses in water or Creme de Cacao. Shake off any extra liquid and dip the edges into cinnamon-sugar.
Chill prepared martini glasses in the freezer or the fridge at least thirty minutes before serving.
If you are going to make the frozen whipped cream you'll want to do this before making the cocktail. The frozen whipped cream can be made up two days in advance and can hang out in the freezer until you're ready to use it. Add heavy cream and confectioners' sugar to a bowl. Whip cream until stiff peaks form. Place whipped cream into a pastry bag fitted with a large tip (any shape). Pipe whipped cream into round towers on a parchment lined tray (will make four). Place in the freezer immediately and at least 30 minutes.
For the cocktail, fill a cocktail shaker halfway with ice. Add the vodka, Creme de Cacao, heavy cream and pumpkin pie spice. Shake well (at least fifty time vigorously). Strain into chilled martini glasses. Place frozen whipped cream towers on top of the drinks and sprinkle lightly with additional pumpkin pie spice.
Notes
*For a rich flavor and the best mouthfeel, use heavy cream that is 36-40% fat. This will yield the best results.
**Creme de Cacao is a chocolate liqueur and there is a dark and clear version. You want the clear version for this recipe.
Making the frozen whipped cream is optional. You could easily spray whipped cream from a can, but it will somewhat sink and not look as pretty. This is one of those extra touches that really go a long way.
Cinnamon sugar is widely available at grocery stores in the spice aisle or you can make your own with 1/2 cup of granulated sugar and one tablespoon of ground cinnamon. Store the leftovers in an airtight container.
Pumpkin Spice White Russian (2 Servings)
This recipe by the Cookie Rookie takes a classic cocktail and adds a fall twist! With two servings this is a great drink to make for you and your partner while you curl up under a blanket for a festive movie night!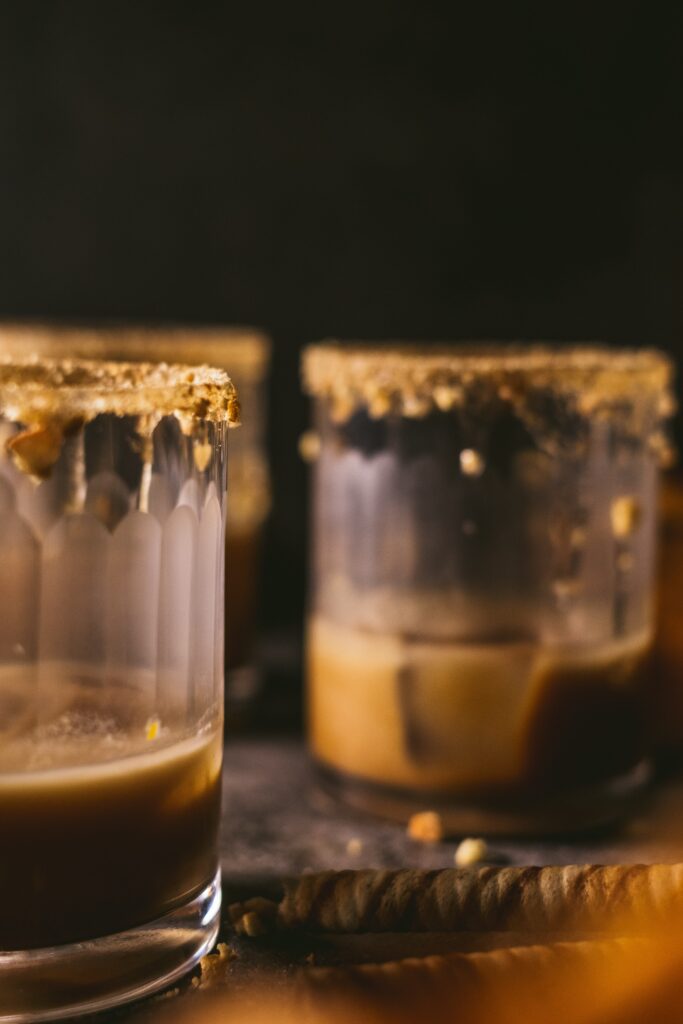 Ingredients
For the Drink
3 ounces 2 shot glasses good quality vodka
3 ounces 2 shot glasses pumpkin spice creamer
1.5 ounces 1 shot glass Kahlua
Whipped Cream and pumpkin pie spice for garnish
For the Rim
1 teaspoon pumpkin pie spice
1 teaspoon sugar or sparkling sugar
3 tablespoons crushed graham crackers
Directions
Mix the ingredients for the rim together on a shallow plate. Dip the edge of two glasses in water and then dip into the graham mixture. Press to coat. Set the two glasses aside.
Pour vodka, creamer, and Kahlua into a large cocktail shaker filled with ice. Shake lightly until combined and cold.
Pour into glasses and top with whipped cream and pumpkin pie spice.
Enjoy!
Maple Old Fashioned (1 Serving)
We all love a good old fashion and this recipe by Epicurious keeps a delicious flavor profile adding a complimentary maple syrup flavoring.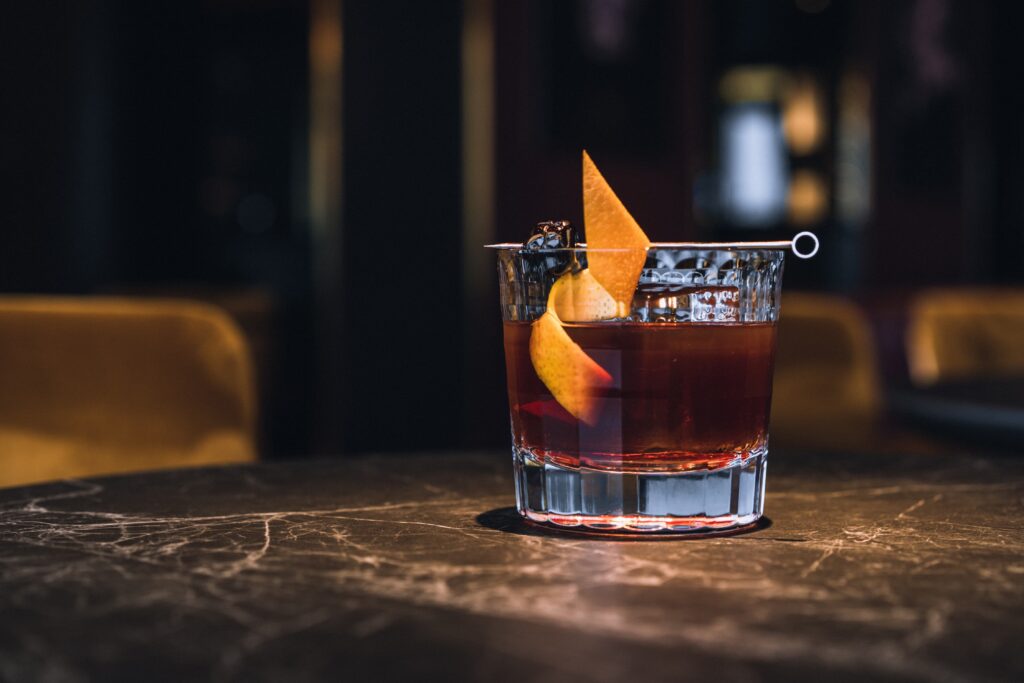 Ingredients
2 ounces rye whiskey or bourbon
1 teaspoon pure maple syrup
Dash of Angostura bitters
Orange peel (for garnish)
Directions
Mix whiskey, maple syrup, bitters, and 1 tsp. water in an old-fashioned glass until syrup is dissolved.
Add a single large ice cube.
Garnish with orange peel.
Honey Roasted Pear Sparkling Cocktails & Mocktails
(5-6 Servings)
This recipe by Cotter Crunch takes some prep time and requires an oven. Make this cocktail or mocktail as a signature drink for a festive party.
Ingredients
6 Steckler pears or 1 lb. pear sliced in half
1/4 to 1/3 c honey (divided)
1 tbsp balsamic vinegar
1/4 tsp cinnamon (divided)
pinch of ground nutmeg
2 tbsp apple juice or water
Pinch of ground clove
1 tsp vanilla
24–28 ounces of sparkling wine, champagne, or sparkling white grape juice
Brown sugar or coconut palm sugar to coat rims of glasses (optional)
Optional 1 ounce of vodka or whiskey
Garnishes
Fresh thyme, sage, or rosemary
Directions
Preheat oven to 400F and line a baking sheet or grease it well. Slice your pears in halves or quarters. Remove the stems.
In a small bowl, whisk together 2 tbsp honey, 1 tbsp balsamic vinegar, 1/8 tsp cinnamon, and pinch of ground nutmeg. Brush this over the pears, evenly.
Place pears in the oven for about 20 to 25 minutes, until soft and pears are browned on the bottom. If you are using larger pears, they will take longer to roast. Steckler Pears take closer to 22 minutes.
Remove from oven. Once cooled, scoop out the seeds from the pears.
Place your honey-roasted pears in a blender or food processor with vanilla and 2 tbsp juice or water. Blend until puréed.
Add puréed pears to a large glass pitcher or glass serving bowl. Let it chill before serving.
Once ready to serve, add a pinch of ground clove, 3 to 4 more tablespoons of honey, 24-28 ounces of sparkling white wine, champagne, or sparking white grape juice to the pitcher or bowl. Stir together. Optional 1 ounce of vodka if you would like the sparkling cocktails less sweet with a bolder liquor flavor.
Coat wine glasses or cocktail glasses in brown sugar or coconut sugar. Then pour 5- 6 ounces of the sparkling cocktail mix into each class.
Garnish with a sprig of thyme, sage, or rosemary (optional)
FOR MOCKTAIL, sparkling white grape juice or apple juice works best.
Notes
For champagne option: I found that you don't need the vodka if you are using champagne. It's flavorful enough with just the champagne.
If you are adding the optional 1 ounce of vodka or whiskey, adjust to your taste/liking. Add more honey if desired.
Pumpkin Apple Shandy (2 Servings)
If you are looking for an easy sipping drink this recipe by Jennifer Meyering is a great choice.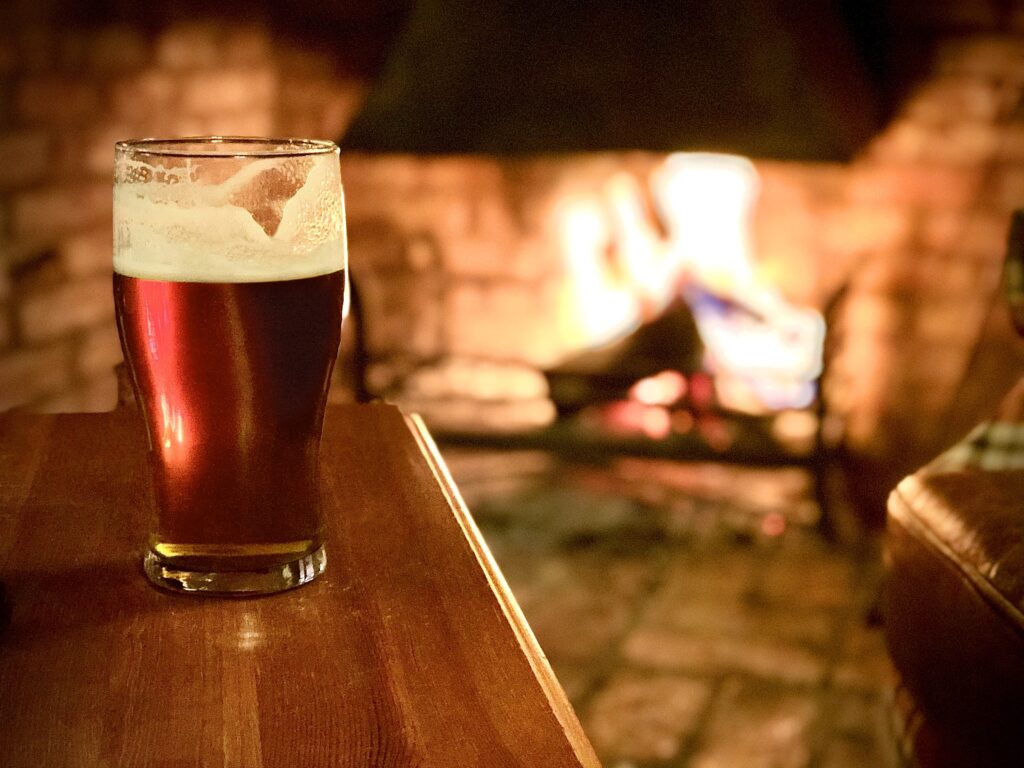 Ingredients
12 oz pumpkin beer
10 oz apple cider
2 oz bourbon (optional)
Directions
Add beer, apple cider, and bourbon to a pitcher and stir carefully.
Pour into 2 pint glasses and garnish with apple slices, if desired, and serve immediately.
Apple Cranberry Moscow Mule (2 Servings)
There are many different ways to make a moscow mule and this recipe by What's Gaby Cooking is another great hit for this iconic drink. This mule has added some fall flavors like cranberry and apple to juice to make it a little more festive.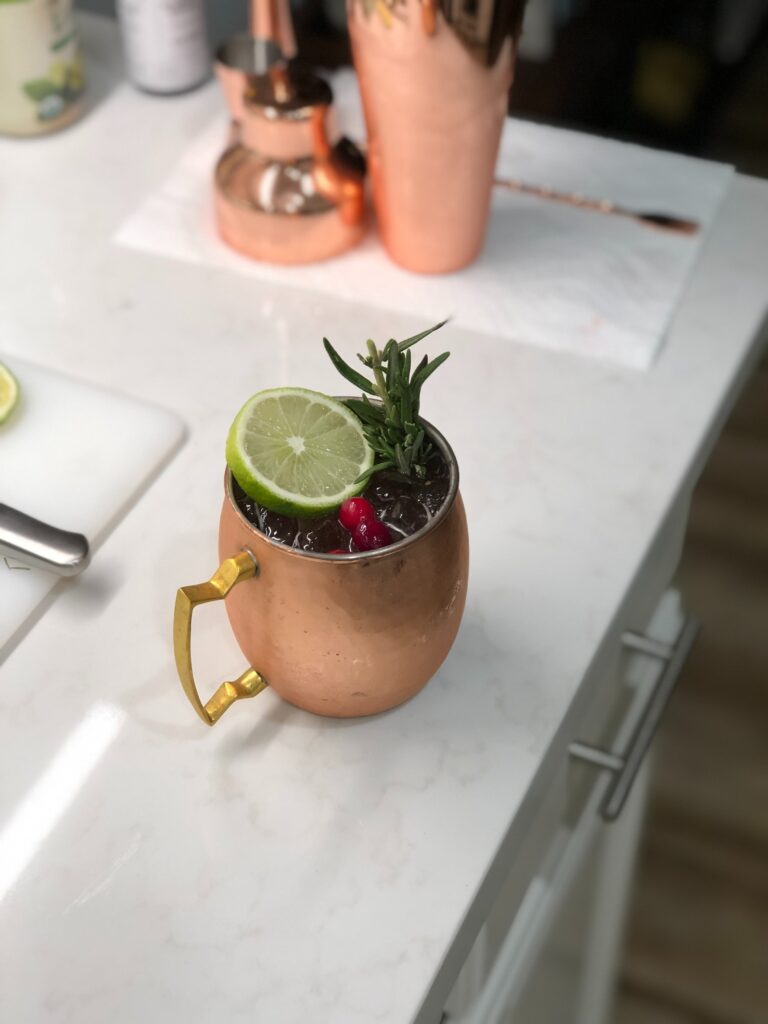 Ingredients
4 ounces vodka
¼ cup cranberry juice
½ cup sparkling apple juice
1 can ginger beer
fresh cranberries and sliced apples for garnish
Directions
Fill 2 glasses with ice and add equal amounts of vodka, cranberry juice, and sparkling apple juice to the glasses. Stir to combine.
Fill the remaining space of the glasses with the ginger beer and stir gently to combine. Serve immediately. Garnish with cranberries and apples as desired.
Apple Cider Hot Toddy (1 Serving)
We couldn't make a fall cocktail list without some apple cider drinks and this recipe by Wholefully is a fan favorite! Heat up this mixture and you are set with a tasty drink for one!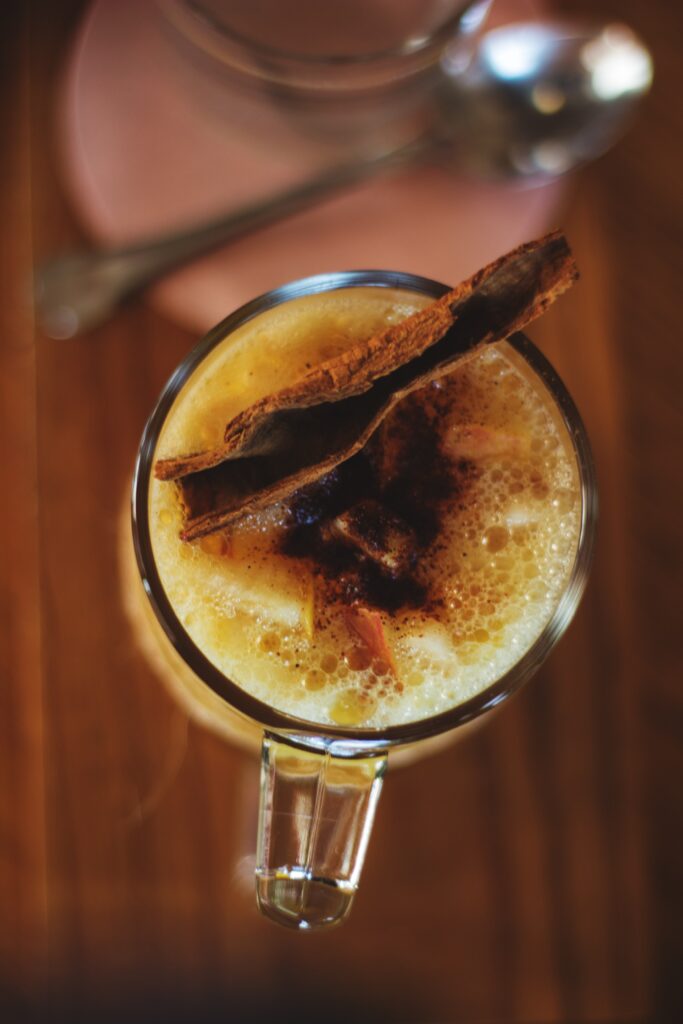 Ingredients
4 ounces (1/2 cup) apple cider
1 teaspoon lemon juice
2 teaspoons honey
1 cinnamon stick
2 ounces (1/4 cup) bourbon
Directions
Combine the apple cider, lemon juice, honey, and cinnamon stick in a small saucepan.
Bring to a boil over medium-low heat, then reduce heat and simmer for about five minutes.
Remove from heat, stir in the bourbon, and serve immediately.
Notes
Look for unfiltered apple cider if you can find it. It has a lot more apple-tastic flavor to it!
To make this for a crowd, use the following measurements: 1/2 gallon of apple cider, 1/4 cup lemon juice, 2/3 cup honey, 4 cinnamon sticks, 1 fifth bottle of bourbon. Makes 16 drinks. Keep simmering on the stove with a ladle and mugs nearby, or pour all into a slow cooker, and let cook on high for two hours before serving.
Toasted Pecan Old Fashioned (1-6 Servings)
This recipe is by The Speckled Palette uses an infused spirit that you create. While not difficult, this cocktail does take some prep so you will want to start prior to the party. Make sure you calculate how much you will need so that you do not need to toast more pecans throughout the night! This way you can keep your cookware away and enjoy the festivities!
Ingredients
Ingredients For Toasted Pecan Whiskey (Makes enough for SIX drinks)
½ cup pecans, toasted
1 ½ cups whiskey (a good drinking one!)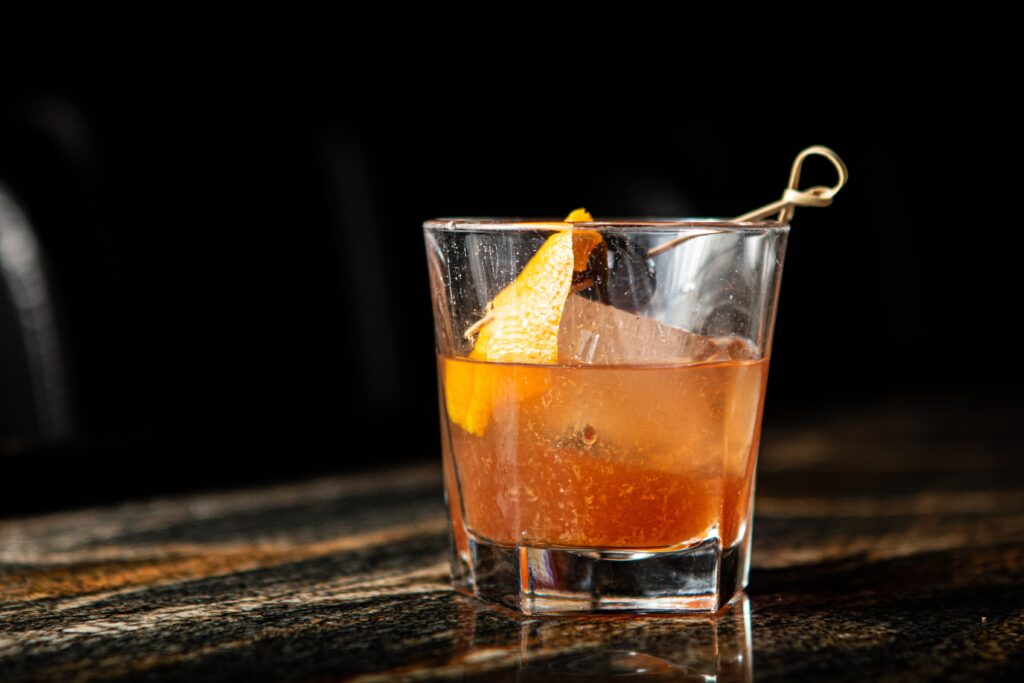 Ingredients For Toasted Pecan Old Fashioned
1 sugar cube (or ½ teaspoon granulated sugar)
4 dashes Angostura bitters
2 oz. Toasted Pecan Whiskey, recipe above
Spherical Ice Cube
Directions
Direction to Make the Toasted Pecan Whiskey
Preheat the oven to 400°F.
Place the pecans on a baking sheet. Transfer to the preheated oven.
Toast the pecans for 10-15 minutes or until browned and fragrant. (Keep an eye on them, as you could potentially burn them if not paying attention!)
Remove from the oven and let cool to room temperature.
Transfer the cooled pecans to a mason jar and pour the whiskey on top of them.
Let the whiskey infuse for 3-4 days. (Don't go any longer than 4 days, as the pecans could dry the whiskey out.)
Directions to Make the Toasted Pecan Old Fashioned
In an Old Fashioned or your favorite whiskey glass, measure the sugar cube/loose sugar and dash in the Angostura bitters.
Using a muddler, break down the sugar cube and combine it with the bitters, coating the sides of the glass as the sugar and bitters mix.
Place whiskey stones or a large ice cube, then pour the Toasted Pecan Whiskey over the cubes, swirling it to mix with the bitters and sugar mixture.
Enjoy immediately!
Classic Mulled Wine (5 Servings)
Mulled wine goes with fall the same way that wearing thick sweatshirts and mittens by a football game do! This recipe by Cookie and Kate takes a classic mulled wine and brings its wonderful flavors to the forefront!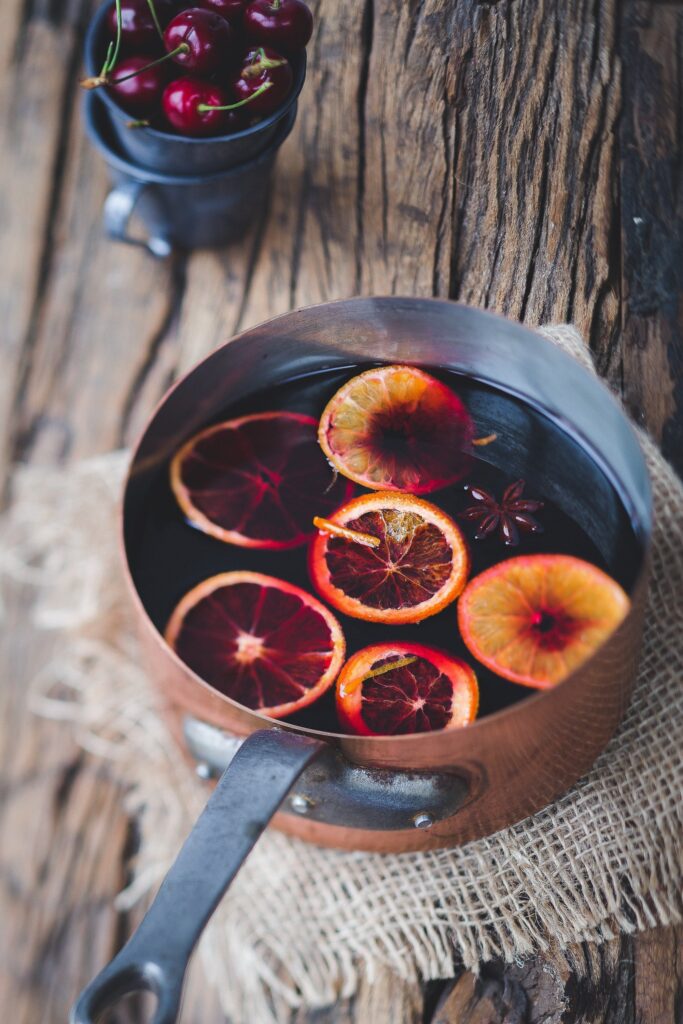 Ingredients
2 small oranges or 1 large
1 bottle of affordable Merlot, Zinfandel or Garnacha (also called Grenache)
¼ cup brandy
1 to 2 tablespoons maple syrup or honey, to taste
2 whole cinnamon sticks
3-star anise
4 whole cloves
Optional garnishes: Fresh whole cranberries (about ¼ cup), cinnamon sticks, additional orange rounds or half moons
Directions
To prepare the oranges, if using 2 small, slice one orange into rounds and slice the other in half. If using 1 large orange, slice it in half through the round middle, then slice one of the halves into rounds. Place the rounds into a medium heavy-bottomed pot or small Dutch oven. Squeeze the juice from the remaining oranges into the pot.
Pour the wine into the pot, followed by the brandy. Add 1 tablespoon of the sweetener for now. Add the cinnamon sticks, star anise, and cloves.
Warm the mixture over medium heat until steaming (about 5 minutes) and keep an eye on it. When you start seeing the tiniest of bubbles at the surface, reduce the heat to the lowest of low.
Carefully taste and add another tablespoon of sweetener if it's not sweet enough for your liking. If it's not spicy enough to suit your preferences, continue cooking over very low heat for 5 to 10 more minutes.
Serve in mugs with your desired garnishes! If you're adding cranberries as I did, you can add them to the pot to make it look extra festive.
If you expect to polish off the mulled wine within 20 minutes or so, you can keep it on the stove over extra-low heat (it will become spicier with time). Otherwise, remove it from the heat, cover it, and rewarm over low heat if necessary. Leftovers will keep in the refrigerator for a couple of days, covered (pour it through a strainer if you don't want it to become any spicier than it already is).
Notes
SLOW COOKER OPTION: Combine the mixture in your slow cooker, cover, and cook over low heat until steaming, about 30 minutes to 1 hour.
These festive fall recipes are sure to hit the spot and be a fan favorite at any party you host this fall. With multiple spirit options and ways to make these you can tailor them to your flavor pallet or make them into mocktails and enjoy them anytime you like! We hope these drinks keep you warm as the nights get chilly and you can enjoy them among friends and family!
Happy sipping, friend!