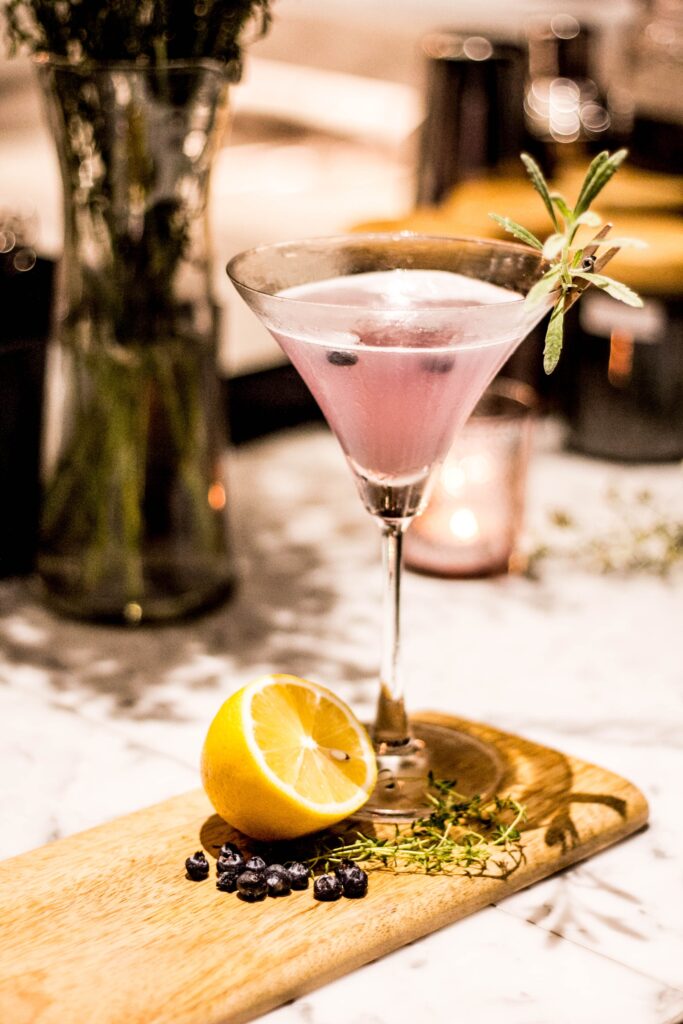 It's that time of year friends! The weather is getting colder, the air is getting crisper, and snow is starting to stick to the ground which means the beginning of the annual holiday season. The holidays really are the best, filled with celebrations and quality time spent with friends and family. Let's be honest, how can anyone be even a little bit sad when cheesy Christmas specials are on TV and happy holiday songs are basting from every radio station? There is just no denying that this is the best time of year. When coming together and enjoying your favorite aspects of the holiday season, you do not want to neglect the party refreshments and that is why we have compiled four of the best holiday drink recipes that will be the talk of any occasion you attend. Is your mouth watering yet?
Vanilla Cranberry Mimosa
If you're anything like me and enjoy all variations of the classic mimosa, you are going to love this one! This recipe, from the website Honey and Birch, is perfect for winter brunches, Christmas, and New Year's Eve parties, and only requires 3 ingredients. Here is a recipe for Vanilla Cranberry Mimosas:
Ingredients
1 ½ ounces of vanilla flavored vodka
1 ½ ounces of cranberry juice
Sparkling wine (champagne, prosecco, cava, etc.)
Cranberries, garnish
Whole vanilla beans, garnish
Directions
In a cocktail shaker, combine vanilla vodka, cranberry juice, and ice. Shake vigorously, then strain into a champagne flute. Fill the glass to the top with sparkling wine. Garnish if desired.
Serve and enjoy!
Apple Cider Martini
Apple cider is always a must-have during this time of year, but this recipe has a little bit of a twist. Apple Cider Martini is a wonderful seasonal cocktail that is very simple to make and is light and crisp in flavor. This drink encompasses the feel and wonders of this beautiful season. This recipe is from Will Cook for Smiles, and makes 1 martini so make sure to double up the recipe if you're making more. Here is a recipe for Apple Cider Martinis:
Ingredients
3 oz apple vodka
1 oz cinnamon liqueur
4 oz apple cider
Splash of Grand Marnier
Directions
Combine all ingredients with some ice in a cocktail shaker. Shake well and strain the liquid into a martini glass.
Garnish with an apple slice, sit back and enjoy!
Adult Hot Chocolate
Spiked with bourbon and a super-easy homemade Irish cream, this alcoholic hot chocolate makes a cozy night even cozier. It pairs perfectly with a holiday movie night, though it is also great company while shopping for last minute presents. This recipe from Modern Proper is just the thing we all need this time of year to help you wind down and feel oh-so fuzzy and warm. Here is a recipe for Adult Hot Chocolate:
Ingredients
2 oz Homemade Irish Cream:
14 oz sweetened condensed milk
1 cup Irish whiskey (Jameson)
1 tbsp chocolate syrup
1 tbsp vanilla extract
1 tsp instant coffee granules
1 cup heavy cream
4 cups whole milk
2 tbsp sugar
1 tsp vanilla extract
6 oz dark chocolate
1 tsp sea salt
4 oz Bourbon
2 oz Frangelico
Marshmallows
Directions
In a blender combine sweetened condensed milk, whiskey, chocolate syrup, vanilla, and coffee for one minute.
After the mixture is smooth, add cream and cream of coconut and pulse until combined. Shake before serving.
In a small saucepan heat milk, sugar, salt, and vanilla over medium-low heat until sugar and salt are completely dissolved. Make sure the milk does not come to a boil.
Add the chocolate in pieces, whisking until completely incorporated. Remove from heat.
Boozy Grinch Punch
If you are someone who loves trying new recipes but hates the time commitment of making them, this grinch punch is for you. It's as simple as mixing ingredients in a punch bowl and ladling it into glasses! This recipe from Delish makes 12 servings, and is an easy, no-fuss Christmas punch that is perfect for your next party; even your crankiest guests will love it! Here is a recipe for Boozy Grinch Punch:
Ingredients
1 packet Kool-Aid Lemon Lime mix
4 cups of water
4 cups of ice
3 cups lemon-lime soda
2 cups of pineapple juice
2 cups of vodka
1 cp of ginger ale
Lime wedges, for rimming
Red sanding sugar, for rimming
Directions
In a large pitcher, combine Kool-Aid and water and mix well.
In a large punch bowl, combine ice, Kool-Aid, soda, pineapple juice, vodka, and ginger ale. Stir thoroughly.
Use a lime wedge to rim glasses and dip in sanding sugar to coat. Pour punch into glasses and serve!
We hope these holiday drink recipes inspire and increase your holiday spirit! Give us a shout at [email protected] for any further suggestions or questions that you may have!
Happy Holidays, friends!
*Disclaimer: You must be 21 years old or older to consume alcohol legally
GOVERNMENT WARNING: (1) According to the Surgeon General, women should not drink alcoholic beverages during pregnancy because of the risk of birth defects. (2) Consumption of alcoholic beverages impairs your ability to drive a car or operate machinery and may cause health problems.