When investing in a bag or pack from the USA Manufacturer, Duluth Pack, you are receiving a lifetime guarantee on all craftsmanship and hardware. Many of Duluth Pack's iconic styles like the Weekender Duffel, Deluxe Market Tote, and the Entrepreneur Briefcase include leather components that need to be taken care of to extend the longevity of your quality USA Made product. To help protect, maintain, and restore your leather and canvas bags, Duluth Pack has several clean and care products to use on the leather components of your gear.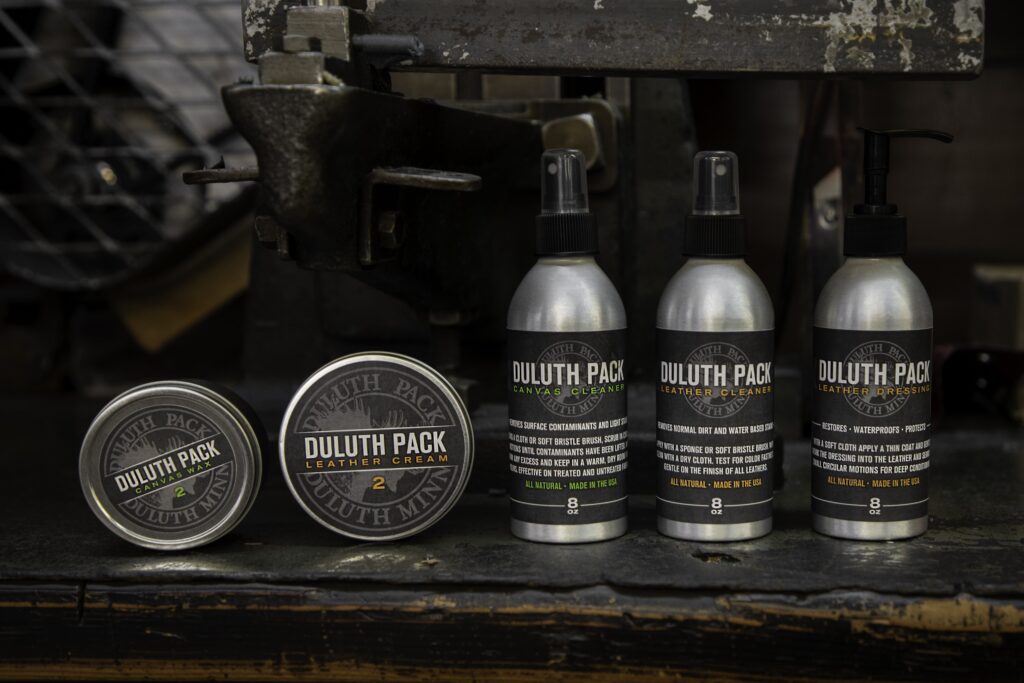 What happens when leather gets wet?
Leather has natural oils in it that repel water and keep the leather supple, but this can change as it gets repeatedly wet or simply over time. As your leather ages or is repeatedly exposed to water regardless of the amount, the natural oils bind to the water molecules and are pulled to the surface as the leather dries, thus losing the leather's natural protection. You can see this happening when the leather appears to be soaking up water rather than repelling it, or no longer feels as flexible and instead feels rigid or brittle.
Is it too late? Can you fix dried-out leather?
You want to treat your leather before it gets to the point of being brittle, and instead get into a routine of treating your leather at least once a year or as needed to maintain it. Duluth Pack has a variety of exceptional clean and care products that are designed to maintain your lifetime pice and has listed their uses along with instructions on how to use them for the best results. Before you use any of these cleaners and conditioners or any other products on your Duluth Pack bags, it is recommended that you first do a small test patch on a non-noticeable portion of your bag – like on an interior piece of your gear. Some cleaners and conditioners may tint or darken your leather products, so you should start with this to ensure that you enjoy the final result before using the product on the entirety of your bag, tote, case, or pack.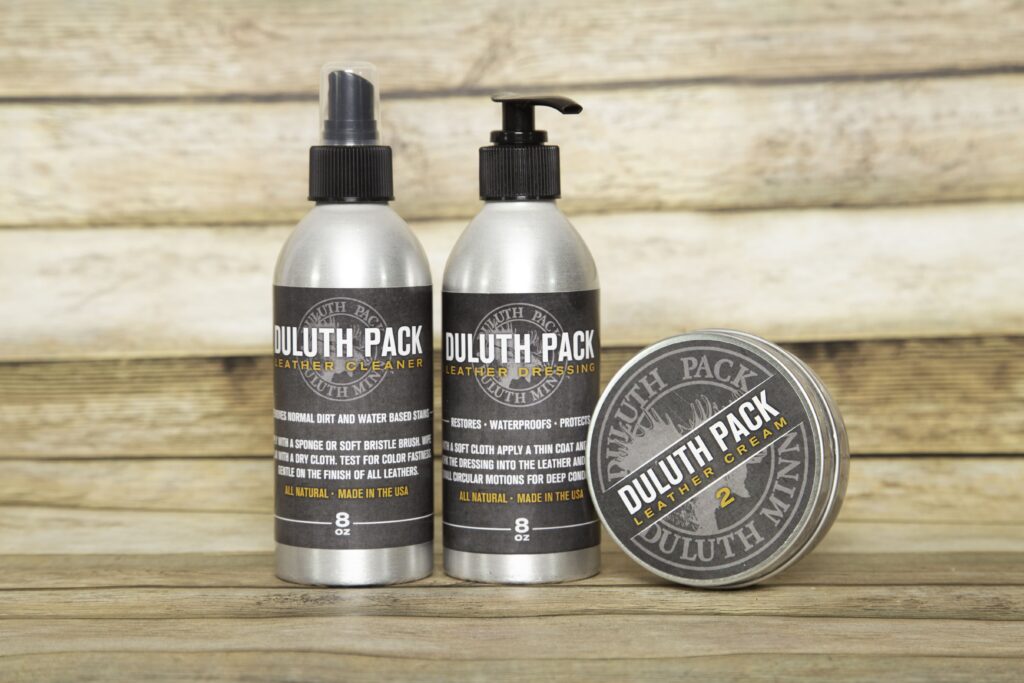 Leather Cleaner
Before you condition your Duluth Pack leather bags or packs, you will want to ensure that the leather is clean and dry from any water or other treatments. The Duluth Pack Leather Cleaner is designed to clean your bag or pack from dirt and water-based stains. You should use this prior to applying Leather Dressing or Leather Cream. This pH balanced cleaner is formulated to handle dirt surface stains and other contaminants and leaves no residue. This cleaner is also gentle on all leather finishes, so you can feel good using it on any of your Duluth Pack leather components.
Instructions
Apply the Leather Cleaner with a sponge or soft bristle brush. Wipe clean with a dry cloth. Test for colorfastness. Gentle on the finish of all leathers.
Leather Dressing
Duluth Pack's Leather Dressing is a great option to deep condition your leather bag or pack to help restore its water-repellent layer and prevent the bag from becoming more brittle. While Leather Dressing can reduce the rigidity of your leather bag or pack it can not get rid of cracks that have already formed in the leather. This leather treatment can however reduce the likelihood of future cracks.
Instructions
With a soft cloth apply a thin coat and gently work the Leather Dressing into the leather and seams in small circular motions for deep conditioning.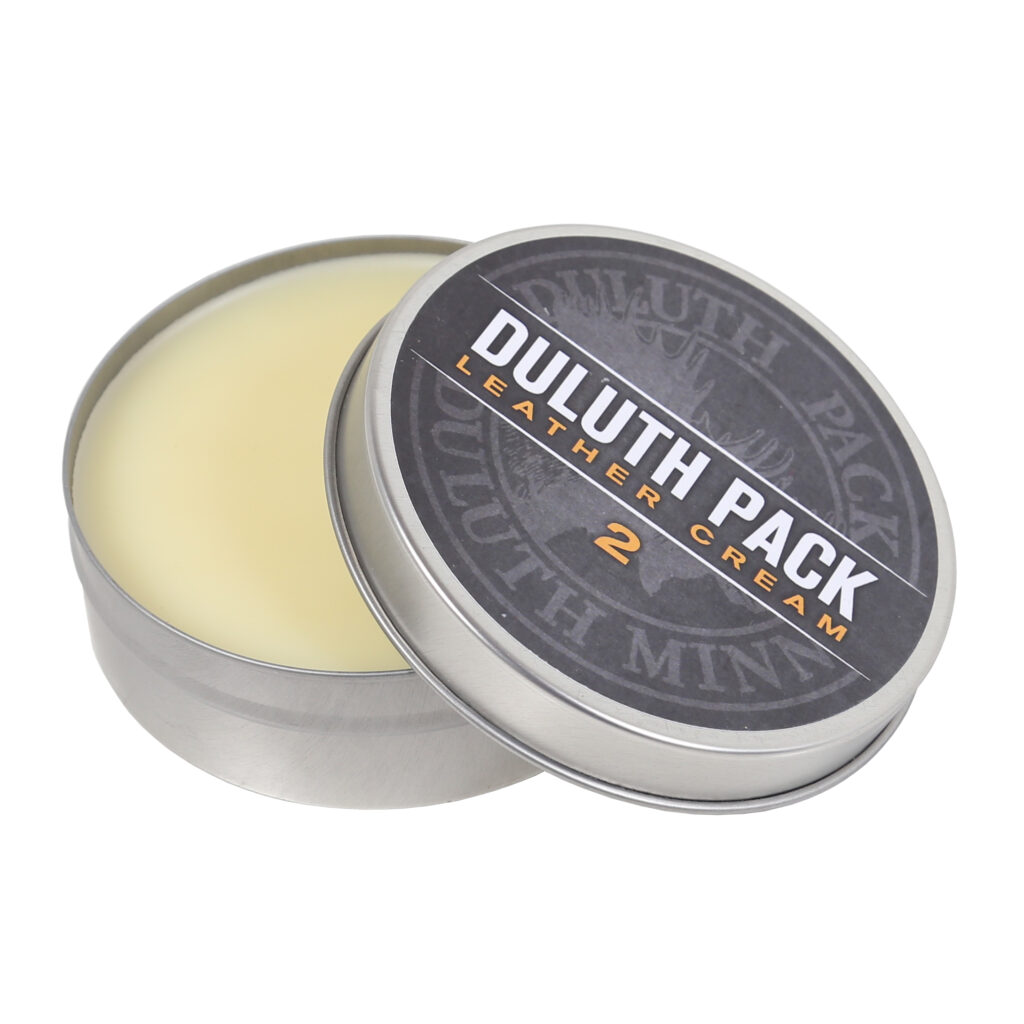 Leather Cream
Duluth Pack's Leather Cream is a great option if you have just purchased your bag and are looking to soften it and assist with breaking in your new Duluth Pack purchase or if you are looking to maintain your bag or pack, but do not have cracks in your leather product. For cracks in leather Duluth Pack recommends their Leather Dressing as the liquid can coat and cover inside the cracks easier than the Leather Cream.
Instructions
Use Leather Cream on dry leather after cleaning. Use a soft cloth to apply a thin coat and gently work the cream into the leather and seams in small circular motions for deep conditioning & waterproofing.
When making a quality purchase of a USA Made product you want it to last a lifetime and so does Duluth Pack, that is why they have launched these high-end clean and care treatment products to extend the longevity of your gear and keep it with you for generations. If you are still looking for more instruction on how to use these products you can watch a video tutorial by Duluth Pack on their Youtube channel.
Buy it once. Have it for life.