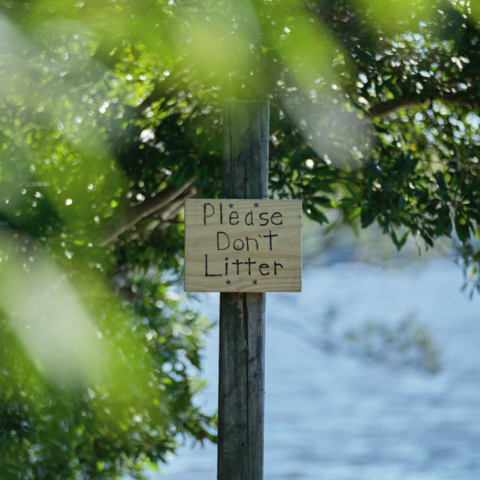 Whether you like to hike, climb, paddle, hunt, fish, or ski, spending time outside is all about getting back to nature.
But, have you ever stopped to think about how your adventures impact the great outdoors?
While most of us who spend time in the wilderness want to tread lightly into our beautiful natural spaces, we can sometimes inadvertently hurt the places that we love. Even seemingly minor things, like trampling on flowers as you step to the side of the trail to let others pass by, can have negative consequences for our favorite adventure destinations.
So, what's a hiker to do? How do you minimize your impact while outside?
The good news is that we're here to help. In this blog post, we'll offer up 5 straightforward techniques that you can use to reduce your impact on your next outing. That way, we can all enjoy our favorite outdoor recreation destinations for years to come.
1. Understand the Basics of Leave No Trace
Anyone that recreates outside on a regular basis should make it a point to learn the basics of Leave No Trace (LNT). LNT is an outdoor ethics organization that provides education and support for outdoor adventurers to help them minimize their impact on the environment.
The organization's flagship resource for any adventure is their 7 principles of LNT, which are designed to be guidelines for sustainable outdoor activity.
There's a lot that you ought to consider with each of the 7 principles, so we won't go into detail about them here (but taking an LNT awareness class is highly recommended). Nevertheless, all of the principles start with the notion that hikers need to plan ahead and be prepared for the conditions they'll face in the great outdoors.
Planning ahead and being prepared for your adventures starts figuring out all the logistics for your trip, as well as all the gear and food you'll need for your outing.
That's because people who plan for their trip and have all the right gear are better prepared to handle any eventuality on the trail. This means that they're less likely to need a rescue or to have to resort to less-than-sustainable practices in order to survive an unexpected night in the woods.
If all of this sounds overwhelming, we understand. Prepping for a day hike isn't easy and planning for your first backpacking trip can seem like an insurmountable challenge. But with time and experience, you'll get comfortable with the adventure planning process, which will set you up well to master the art of LNT.
2. Learn About Local Regulations
As we've mentioned, learning the principles of LNT is essential if you want to minimize your impact on the environment while outside. But the LNT principles are just guidelines—they're not hard-and-fast rules.
Therefore, outdoor adventurers should take the time to check in about any local regulations in their future recreation destinations.
Every land manager, be that a national park or state forest, has their own rules about what you can and can't do on their land. While these rules might seem a bit odd sometimes, they're often in place to encourage sustainable use of our shared public lands.
So, before you venture out on your next camping trip, take the time to read about the best practices in your destination. Learn about any potential fire bans or restrictions, group size maximums, and over-crowded campsites that are probably best to avoid.
Most land managers are more than happy to talk to you about the local rules and regulations, too, so don't be afraid to stop by at a visitor's center to ask about them during your stay.
3. Consider Your Travel Plans
When we talk about sustainable outdoor trips, we often focus much of our effort on the trip itself.
However, getting to our favorite outdoor destinations often requires quite a bit of travel. This travel does have an impact on the environment, even if this impact isn't as obvious to us as a piece of trash on the side of the trail.
Of course, we're not saying that you shouldn't travel and visit amazing outdoor destinations. But there are things we can all do to minimize the impact of our travel plans on the ecosystems that we care about.
In a post-COVID-19 world, some simple ways to help minimize the impact of your travel plans while camping include carpooling to your campsite with your friends instead of taking separate vehicles. Or, if you're at a national park that offers an in-park shuttle, this is often the better choice than driving your vehicle around the park to different trailheads.
It might not seem like much, but anything we can do to minimize our impact can pay dividends in the long term.
4. Invest in Gear That's Designed to Last
Let's face it: We outdoor enthusiasts love new gear.
In reality, who wouldn't? Getting a shiny new piece of gear is an awesome way to get motivated for your next trip and it's an investment in all your future adventures.
Gear that's poorly designed and breaks easily will end up in the landfill, where it's certainly not going to have a positive impact on the environment.
Does this mean that you shouldn't buy new gear? Not at all!
If you're going to head outside, you need to have the right gear for your adventures. But, you can choose to buy gear that's designed to last rather than gear that's destined for the dump.
Investing in quality gear that's made with premium materials, like the leather and canvas in Duluth Pack, is a solid way to reduce the amount of gear that you end up discarding in your lifetime. Taking care of your gear and cleaning it properly can also go a long way toward minimizing your impact on the great outdoors.
5. Become a Steward of the Land
Finally, reducing your impact on the environment isn't just about minimizing the not-so-good habits that we all have. Rather, you'll also want to consider how you can take an active role in helping care for the amazing public lands that we all know and love.
Becoming a steward of the land is a great way to give back to your favorite camping and hiking destinations.
Volunteering to work on a trail crew, donating to local conservation organizations, or simply picking up trash that you see on the side of the trail makes a difference. Anything you can do to positively impact your favorite wild places will help ensure that we have beautiful natural spaces to recreate in for generations to come.
Happy adventures, friends!


Guest post contributed by: Julien and Gaby of www.outdoorsgenerations.com