Tasty treats are a must for any camping adventure! They simply taste better when you are out in nature. Duluth Pack has found five great dessert recipes to hit the spot while you are at the fire with a comfy sweatshirt and blanket. Some of these recipes are easy make at home options, so you don't need to prep them while camping. Find your favorite campfire dessert recipes and bring them along with your camping essentials for your next camping trip.
Campfire Apple Crisp Foil Packets (8 Servings)
This recipe by Gimme Some Grilling takes 30 minutes including prep time unlike some Dutch oven recipes for apple cobbler which take hours to simmer. That means you have just enough time for some games before dessert!
Ingredients
4 c. apples peeled, sliced thinly
1/2 c. butter melted
1/2 c. brown sugar packed
2 tsp cinnamon
1/2 c. flour
1/4 c. sugar
1/2 c. quick oats
1/2 tsp baking powder
Aluminum Foil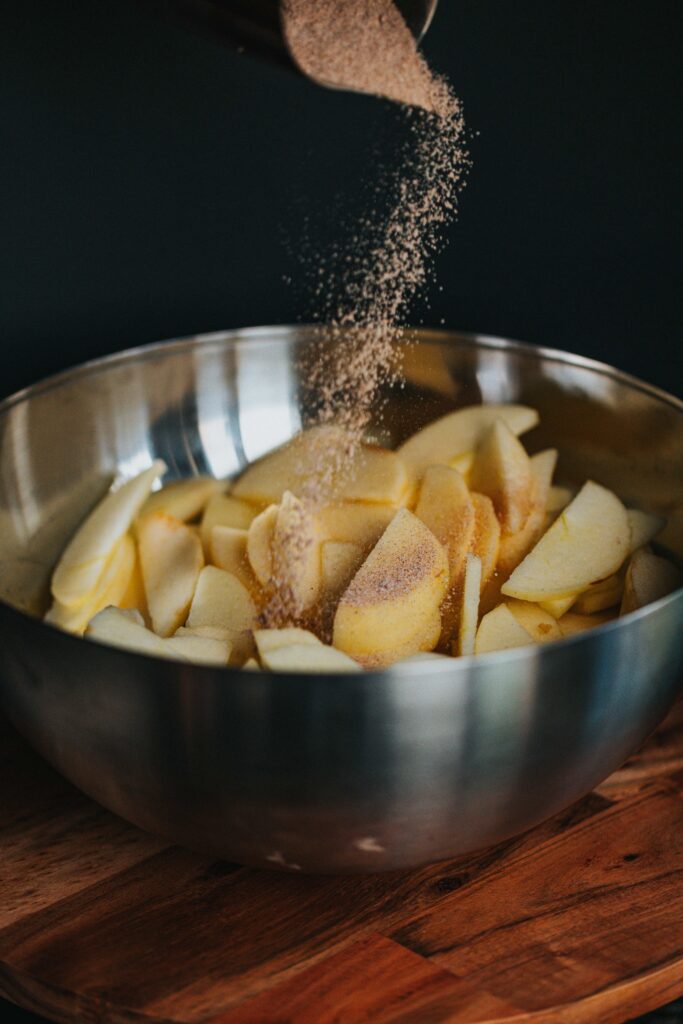 Instructions
Build a campfire or preheat the grill/oven to 350 degrees.
Tear off 4 sheets of aluminum foil about 8" x 12".
Evenly divide apples between the four pieces of tin foil.
In a small bowl mix together sugar and cinnamon. Evenly sprinkle over the top of the apples.
In a medium-sized mixing bowl mix together butter, brown sugar, flour, oatmeal, and baking powder. Evenly sprinkle on the top of the apple mixture.
Fold foil packets up and seal. Place on a grate over the campfire, in the oven, or on the grill grate. Bake for about 20 minutes.
Carefully open foil packets, top with ice cream if desired, and enjoy!
Note:
If you do not have a fire grate for the fire you can place these to the side of the fire over some coals and rotate halfway through.
Campfire S'mores Nachos ( 4 servings)
This recipe by Lets Camp S'more takes under 30 minutes to enjoy from start to finish. This recipe is flexible for amounts and can be modified depending on your group size. You can also add other items to it for additional flavorings like bananas or peanut butter!
Ingredients
graham crackers
mini marshmallows
regular marshmallows
chocolate chips
Instructions
Break up graham crackers and spread them in the bottom of your foil pan.
The number of crackers you use will depend on the size of your pan.
We use two cinnamon graham crackers in our 8" X 8" foil pan. We have made this with regular and cinnamon graham crackers, but we like the cinnamon better.
Sprinkle mini marshmallows on top of the graham crackers.
Scatter chocolate chips on top of the graham crackers.
Repeat with another layer of the three ingredients.
Place more chocolate chips on top along with a few regular-size marshmallows.
Cover the pan with a piece of heavy-duty foil, making sure to wrap it tightly around the edges of the pan.
Place the pan on the grate of a grill or over the campfire. Get grill and oven directions above in the post.
Like with regular s'mores, we find these grill best over coals as opposed to an open flame.
Cook until the marshmallows and chocolate melt.
You can lift a corner of the foil to make sure it's melted, or just use your nose to smell the chocolate. Just make sure not to burn it.
Carefully remove the pan from the fire.
Take off the foil lid and enjoy.
S'mores Muddy Buddies (12 Servings)
This recipe from the blog Like Mother Like Daughter is a childhood favorite snack for many with a camping twist. If you are looking for a great dessert option for younger kids this is an easy go-to. You can portion this snack out and prepare everything at home so it is stress-free. Put a Duluth Pack Apron on when you make this snack to avoid powdered sugar on your clothing!
Ingredients
5 cups golden graham cereal divided
3 cups Chex cereal
1 cup powdered sugar
1/2 cup peanut butter
1 1/2 cup chocolate chips divided
1 3/4 cup mini marshmallows divided
Instructions
1/2 c. butter melted
2 tsp cinnamon
1/2 c. brown sugar packed
1/4 c. sugar
1/2 c. flour
4 c. apples peeled, sliced thinly
1/2 c. quick oats
1/2 tsp baking powder
Aluminum Foil
Combine 4 cups golden graham cereal and 3 cups of Chex cereal in a large bowl and set aside.
Put 1 cup powdered sugar in a large gallon Ziplock bag and set aside.
Combine your peanut butter and 1 cup of your chocolate chips in a large microwave-safe bowl. Microwave for 30 seconds, then stir, then another 30 seconds, then stir, until creamy. Microwave for another 30 seconds if needed.
Add 1 cup mini marshmallows to your chocolate peanut butter and stir together so the marshmallows melt a little.
Pour your chocolate peanut butter mixture over the cereal and stir together till the cereal is completely coated.
Carefully scoop chocolate-coated cereal into Ziplock with powdered sugar.
Shake the bag until the cereal is completely coated with powdered sugar.
Pour cereal into another large bowl and mix in remaining 1/2 cup chocolate chips, 3/4 cup mini marshmallows, and 1 cup golden graham cereal and serve.
Campfire Baked Apples (4 Servings)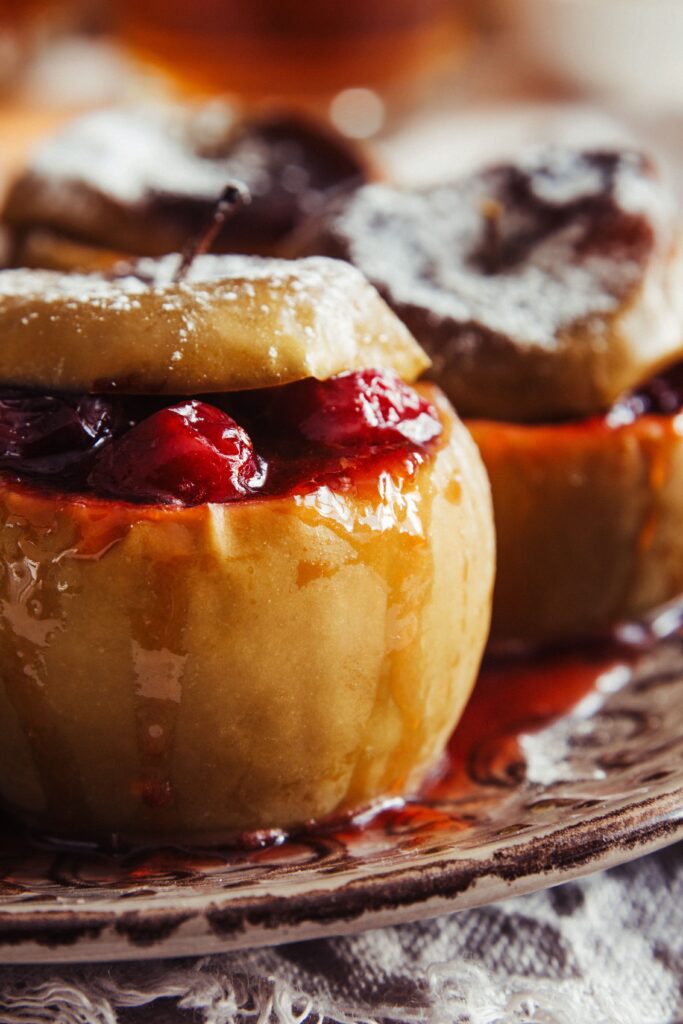 This recipe by the blog Family Spice is a great option if you are looking for a healthier dessert idea that is still sweet. These apples can easily be made over a campfire, in a Dutch Oven, or cooked at home in the oven.
Ingredients
4 large apples, such as Gala or Granny Smith
1 TBS lemon juice
¼ cup dried cranberries
2 TBS raisins
2 TBS chopped walnuts
¼ teaspoon ground cinnamon
⅛ teaspoon ground nutmeg
1 TBS unsalted butter
Instructions
Using a knife or an apple corer carefully core the apples.
Brush the inside of the apples with lemon juice to prevent browning.
Place each apple on its own 10-inch square sheet of aluminum foil.
In a small bowl, mix dried fruits, nuts, and spices.
Press the dried fruit mixture into the center of each cored apple.
Cut butter into four pieces and place each small square on top of each apple, over the center filled with the dried fruit mixture.
Wrap each apple tightly with the aluminum foil.
Place aluminum foil-wrapped apples in or next to hot coals, not onto an open flame, and cook for 20-45 minutes, depending on how firm you like your baked apples.
Keep checking your apples. If the coals are too hot, remove them from the coals and place them on a grate over the coals. Apples are done when they feel tender when squeezed. Serve warm.
Blackberry Dumplings ( 8 Servings)
This recipe by the Taste of Living blog is a sophisticated dessert to enjoy while camping. This dessert does require a Dutch oven to prepare so you will want to make sure you have one packed with your camping essentials.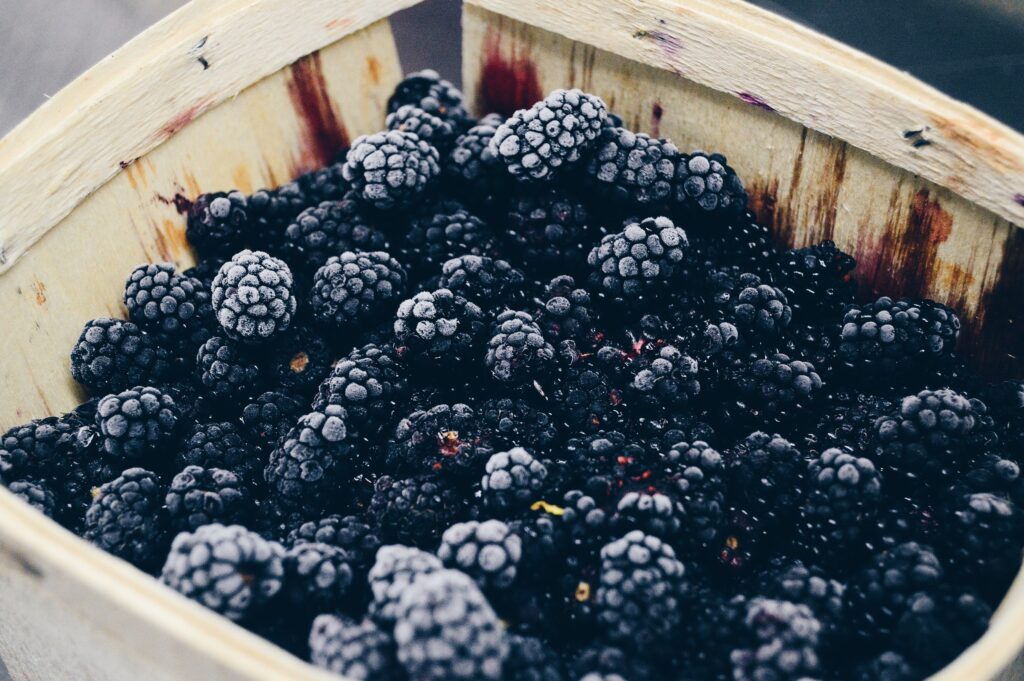 Ingredients
1 quart fresh or frozen (loose-pack) blackberries
1 cup plus 1 tablespoon sugar, divided
3/4 teaspoon salt, divided
1/2 teaspoon lemon extract
1-1/2 cups all-purpose flour
2 teaspoons baking powder
1/4 teaspoon ground nutmeg
2/3 cup 2% milk
Optional: Cream or whipped cream
Instructions
In a Dutch oven, combine the blackberries, 1 cup sugar, 1/4 teaspoon salt and lemon extract. Bring to a boil; reduce heat and simmer for 5 minutes.
Meanwhile, in a bowl, combine the flour, baking powder, nutmeg, and remaining sugar and salt. Add milk; stir just until mixed. (Dough will be very thick.)
Drop by tablespoonfuls into 6 mounds onto hot blackberry mixture; cover tightly and simmer for 15 minutes or until a toothpick inserted in a dumpling comes out clean.
Spoon into serving dishes. Serve with cream or whipped cream if desired.
S'mores Cereal Treat (20 Servings)
This recipe by Wilton has combined two iconic treats both cereal bars and S'mores! You can prepare this tasty treat at home and bring it on your next camping trip.
Ingredients
6 tablespoons butter
1 bag (16 ounces) Regular-size marshmallows
10 drops Treatology Flavor Extracts Kit, 8-Piece Food Flavoring
1/4 teaspoon salt
10 cups Crisped rice cereal
1 bag (10 ounces) mini marshmallows
Light Cocoa Candy Melts
Bake-Easy Non-Stick Spray, 6 oz
Instructions
Prepare a 13 in. x 9 in. baking pan with vegetable pan spray.
In a very large saucepan, melt butter over medium-high heat until it smells nutty and browns slightly. Reduce heat to medium-low; stir in regular marshmallows, Warm Cinnamon Graham and Creamy Vanilla Custard Flavors, and salt. Cook, stirring constantly, until melted and smooth.
Click to mark this step as completed
Remove from heat; stir in cereal, 3 cups mini marshmallows, and 3/4 cup Light Cocoa Candy Melts Candy. Press into prepared pan. Sprinkle with remaining mini marshmallows and press lightly to adhere.
Click to mark this step as completed
In a small microwave-safe bowl, microwave the remaining 1/2 cup candy on 50% power in 30-second intervals, stirring between each, until the candy is almost melted. Stir thoroughly until smooth and drizzle over the treats. Let cool completely.
These delicious dessert recipes are quick and easy options for your next car camping trip. They also have enough variety that you can choose the ideal recipe for your family. Many of these require just a few camping essentials and some don't require any prep time during your trip. You can simply bring them from home, ready to eat while camping. Pack your Duluth Pack bag with all your apparel and camping needs so that you are set for your next adventure. Be sure to check out Duluth Pack's Good Eats blog for other great camping meals!
Happy cooking, friends!