Recently, we had the opportunity to sit down and chat with outdoor T.V. host and enthusiast Lindsey Hayes. Known for her love of the outdoors, Lindsey spoke to us about her past and upcoming projects. As an avid hunter, angler, sports lover, off-roader, and adventurer, she has spent most of her professional career showcasing her hobbies and passions.
Lindsey has a long list of favorite outdoor activities, "I like to go by seasons," she chuckles. In the fall, Lindsey mainly deer hunts but also tries to incorporate a few bird hunts. When the snow comes, she prefers to ice fish and hit the wintery trails. In the spring, she spends most of her time shed hunting (looking for deer antlers) and turkey hunting. During the warm summer months, Lindsey loves boating, hiking, traveling, and off-roading. "I like to say there's not a lot of time of the year that I am not outside. I like to spend more time outside than I do inside," she explains.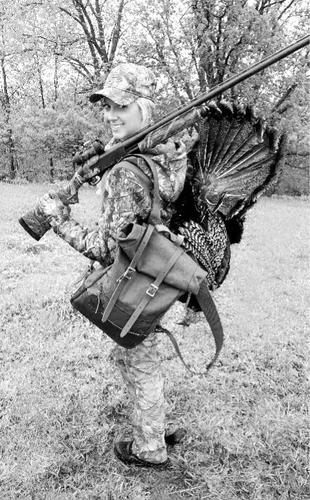 Originally from Wisconsin, Lindsey grew up on a small hobby farm where she learned to hunt and fish. Besides the outdoors, Lindsey was also an avid soccer player, which she would later play in college. After college, Lindsey knew she wanted to remain in the sports world, so she pursued being a play-by-play announcer and calling sports games. She would later go on to host shows and report for professional sports leagues, including the NBA, MLB, and NHL. As she continued, she began to realize her enthusiasm for storytelling. "My sports broadcasting career then really transformed into loving to story tell and now I've been working in the outdoor industry for the last six years, and ten plus years in the broadcast industry," says Lindsey.
Outdoor and Broadcasting Industry
Lindsey has worked on many outdoor T.V. projects. One show, in particular, is called "Outdoor Bound T.V." Which is all about hunting and fishing in the Midwest and Canada. The show also highlights the amazing people of the Midwest and their bond with nature. Outdoor Bound T.V. showcases the Midwest's many beautiful stories, from outdoor products to hunting and fishing spots.
Earlier in her career, she also hosted the show "Destination Polaris," which discusses some of the best places both nationally and internationally for off-roading. Lindsey is an avid off-roader. Recently, she was up north riding from Silver Bay to Beaver Bay, which is an excellent trail for scenic overlooks of Lake Superior.
Another show Lindsey was a part of was "Made for the Outdoors," which featured Duluth Pack twice. The show discussed the step-by-step process of how great outdoor products are made. Duluth Pack was happy to be a part of such a great story that showcased the quality behind the iconic outdoor brand, company, and gear.
Lindsey's latest project is an outdoor production company called "Forever Wild LLC." The company focuses on "Anything and everything outdoor storytelling," says Lindsey. From video editing to film making, Forever Wild LLC helps bring the wildness of the outdoors to your home.
Also, in her past, Lindsey has worked around the sports broadcasting industry. "You understand the hard work and dedication players go through to be great at their sport," she says, noting that getting to truly know the players was an amazing aspect of the job. Lindsey also learned about the players outside of their sport and was able to bond with them about hunting, fishing, and other outdoor activities.
Lindsey has visited the beautiful city of Duluth many times. As a child, her family would take weekend road trips to the scenic North Shore destination. To this day, she loves Duluth and visits when she can. She loves Canal Park and the surrounding area's natural beauty. Lindsey says that the Northland also has some pretty fantastic fishing spots.
When in Duluth and roaming Canal Park, Lindsey makes sure to stop at the Duluth Pack Flagship Store. Since she is a storyteller, she loves the story and history behind Duluth Pack, a company with a history dating back more than a hundred years. One of her favorite aspects about Duluth Pack is "That the products are made tried and true in the USA." Lindsey stopped by the factory a few years ago and made her very own Deluxe Roll-Top Scout. She has used this bag for many years and takes it on all of her turkey hunts, becoming a part of her favorite turkey hunting gear.
Lindsey also owns the Bison Leather Shotgun Case and says she gets many compliments on the case. "I know that I do not need to buy another one the rest of my life," she says. Lindsey loves the break-in and wear of our premium and America Bison Leather, so she also uses the Bison Leather Market Tote and the matching Bison Leather Shell Purse.
For the colder hunting season, Lindsey always wears the Duluth Pack Olive Beanie and Duluth Pack Hand-Warmer. These products are built for staying warm all season long.
LINDSEY'S LIST OF MUST-SEE MINNESOTA DESTINATIONS:
Winona, MN- fishing/hiking- Mississippi River & Sugar Loaf Bluff
Lake Pepin, MN- fishing/boating/Eagle Hang Gliding
Duluth, MN- North Shore Scenic Drive, Gooseberry Falls State Park, off-roading and fishing
Mille Lacs Lake, MN- fishing, boating and snowmobiling
Lake Minnetonka, MN- fishing, boating
Interstate Park- Taylor Falls, MN- hiking
LINDSEY'S LIST OF MUST-SEE WISCONSIN DESTINATIONS:
Hayward, WI- fishing, off-roading
La Crosse, WI- hiking, fishing, hunting
Devil's Lake State Park- hiking, camping
Door County, WI- fishing, hiking
Wisconsin Dells, WI- fishing, boating, hiking, hunting
Thank you to Lindsey Hayes for sitting down and speaking with us. It is a pleasure to share your inspiring story.
Happy swapped stories, friends!