Swapped Stores: With A True Woodworking Extraordinaire, Casey Edwards
Woodcarver, family man, outdoorsman, and former gymnast, Casey Edwards is undoubtedly a unique and special individual. We had the honor and privilege to speak with Casey about his life and his work. He is known for carving all sorts of animals and figurines, including fish, birds, frogs, Santa Clauses, and much more. Each carving is impressively sculpted and pained by Casey himself and sold on his popular eBay account. Though he is known for his extraordinary wood carvings, he is indeed much more than just that. We learn a bit about his background, his business, and his carving.
Growing up in Manitowoc, Wisconsin, Casey's childhood was surrounded by nature and self-reliance. His parents owned 30 acres, and he would regularly hunt wild game and fish the Manitowoc River. "As soon as I could walk, my parents would just let me go – from early in the morning to late at night, I would be doing everything," says Casey noting that his parents allowed him to be himself and explore the land. He learned not only to be a sportsman but also how to put food on the table for the family. Learning to live off the land helped Casey connect more with the woods and himself.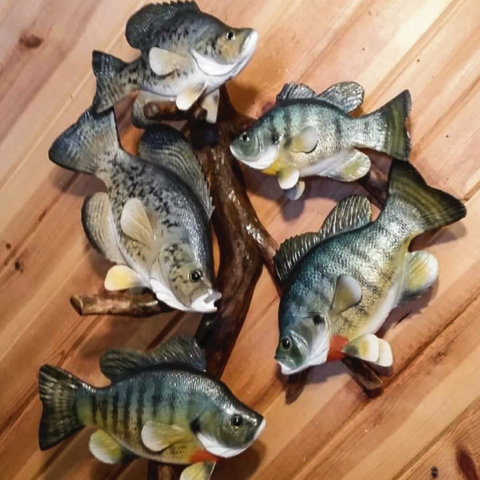 In high school, Casey became a gymnast and excelled as an athlete. After being offered scholarships from schools across the country, Casey settled on the University of Wisconsin Oshkosh because it was close to home. He competed on the gymnastics team and later made the United States Olympic team in 1980. Unfortunately, this was the year that the U.S. boycotted the games. Casey always stayed true to his wilderness roots. He believes a lot of his athletic and carving success is due to the lessons he learned growing up in the wilderness and his gymnastics background. He says that gymnastics helped him realize and develop his "known" talents, especially his hand-eye coordination. This coordination skill directly translates over to woodcarving, a task that involves mainly your hands. Using his artistic vision and creative mind, Casey can carve animals without actually looking at a picture or the subject itself. "I can picture something, and my eyes and my hands can make what my mind sees," he explains.
One of the most important lessons Casey learned as a young man was the importance of openness and keeping an open mind towards new experiences. He says, "Be open; when you're open, you can pull in what you want that fits you and then use it with the other talents that you have." This directly relates to his carvings; he finds new ways to develop and improve his craft, especially in the places he finds most challenging. He is an all-around carver with the confidence to carve just about anything.
As mentioned, Casey carves many things; usually, he goes by season. Doing this allows him to work on a variety of items and capture the eyes of a large audience. His most popular items are songbirds and fish; these items tend to sell like wildfire to people across the country. Birds of prey are also popular. Birds like red-tailed hawks and owls are among the most coveted within the category. Birds of prey are Casey's favorite thing to carve, stating, "pound for pound they are the toughest birds on earth." He can capture that toughness and emulate it, making his carvings striking and powerful.
Using white pine wood and paint, Casey transforms ordinary materials into works of art. He sculpts individual pieces and connects them to create beautiful and flowing creations. Once the wood foundation is complete, Casey meticulously hand paints the carving. The simple wood is transformed into a lively and lifelike masterpiece.
Casey started carving because it made him feel happy, but he soon realized he could spread that joy to others, "What made me feel good was making someone else feel good," he says. His carvings bring the natural glory of the outdoors to those across the globe. All of his carvings can be found and purchased on eBay. His account is filled with many carvings and plenty of options to choose from. Most carvings sell quite quickly because his page is so popular within the wood carving market.
Duluth Pack supports the ingenuity of creators like Casey Edwards. Like Casey's business, "It's Casey LLC," Duluth Pack is a company built on the foundations of hard work and handcrafted products. Duluth Pack's founding father, Camille Poirier, noticed a need for sturdy packs, and so he created the best ones around. Duluth Pack is built on this innovative heritage and legacy. To this day, we still manufacturer the same premium and leather packs Poirier was handcrafting, and we are proud of that. We have built other goods based on a solid foundation. For instance, the Bushcrafter is made for those who need a bag to withstand any rugged adventure. The Large Standard Backpack is great for gear and textbooks. And the Grab-N-Go bags are made for all of your essentials. No matter the pack you choose, Duluth Pack ensures top-notch quality and a lifetime guarantee.
You can find Casey's carvings on eBay and Facebook!
Happy swapped stories, friends!