The Bison Market Tote
The iconic Bison Market Tote is a rugged twist on Duluth Pack's classic Market Tote. This USA Made tote is handcrafted using the original American protein, bison leather, and is built to be both durable and refined. Whether you are seeking a statement piece or shopping for your companion travel tote, it's the ideal size for everyday adventuring and exploring. Use this tote style for the gym, travel, school/work, or for everyday use. With a lifetime guarantee on all craftsmanship and hardware, this excellent tote option is sure to be your go-to bag for all your needs!
5-Star Employee Review and 5+ Years of Continued Use:
"The Bison Market Tote is my go-to carry-all tote. For the past 5+ years, I have taken this tote with me to work and all over the country. It's the perfect size to fit my laptop, folders, lunch, and with more than enough space to fit other miscellaneous items. The Bison Leather Market Tote gets more beautiful with use and the straps are incredibly comfortable once broken in. I get compliments on this tote all the time!" – Andrea Johnson, Marketing Manager
The Gym
When looking for a great bag to carry your equipment for your daily workout, the Bison Market Tote is a wonderful choice. This USA Made style holds up to 33 liters and includes snap closures to secure all your workout essentials within the tote. The large opening of the Bison Market Tote makes it easy to load up your shoes, a change of clothes, and a water bottle for your workout. The Bison Market Tote also has a nylon lining that allows for easy cleaning and has an internal zippered pocket that can hold items like your phone, keys, and wallet while you are at the gym. Plus, it's compact enough to fit in a locker securely. This durable bag carries a lifetime guarantee on all craftsmanship and hardware that allows you to enjoy this investment piece for years!
Looking for a duffel style bag for the gym? Check out Duluth Pack's other quality USA Made bags like the Zippered Round Duffel and Gym Bag.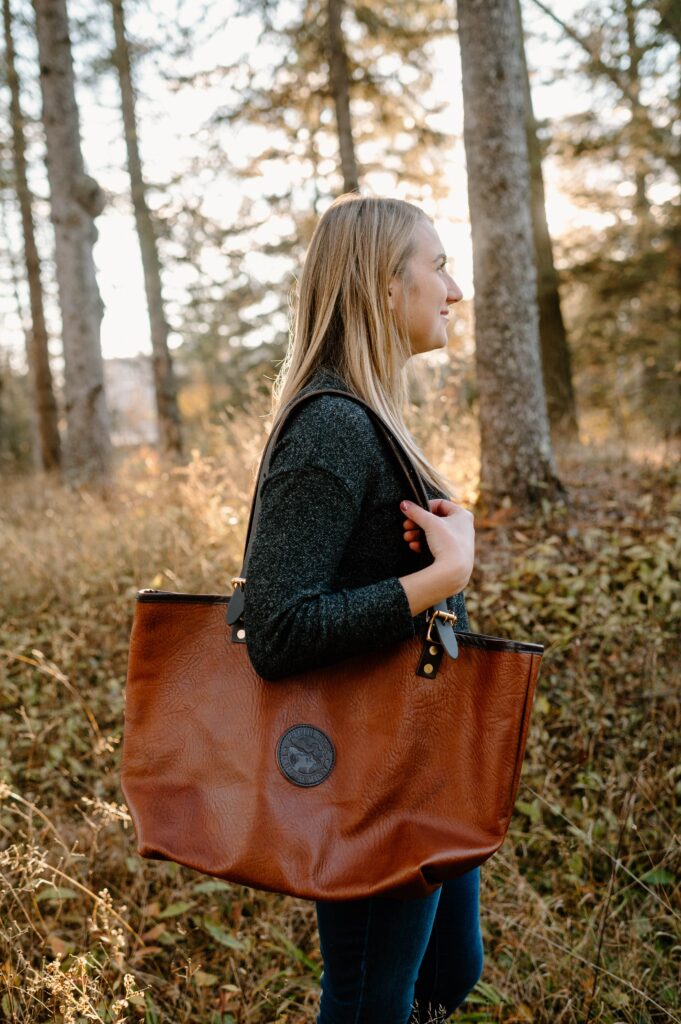 Travel
The Bison Market Tote is a great tote option for traveling! The premium tote style has adjustable shoulder straps that use weather-proof roller buckles, so you can modify the shoulder strap length to be custom to you and your other travel luggage. Handcrafted with bison leather, the Bison Market Tote is extremely durable and refined so it is ready for any adventure! This tote style also features a premium nylon lining for a full finish and contains an internal zippered hang pocket to hold all your valuables such as your wallet, passport, and more. Your other items are secured in the tote compartment with snap closures. If you would like to add more organization to your tote style, you can use one of Duluth Pack's quality accessories, like a Grab-N-Go bag.
School / Work
Looking for a stylish way to carry all your essentials to school or the office? The premium Bison Market Tote is a stylish and durable tote that is built for all your carrying needs. The adjustable shoulder straps on this tote are made from a quality thick cowhide leather that is comfortable on your shoulder and can be adjusted to be the ideal fit for your body. To finish the bag, it is lined with a nylon liner, and the is trimmed in either brown or black cowhide to elevate the tote and bring added durability. With 33 liters of capacity, you can carry all your school and work essentials with ease! Use the internal zippered pocket to hold important items or add a Large Grab-N-Go for additional organization in your tote. As is standard in all Duluth Pack's Manufactured items, the Bison Market Tote features a lifetime guarantee on all craftsmanship and hardware. Pick up the last tote bag you will need for school or work with the USA Made Bison Market Tote.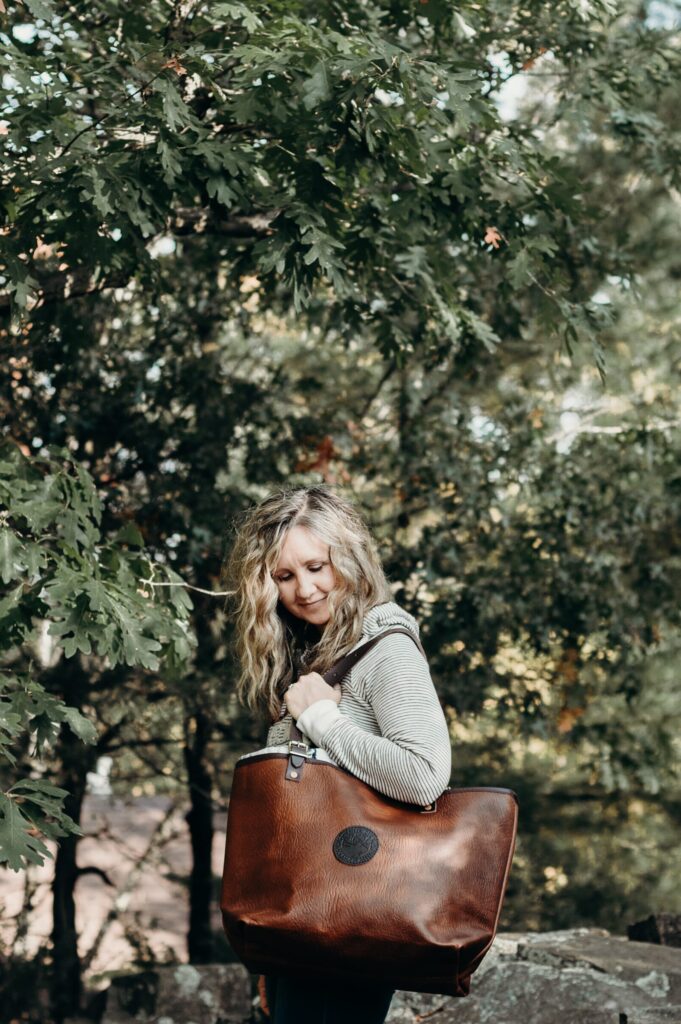 Everyday Use
The Bison Market Tote is created using Duluth Pack's most durable leather in their best-selling style, the iconic Market Tote. This tote is a best-seller for good reason, with the classic design holding up to 33 liters, you can easily carry anything you need for the day in this one stylish bag. This USA Made bag features snap closures to secure your items and has an internal zippered pocket to hold all your important items like your keys, phone, and wallet. The Bison Market Tote is handcrafted using weather-proof hardware and is guaranteed for life for craftsmanship and hardware. You can choose this style of bag to be trimmed in either black or brown cowhide leather so that it will match your everyday style. With such a refined style you are sure to get years of use out of this iconic style.
Now you know more about this sophisticated tote style, the Bison Market Tote and all of its great uses. Don't wait to make this tote your carry-all style for years to come and invest in a Bison Market Tote.
Find this iconic bag either online at DuluthPack.com or at their flagship retail store located around 1.5 miles away from Duluth Pack's USA factory where all Duluth Pack bags and packs are handcrafted.
Happy shopping, friends!