Fall is here! As we head into the sweater weather season, it also becomes the time for comfort cooking. Cooking with a slow cooker or crock pot is a great way to try new recipes and fill your home with the smells of delicious easy meals. Duluth Pack has curated five different recipes that are all top-rated and sure to be a hit. Put on your Duluth Pack Apron and take out your cooking essentials to tackle these crockpot recipes. While they cook take your backpack out and enjoy the changing leaves while on a short hike!
Sweet Potato and Pesto Slow Cooker Bread (1 Loaf)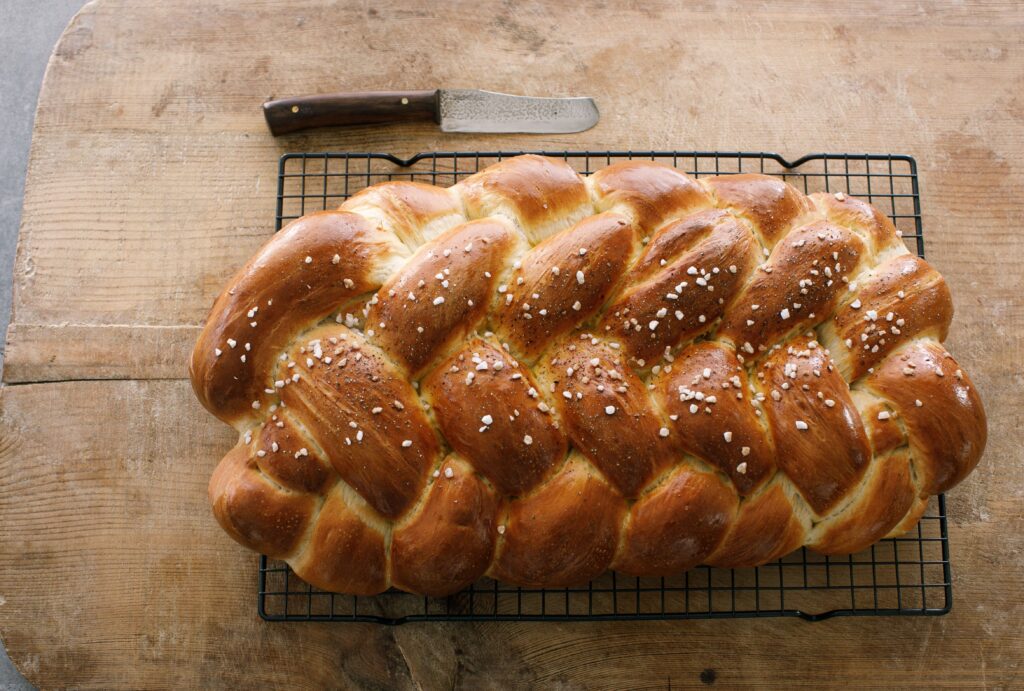 This recipe by the Taste of Home allows you to create a unique fall bread without having to turn on your oven! From prep to finish this bread takes about 5 hours to make and is worth the wait! Cook some the night before and then use your slow cooker for a soup to enjoy with your fresh bread the next day.
Ingredients
1 package (1/4 ounce) active dry yeast
2/3 cup warm half-and-half cream (110° to 115°)
1 large egg, room temperature
1 cup canned sweet potato puree or canned pumpkin
3-1/2 to 4 cups of bread flour
1 teaspoon sugar
1/4 teaspoon ground nutmeg
1 teaspoon kosher salt
1 container (7 ounces) refrigerated prepared pesto
1/2 cup plus 2 tablespoons grated Parmesan cheese, divided
Directions
Dissolve yeast in warm cream. In a large bowl, combine egg, sweet potato puree, sugar, salt, nutmeg, yeast mixture, and 2 cups flour; beat on medium speed until smooth. Stir in enough remaining flour to form a soft dough (dough will be sticky).
Turn onto a lightly floured surface; knead until smooth and elastic, 6-8 minutes. Place in a greased bowl, turning once to grease the top. Cover and let rise in a warm place until doubled, about 1 hour.
Punch down dough. Turn onto a lightly floured surface; roll into an 18×9-in. rectangle. Spread pesto to within 1 in. of edges; sprinkle with 1/2 cup Parmesan. Roll up jelly-roll style, starting with a long side; pinch seam and ends to seal.
Using a sharp knife, cut roll lengthwise in half; carefully turn each half, cut side up. Loosely twist strips around each other, keeping cut surfaces facing up. Shape into a coil; place on parchment. Transfer to a 6-qt. slow cooker; sprinkle with remaining 2 tablespoons Parmesan. Let rise until doubled, about 1 hour.
Cook, covered, on low for 3 to 3-1/2 hours, until bread is lightly browned. Remove from the slow cooker and cool slightly before slicing.
Crock Pot Chicken Noodle Soup (6 Servings)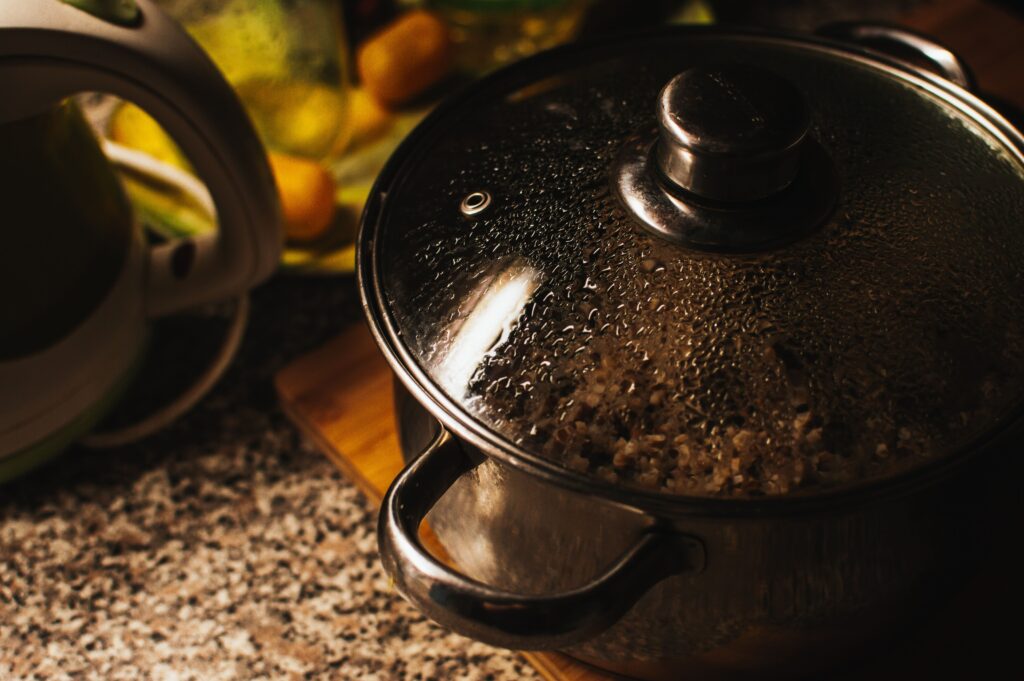 When thinking fall recipes, Duluth Pack had to include a chicken noodle soup recipe! Fall is soup season and this recipe by Well Plated by Erin is both delicious and easy to make in a slow cooker. This recipe takes a little over 4 hours from start to finish. Grab your cookware and dig into this homey recipe!
Ingredients
1 1/2 pounds boneless, skinless chicken breasts trimmed of excess fat
1 teaspoon kosher salt plus additional to taste
1/4 teaspoon black pepper plus additional to taste
1 small yellow onion peeled and left whole
3 medium carrots peeled and cut into 1/4-inch coins (about 1/2 pound)
2 large celery stalks thinly sliced
2 large garlic cloves minced
3 stalks of fresh rosemary tied into a bundle for easy removal
1 bay leaf
7–8 cups of a low-sodium chicken stock divided
6 ounces whole wheat wide egg noodles about 4 heaping cups
Directions
To the bottom of a 6-quart or larger slow cooker, add the chicken breasts. Sprinkle with salt and pepper. Add the whole onion, carrots, celery, garlic, rosemary bundle, and bay leaf. Pour 6 cups of the chicken stock over the top. Cover and cook on LOW for 4 to 6 hours or HIGH for 2 to 3 hours, until the chicken is cooked through and reaches an internal temperature of 165 degrees F. The cooking time can vary greatly depending on your slow cooker model, so check the thickest part of the chicken for doneness early to ensure it does not overcook.
Remove the chicken from the slow cooker to a large mixing bowl or plate. Fish out and discard the whole onion, bay leaf, and rosemary springs (don't worry if a few of the rosemary leaves are left in the soup). Shred the chicken—a hand mixer, two forks, or your fingers (if the chicken is cool enough) all work well for shredding. Set the shredded chicken aside.
To cook the noodles on the stove (the best option so that you don't worry about them over- or undercooking and so the noodles stay more intact): Towards the end of the soup's cook time, cook the egg noodles until al dente according to package directions. Drain and add to the soup when the soup has finished cooking. Add back the shredded chicken. Stir and let cook on LOW for 5 minutes to absorb some of the flavor.
To cook noodles directly in the slow cooker (the best option if you are willing to risk less-than-perfect noodles for the sake of not washing a separate pasta pot): Add the uncooked egg noodles to the soup. Cook on LOW for 10 minutes, or until al dente. Stir in the shredded chicken.
Add as much of the remaining 1 cup chicken stock as you like to reach your desired consistency. (If you cooked your noodles in the slow cooker, you may also need to add some additional stock since the noodles absorb the stock as they cook).
Slow Cooker Scalloped Potatoes (8 Servings)
This recipe by Damn Delicious takes 20 minutes to prep. Then this recipe cooks for 5 hours and 20 minutes. This creamy side dish is fantastic and makes a great dish to bring for a party! Don't forget your serving utensils if you travel with this dish.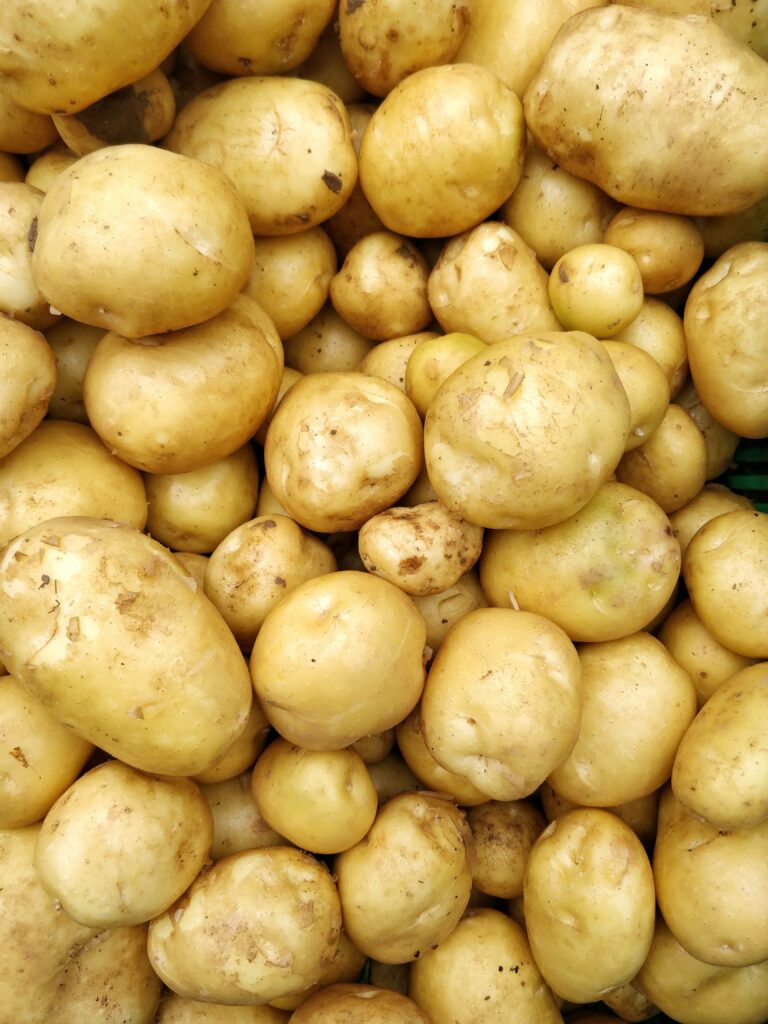 Ingredients
1 1/2 cups heavy cream
3 cloves garlic, minced
1/2 teaspoon dried thyme
Pinch of nutmeg
2 pounds of russet potatoes, peeled and cut into 1/8-inch-thick slices
Kosher salt and freshly ground black pepper, to taste
1 cup shredded Gruyere cheese
1/4 cup freshly grated Parmesan
1/2 teaspoon fresh thyme leaves
Directions
In a medium saucepan, whisk together heavy cream, garlic, thyme, and nutmeg over medium heat until heated through, about 1-2 minutes.
Add a layer of potatoes to a 4-qt slow cooker in an overlapping pattern; season with salt and pepper, to taste. Pour 1/3 cup cream mixture over potatoes: sprinkle with Gruyere. Repeat with remaining potato slices, cream mixture, and Gruyere to create 2 more layers.
Cover and cook on high heat for 4-5 hours, or until potatoes are tender. Sprinkle with Parmesan. Cover and cook until melted, about 5 minutes.
Remove lid and let potatoes rest for 15 minutes, allowing the sauce to thicken as it sits.
Serve, garnished with thyme, if desired.
Creamy Crockpot Mac and Cheese (8 Servings)
This recipe by Amanda's Cookin takes about 2 hours to create and is a great dish for serving a crowd. From kids to adults, you can't go wrong with Mac and Cheese! Grab your cookware and dig into this yummy recipe!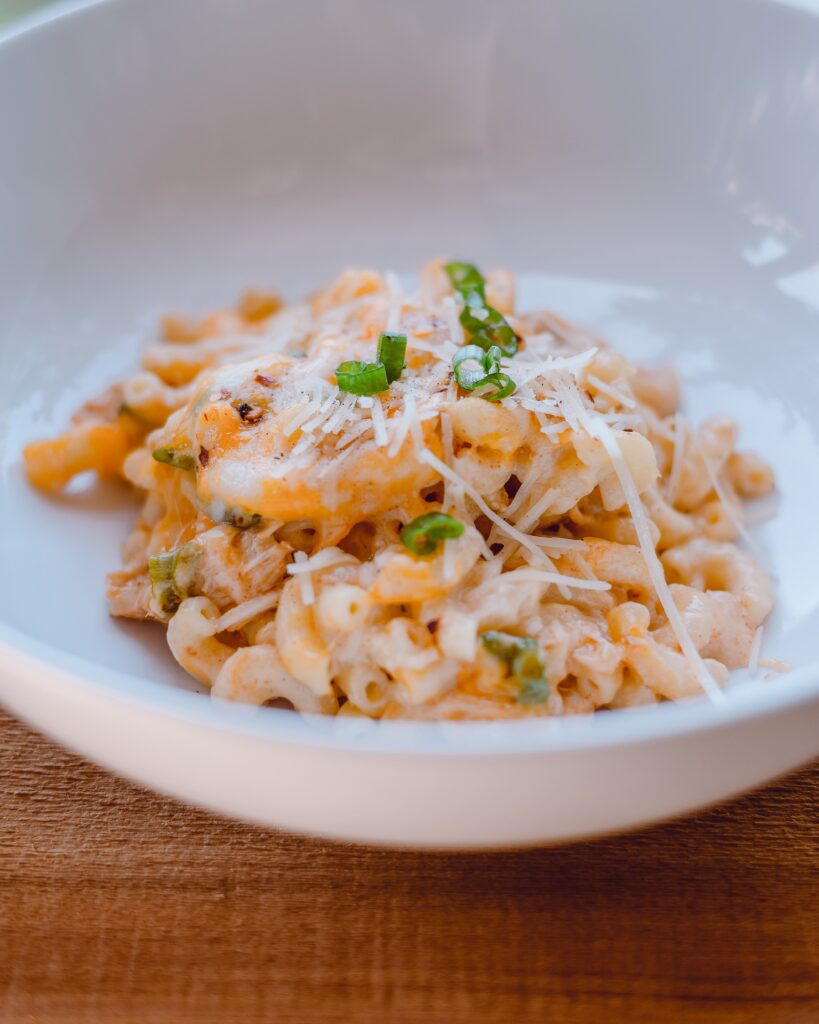 Ingredients
1 pound elbow pasta uncooked (regular, NOT gluten-free, NOT quick cook pasta) This recipe has used the Barilla brand
2 1/2 cups milk whole is best
12 ounces of evaporated milk
12 ounces Extra sharp cheddar 3 cups shredded (from the deli, shred yourself, don't buy bagged)
4 ounces American cheese (or Monterrey) 1 cup shredded (from the deli, not processed slices)
1 teaspoon salt
1/2 teaspoon black pepper
1/2 teaspoon dry mustard
1/4 teaspoon garlic powder
Dash of cayenne pepper to taste
1/4 cup butter cubed
Directions
Spray 6-quart slow cooker with non-stick spray.
Rinse the uncooked pasta well in cold water and drain.
Add uncooked pasta to the crockpot along with milk, cheeses, salt, pepper, mustard, garlic, and cayenne pepper. Stir to combine, making sure macaroni is submerged in liquid as much as possible.
Dot with cubed butter.
Cover and cook on low heat for 1 hour. Remove the lid and stir. Depending on your slow cooker, your dish could be done at this point or require UP TO 1-2 more hours.
If not done, continue cooking and checking periodically (every half hour or so).
When done, the pasta will be tender and the liquid will be thick and creamy. The sauce will thicken even more after the lid is removed and mac and cheese sits.
Slow Cooker Baked Apples (5 Servings)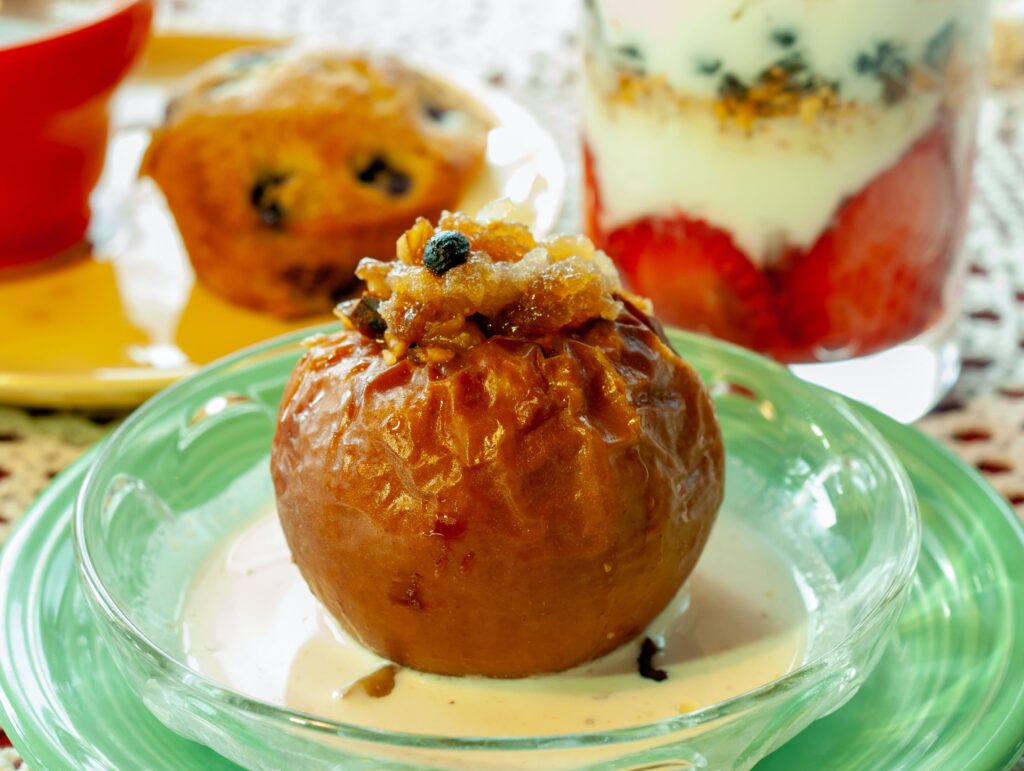 This recipe by the Food Dietitian is a great healthier dessert that still hits the sweet spot. The natural sugars from the apple creates a sweet and tart flavor profile that balances well.
Ingredients
1/2 cup all-purpose flour
1/2 cup rolled oats
1/3 cup brown sugar
1/4 cup granulated sugar
1 teaspoon cinnamon
1/4 teaspoon salt
5 tablespoons butter, divided
5 medium-large apples
1/2 cup water
Optional toppings: vanilla ice cream and/or salted caramel sauce
Directions
In a medium bowl, add oats, flour, brown sugar, sugar, cinnamon, and salt. Stir to combine.
Core apples using an apple corer or sharp knife. Slice off the top of the apple so that the top is even.
Stuff the empty apple cavity with the oat's mixture, pressing down firmly to pack in. Cover the top of the apple with an additional oat mixture.
Add water to the crockpot and carefully place apples in so that they are standing upright. Add a tablespoon of butter on top of each apple. Cook on low for 4-5 hours or high for 2 – 2 1/2 hours. Remove from the crockpot and let cool for 5-10 minutes.
Optional: Top with ice cream and/or salted caramel sauce.
These top-rated dishes are great options to try in your home and could become a family favorite dish. By being in a crockpot you can take more time with your family while cooking and still enjoy a delicious meal! Take advantage of time in the beautiful fall weather and enjoy these homey slow cooker recipes. If you like these recipes and want to try more Duluth Pack favorites you can view them in the Good Eats section of the Pack Report Blog.
Happy Cooking, friends