When you think of hops, you probably think of the amazing craft breweries and a pint glass of beer. Hops are not just for beer though and are actually a wonderful herb. You can bake, cook, marinate, and more with hops for a flavorful dish. When making beer you will often use hops that are high in alpha acids, sometimes called "bittering" hops. For cooking, however, we will want to use hops that are low in alpha acids, called aromatic hops or also called dual-purpose hops. Duluth Pack has gathered an assortment of dishes to show you the wide range of things you can do with this complex herb.
Roll up your sleeves and grab your Duluth Pack Apron to dig into these unique recipes that are sure to impress your dinner guests!
Hopped-Up Bruschetta (3-4 Servings)
Duluth Pack wanted to start with a fan favorite appetizer recipe and found this delicious bruschetta recipe with hops by Bon Appetit! This dish is great for a dinner party or to bring as a dish to share and can be assembled quickly on location if you are traveling.
Pro Tip: If you have trouble finding fresh hops, basil flowers make a worthy substitute. Once the basil plant has gone to flower, its pungency increases and its herbaceousness becomes slightly bitter and hoplike.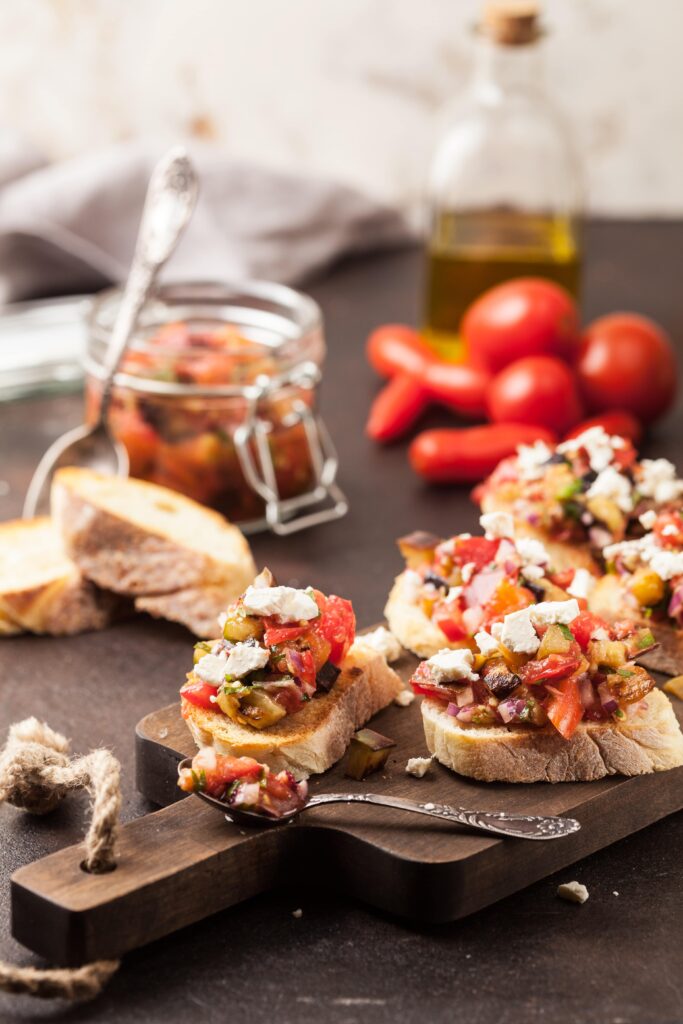 Ingredients
1/2 small garlic clove
Kosher salt
1 large tomato, chopped
1/2 small onion, sliced
2 Tbsp. extra-virgin olive oil
2-3 fresh hop flowers (not pellets) or basil flowers, torn
1/4 tsp. freshly ground black pepper
6-8 pieces of toasted country bread
Directions
Mince and mash the garlic into a paste with a pinch of salt.
Combine garlic paste with 1/2 tsp. salt, the tomato, onion, oil, hop flowers, and pepper.
Top the toasts with the tomato mixture and serve.
Hop Marinated Chicken Skewers (4 Servings)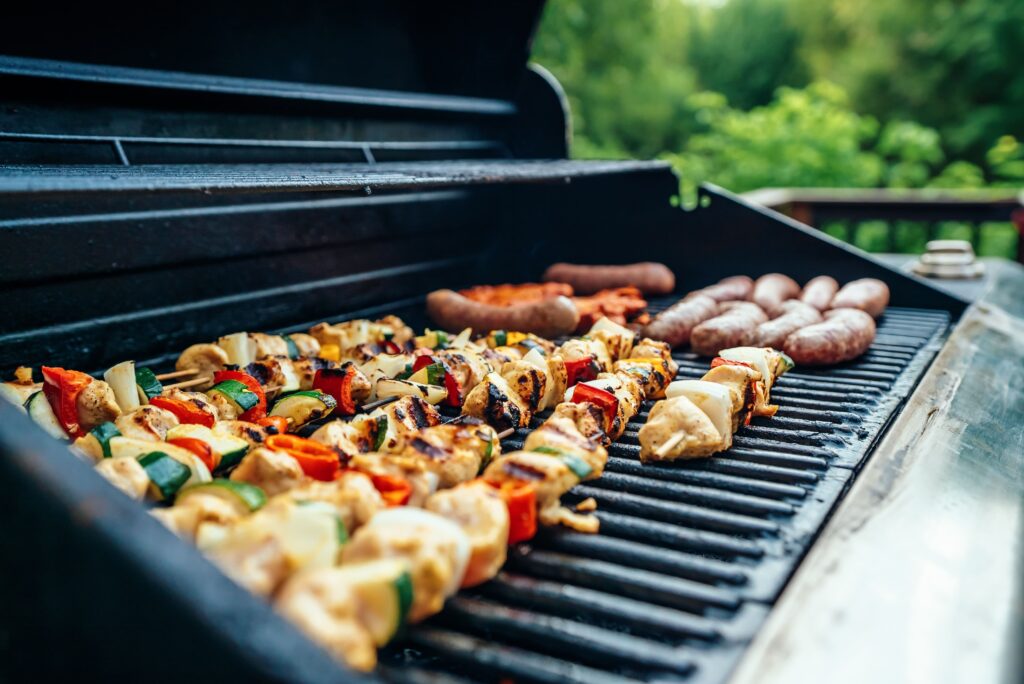 Keep your clothes protected with a durable and guaranteed-for-life apron by Duluth Pack when making this delicious recipe by Celebration Generation. While the cook time is short for this recipe you do need to marinate the chicken for an hour. Keep this in mind to ensure you allot enough time for this dish!
Ingredients
3 Chicken breasts
8 oz Button mushrooms
1-2 Zucchini
⅓ cup Olive oil
½ cup Cider vinegar
¼ cup Light brown sugar packed
2 tablespoon Dijon mustard
4 Garlic cloves pressed or finely minced
½ teaspoon pellet hops powder
Salt & pepper

Directions
Trim chicken breasts, cut into 1″ cubes. Wash mushrooms and zucchini, and slice zucchini into ½" thick slices.
Place prepared chicken and vegetables into a non-metallic bowl or dish (with a lid).
Whisk together all remaining ingredients, aside from salt and pepper. Season with salt and pepper to taste.
Pour over chicken and vegetables, and stir well to coat. Chill for 1 hour.
Thread chicken onto skewers, and vegetables onto separate skewers (they'll have different cook times).
Grill until chicken is cooked through, and vegetables are as cooked as you like them.
Serve hot.
Hoppy Ginger Beer Recipe
Hops aren't just for alcoholic beverages! This tasty homemade ginger beer recipe by The Mountain Rose Herbs is non-alcoholic and so refreshing for those hot summer days! Grab a pint glass and some ice to sip this delicious drink all afternoon.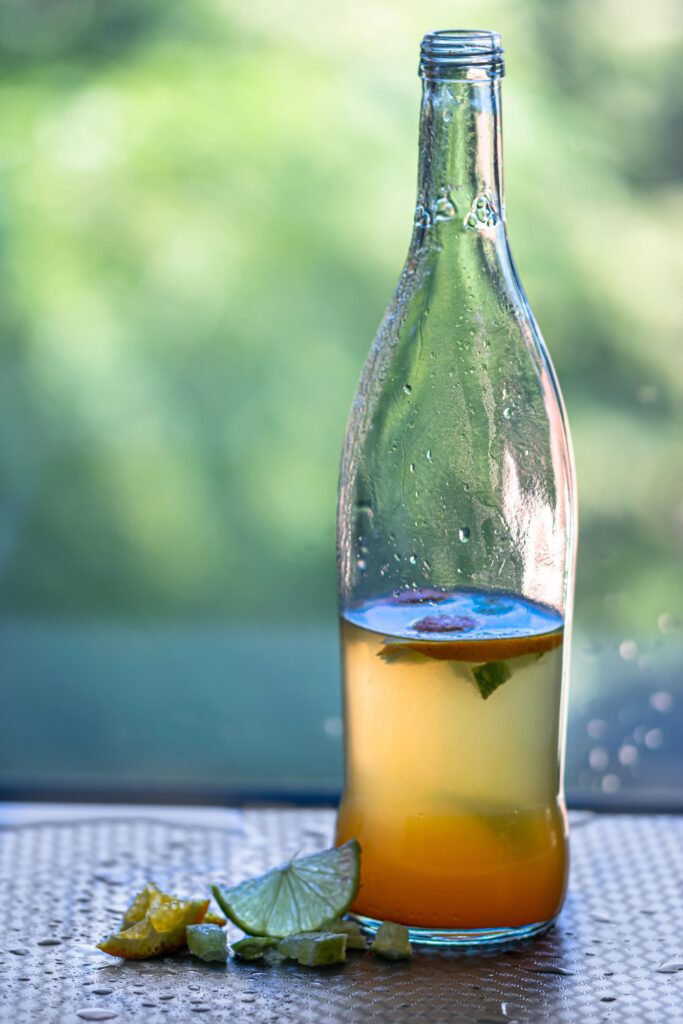 Ingredients
11 oz. warm water
2 oz. fresh organic lemon juice, strained
5 oz. organic hop flower simple syrup
1 oz. fresh organic ginger juice (see pro tips to learn how to make your own)
25 granules dry champagne yeast (yes, count the granules!)
Directions
Pour all ingredients into a 16 oz. bottle. Cap tightly and shake well to mix.
Store in a warm, dark place for exactly 48 hours.
After 48 hours, refrigerate immediately to stop the fermentation process and chill before serving.
Pro Tip: Making fresh ginger juice is easier than you might think. Simply take a large piece of ginger (about 4 inches long), chop it up, and toss it into a blender. Add about a half cup of water to the blender. Blend until it's all broken up. Allow to steep in the liquid for a few minutes. Get a bowl and some cheesecloth. Strain the ginger liquid through the cheesecloth into the bowl. Be sure to keep out all the pulp. Squeeze as much of the liquid out as you can. Extra ginger juice can be stored in the freezer in ice cube trays.
Hops Simple Syrup Recipe
You can easily make Hops Simple Syrup to use in your homemade hoppy ginger beer or to add to another drink for additional flavoring. With only a few cooking essentials needed this is an easy syrup to create and can last up to a month if refrigerated correctly.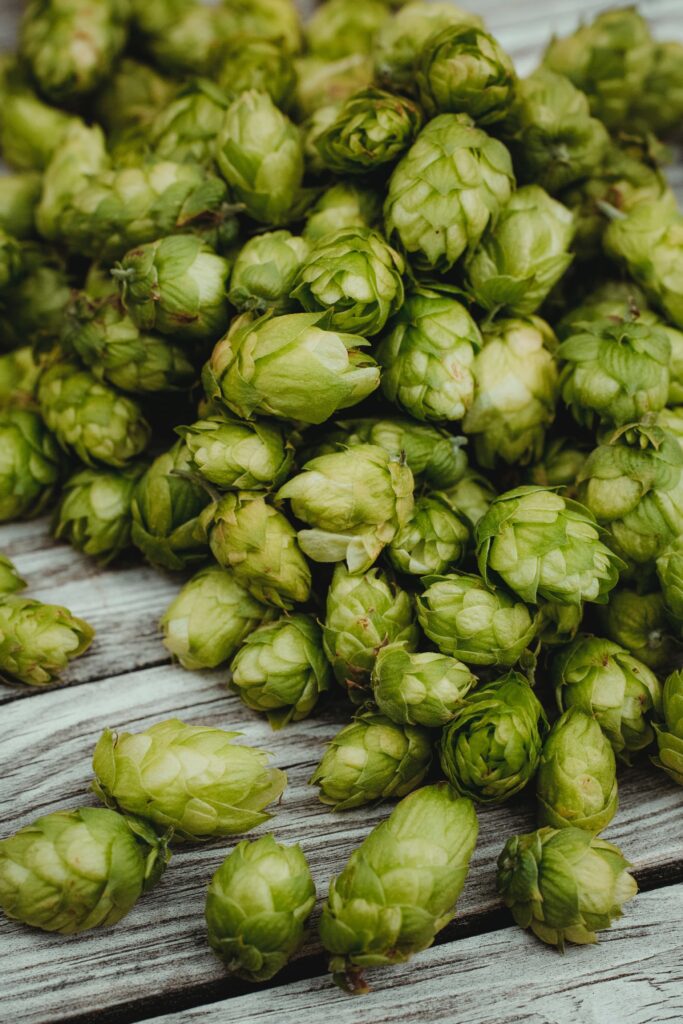 Ingredients
2 cups organic dried hops
2 cups water
1 cup organic sugar
Directions
In a saucepan, stirring constantly, bring hops, water, and sugar to a boil.
Once you reach a boil, remove from heat, but continue stirring for a few seconds.
Allow to cool, strain into a jar, and store in the refrigerator. Be sure to label and date! The simple syrup should be good for about a month in your refrigerator.
Soft Hop Yeast Recipe (Yields: 3 1/2 cups soft yeast)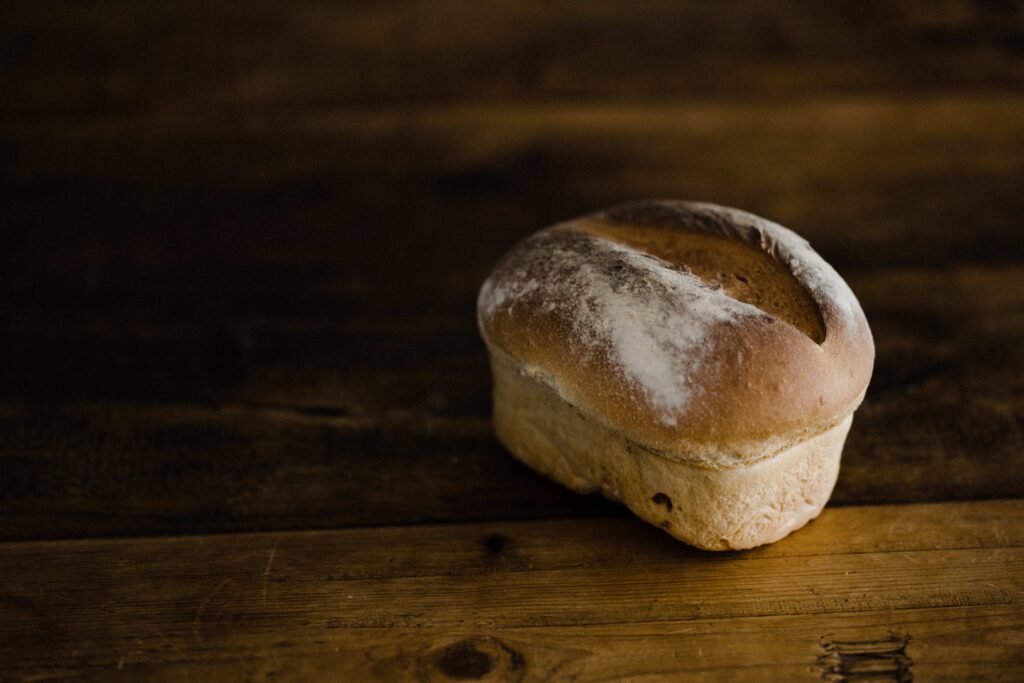 If you are looking for an alternative bread yeast to create a new variation of your bread recipes this recipe by Delishably is great! We have included both her recipe for soft hop yeast and for hop yeast bread. This will allow you to make homemade bread from scratch!
Equipment Needed
3-quart saucepan
1-quart glass jar with lid
Small sieve
Ingredients
1/3 cup dried hops (I use Yakima Chief hops)
6 cups quality water
1 1/4 cups whole wheat flour
1/2 teaspoon sea salt
1/4 teaspoon dry active yeast or 1/3 cup good soft yeast from a previous batch
Directions
Simmer the hops in water for 30 minutes, letting the steam escape, to make a strong tea. The water will boil down to about 3 1/2 cups.
Sterilize the jar and lid in boiling water. I do this by pouring boiling water into the jar and over the lid.
Place the flour and salt in the sterile jar. Strain the boiling tea over the flour. Stir thoroughly. It is important to scald the flour to keep the yeast from souring.
Cover loosely and allow to cool.
When it is cool (not cold) add yeast and stir to incorporate. Cover loosely and keep at room temperature. It will bubble and ferment, producing a quality yeast.
When it has fermented (6 to 12 hours), cover tightly and store in a cool place.
Storage Notes: Keeps for two weeks, properly stored. When the yeast has a strong tart smell and watery appearance, it is too old for use.


Soft Hop Yeast Bread Recipe (2-3 Loaves)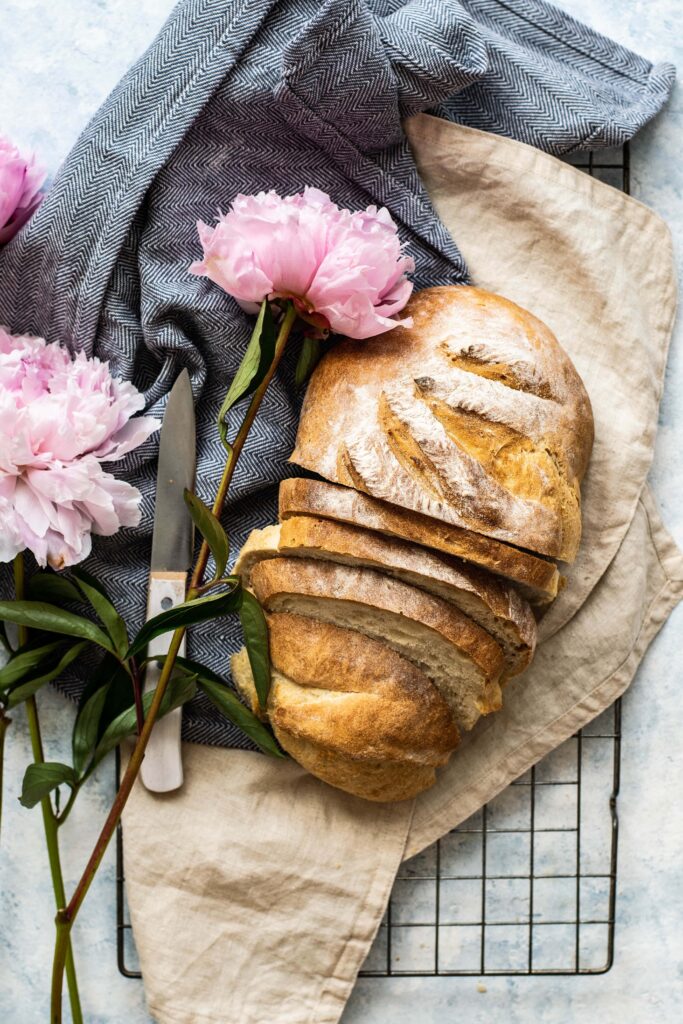 To create this wonderful homemade bread loaf, you will need to use the soft hop yeast recipe by Delishably. Make sure you plan ahead to ensure your yeast has enough time to ferment and don't forget your cooking essentials!
Ingredients
1/4 cup cornmeal
1 teaspoon salt
1 1/2 cups water
2 1/2 cups of milk
10-12 cups flour, divided
3/4 cup soft hop yeast
Optional Glaze
Directions
In a saucepan, combine cornmeal, salt, and water. Bring it to a boil, and then simmer for 10 minutes to form a thin gruel. Transfer to a non-metal mixing bowl.
Stir in the milk. This will cool the mixture.
Add yeast and 4 cups flour (I use whole wheat) to make a thick batter. Mix thoroughly and cover. This is called a sponge.
Let the mixture sit in a warm (room temperature) place for 2 to 12 hours. It can be worked again when the surface appears somewhat watery, though it is best to mix the sponge in the evening and finish making the bread the next morning.
Stir in 4 cups of all-purpose flour to form a stiff dough.
Turn out onto a heavily floured surface, cover with more flour, and knead to incorporate ingredients (10 to 15 minutes).
Leave the dough on the work surface to rest while you clean out and grease the mixing bowl.
Knead the dough for 20 minutes to develop the gluten. Return dough to mixing bowl and cover.
Let rise in a warm area until doubled in bulk. This rising will take 45 minutes to 4 hours, depending on how long the sponge was allowed to develop.
Knead again, divide, and shape into loaves. This recipe will make three 4" x 8" loaves, or two 5" x 9" loaves. It can also be divided and shaped into rolls or hamburger buns.
Place the dough in greased pans, cover, and let rise until doubled in bulk. This rising should take no more than 1 hour.
Mix optional glaze and brush on loaves or rolls.
Bake loaves at 350°F for 50 to 60 minutes, or until the bread comes away from the sides of the pan and sounds hollow when tapped on the bottom. Rolls and buns are baked at 375°F for about 25 minutes.
When the bread has baked, turn it out of the pans onto a wire rack to cool. For a softer crust, cover loaves with a hand towel while they cool.
Note: this dough tends to rise up and not out, so make the base of the loaves or buns the desired size of the final product.
Hoppy Citrus French Macarons Recipe (20 Servings)
We had to finish this list with a sweet recipe from Mary Porter from Celebration Generation to create traditional macarons with a fun twist using hops!
Ingredients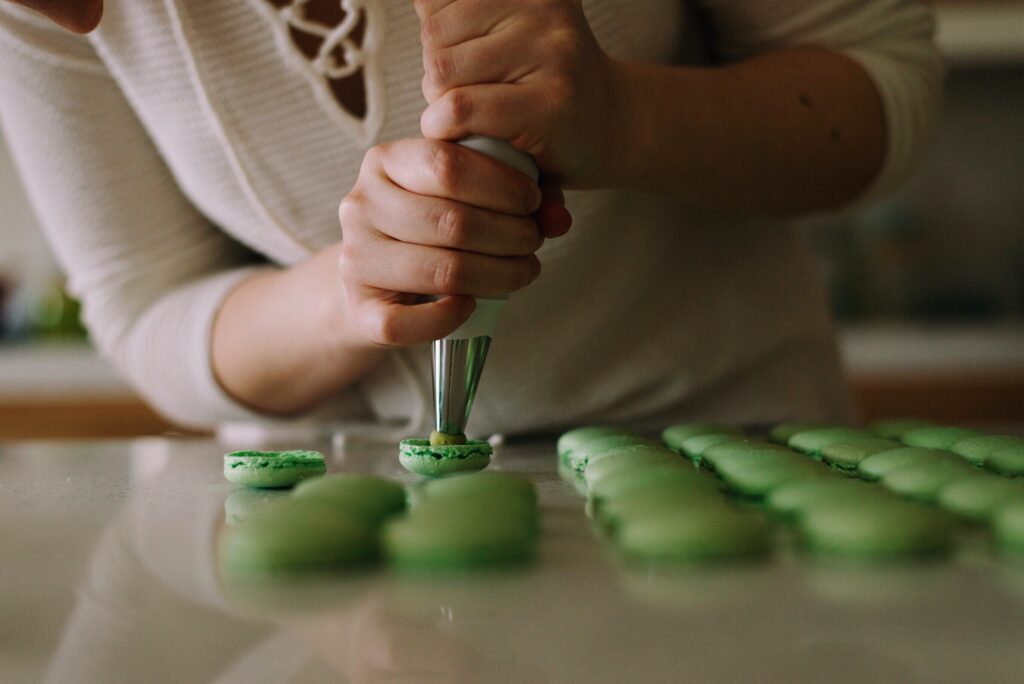 For Meringue Cookies
1 ½ Cups Confectioners / Icing / Powdered Sugar
1 Cup Finely Ground Almonds*
2 tablespoon Finely Ground Hop Leaves** Centennial or Cascade
3 Large Egg Whites
4 tablespoon Granulated Sugar
Green Gel Food Coloring Optional
Orange-Lemon Buttercream Filling
½ Cup Butter Softened
1 tablespoon Orange Zest About 1 Orange Worth
1 teaspoon Lemon Zest About 1 Lemon Worth
1 tablespoon Orange Juice
1-2 Cups powdered sugar
Directions
Preheat your oven to 300 degrees.
Mix together powdered sugar, ground almond meal, and hop powder. Sift through a wire strainer, discarding any large pieces. set aside.
Mix egg whites and sugar in a *very clean* metal mixer bowl. It is very important that not only is the bowl and whisk attachment VERY clean, but that no specks of egg yolk are included with the egg white. The presence of any egg yolk or grease on your bowl or whisk will prevent the egg whites from properly whipping up. This is the only "rule" you really need to be concerned about!
Affix your bowl to the mixer, and whip eggs on high until stiff peaks form. The whites will be pillowy, thick, and marshmallowy. When you remove the whisk from the meringue, it should leave a very definite "peak" – if the tip flips over a little, that's ok. Add a small amount food coloring, if desired, whisk in.
Dump bowl of dry ingredients into the meringue. Use a wooden spoon or spatula to gently stir the mixture until everything is well incorporated and very thick.
Once mixture is fairly uniform, beat it until it's still thick, but oozes a bit. You don't want to beat it until it's fully RUNNY, but you'd like it to settle back into place if you remove some and drop it back into the mix. It's better to under-beat it than to over-beat it.
Spoon macaron batter into a pastry / frosting bag with a ¼″ or so opening – whether a metal tip, or just the end cut off the bag.
Pipe ~ 1.25″ – 1.5″ rounds onto a cookie sheet lined with parchment paper. If the batter isn't running all over the place, there's no real worry about placing them close together – I'll leave an inch or so between the rounds.
Pick up the sheet of piped cookies and rap it against the counter a couple of times to dislodge any air bubbles.
Bake cookies for 13-16 minutes, or until they lift easily from the parchment. (Undercooked macarons will stick). Remove from the oven, cool to room temperature, and prepare the filling.
These top-rated recipes with hops will change up your weekly meal plan and add a new flavor profile to all your favorite dishes! You can check out more easy and fun recipes to try from Duluth Pack's Good Eats blog.
Happy cooking, friends!