Thanksgiving is almost here, and if you have been tasked with making dessert, these pie recipes will be a great success! You can create these pies from scratch or use your favorite store-bought crust and use these recipes for pie fillings! Then, you can serve these top-rated pies for your next holiday gathering and enjoy them with friends and family.
Before you roll up your sleeves and roll out your crusts, ensure you have your Duluth Pack Apron on to protect your clothing! You will also want to set out all your cookware essentials to prep your cook space!
Perfect Apple Pie (8 Servings)
This Apple Pie recipe by Pillsbury is a classic for Thanksgiving! This dessert recipe also uses a store-bought crust, so you can skip that part, knowing your crust will turn out flaky and delicious!
Ingredients
Crust
1 box (14.1 oz) refrigerated Pillsbury™ Pie Crusts (2 Count), softened as directed on box
Filling
6cups thinly sliced, peeled apples (6 medium)
3/4cup sugar
2tablespoons all-purpose flour
3/4teaspoon ground cinnamon
1/4teaspoon salt
1/8teaspoon ground nutmeg
1tablespoon lemon juice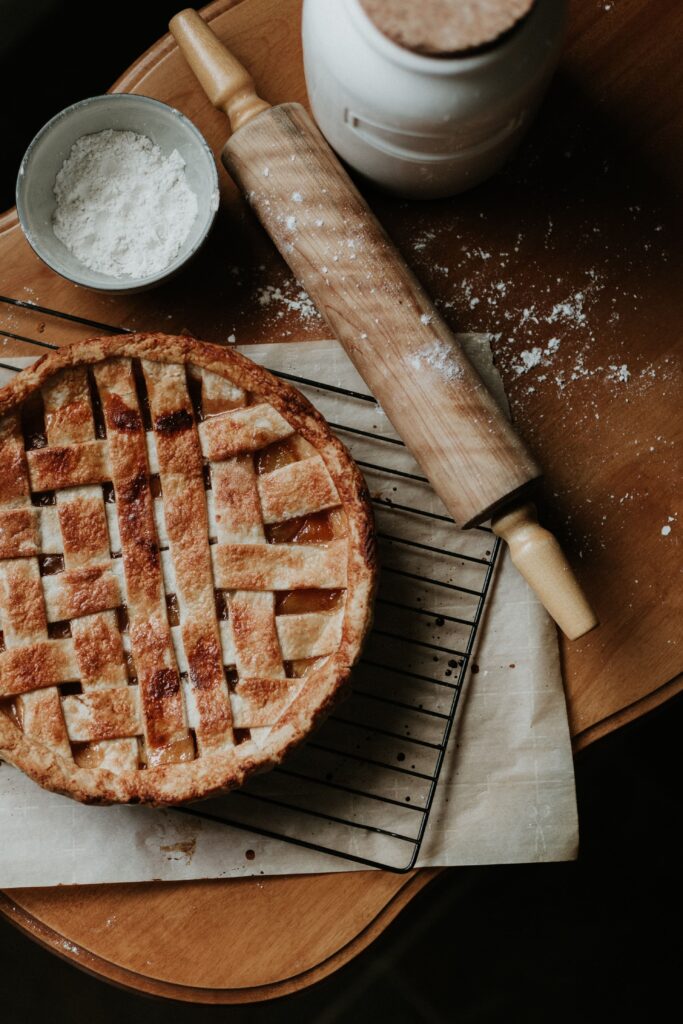 Directions
Heat oven to 425°F. Place 1 pie crust in an ungreased 9-inch glass pie plate. Press firmly against the side and bottom.
In a large bowl, gently mix filling ingredients; spoon into a crust-lined pie plate. Top with a second crust. Wrap excess top crust under bottom crust edge, pressing edges together to seal; flute. Cut slits or shapes in several places in top crust.
Bake 40 to 45 minutes or until the apples are tender and crust is golden brown. Cover edge of crust with 2- to 3-inch wide strips of foil after first 15 to 20 minutes of baking to prevent excessive browning. Cool on the cooling rack at least 2 hours before serving.
Coconut Cream Pie (8 Servings)
This recipe by Food & Wine is a cold dessert pie and requires time to set up. This makes it a great recipe to do the night before you plan to eat it. In total, this pie takes about four hours to complete, including cooling time.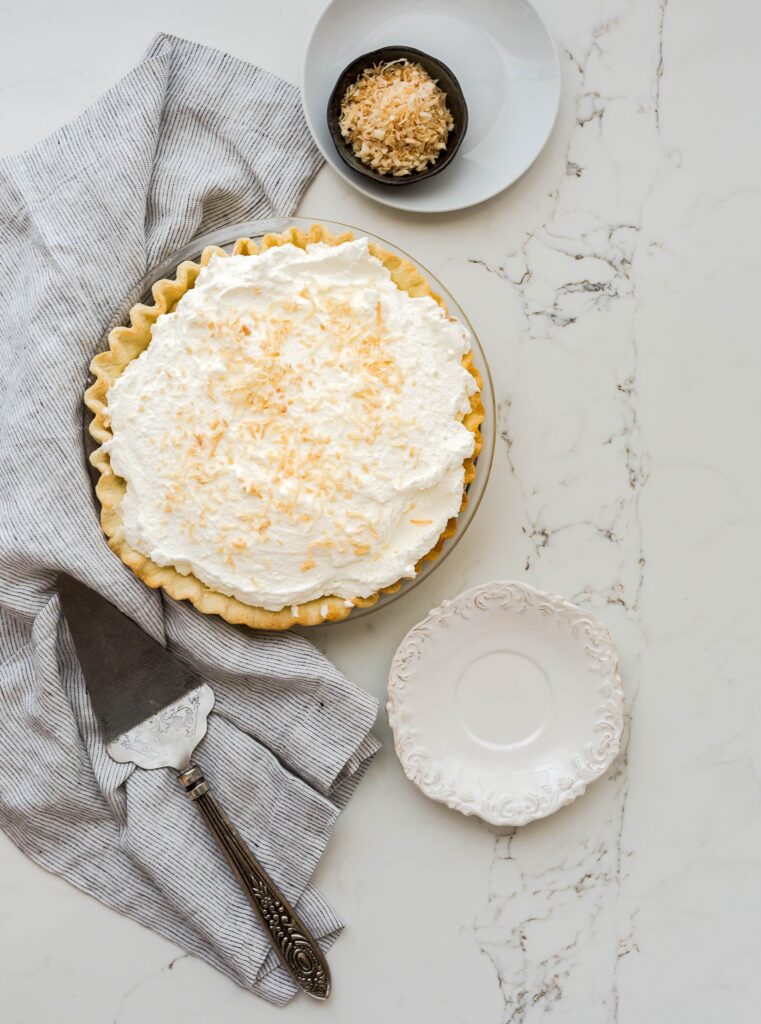 Ingredients
Filling
1 1/2 cups unsweetened coconut milk
1 teaspoon unflavored powdered gelatin
2 cups heavy cream
1/3 cup sugar
1 1/2 tablespoons corn syrup
1/2 teaspoon kosher salt
1 vanilla bean, split, seeds scraped
2 1/2 tablespoons cornstarch mixed with 2 tablespoons water
2 tablespoons unsalted butter
1/4 cup plus 2 tablespoons sweetened cream of coconut, such as Coco Lopez
Crust
3 cups Nilla Wafer cookies, crushed (1 cup packed)
1/2 cup sweetened shredded coconut
1 tablespoon all-purpose flour
1 tablespoon granulated sugar
1/2 teaspoon kosher salt
1 tablespoon turbinado sugar
5 tablespoons unsalted butter, melted
Toasted coconut flakes, for garnish
Directions
Directions For The Filling
In a small bowl, whisk 1/4 cup of the coconut milk with the gelatin. In a medium saucepan, combine the remaining 1 1/4 cups of coconut milk with 1/2 cup of the heavy cream. Add the sugar, corn syrup, 1/4 teaspoon of the salt and the vanilla bean and seeds; bring just to a simmer over moderately high heat. Whisk in the cornstarch mixture and bring to a boil, then simmer, constantly whisking, until thickened, about 3 minutes. Remove from the heat and whisk in the gelatin mixture until dissolved, then whisk in the butter and 1/4 cup of the cream of coconut. Strain the filling through a fine sieve into a heatproof bowl; discard the vanilla bean. Press a sheet of plastic wrap directly on the surface of the filling and let cool, then refrigerate until well chilled, about 1 hour.
Meanwhile, Make The Crust
Preheat the oven to 325°. In a food processor, pulse the cookies with all the remaining ingredients except the toasted coconut. Transfer the crumbs to a 9-inch metal pie plate. Press the crumbs evenly over the bottom and up the side of the pie plate, forming a 1/4-inch edge over the rim of the plate. Bake the crust for 10 to 12 minutes, rotating halfway through baking, until dry and lightly browned. Let cool.
In a large bowl, using an electric mixer, beat the remaining 1 1/2 cups of heavy cream, 2 tablespoons of cream of coconut, and 1/4 teaspoon of salt until firm. Fold one-third of the whipped cream into the filling until no streaks remain. Spread the filling in the crust. Mound the whipped cream on top and refrigerate the pie for at least 2 hours. Garnish with toasted coconut before serving.
Pecan Pie (8 Servings)
Grab your mixing bowls and get ready to create something delicious with this recipe by Simply Recipes. This dessert takes around 90 minutes from start to finish, so you can make and bake it the day of. This recipe is only for Pecan Pie filling, and you can create your pie crust from scratch or create a store-bought crust.
Note
For this recipe, you'll make the pie dough, roll it out, place it in the pie tin, trim the edges, then freeze it. Freezing the crust helps keep it from slipping as the pie bakes—no need to pre-bake the pie crust before adding the filling.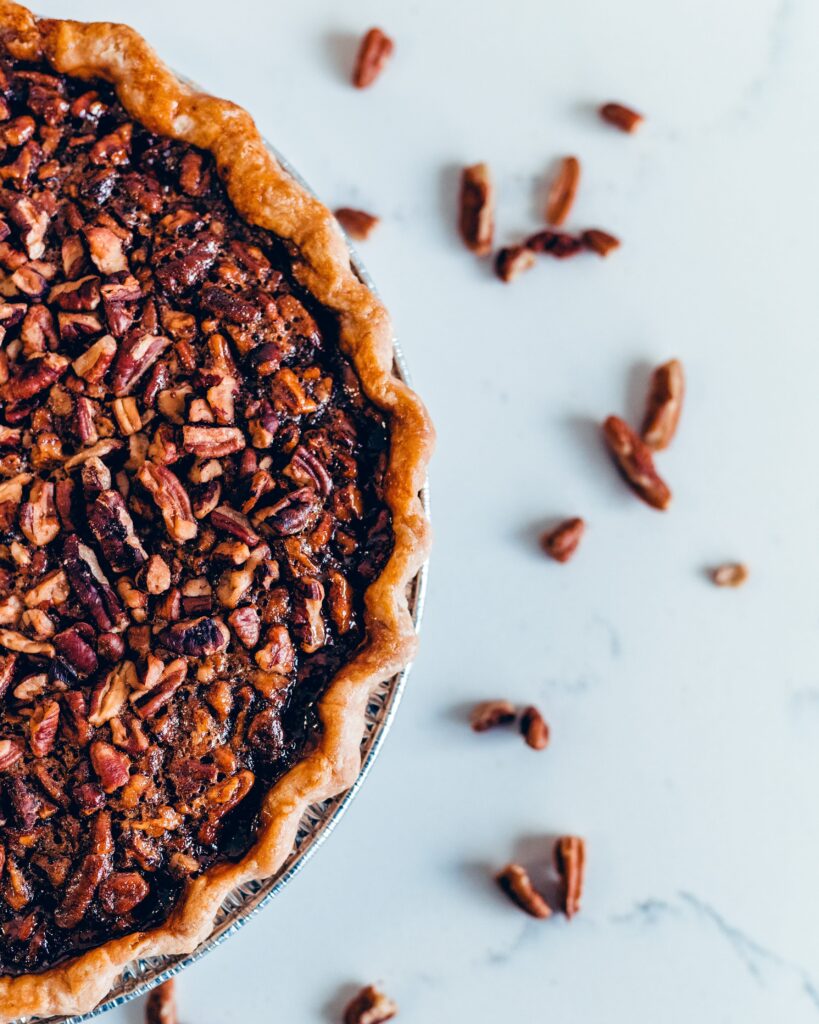 Ingredients
1 unbaked 9-inch pie crust, frozen for at least 30 minutes (see recipe note)
2 cups (210g) pecans, coarsely chopped (save a few whole pecan halves to create a decoration on the surface of the pie, if you want)
3 large eggs, slightly beaten
1 cup light corn syrup
1/2 cup brown sugar
1 tablespoon molasses (unsulfured)
4 tablespoons unsalted butter, melted
1/2 teaspoon salt
2 teaspoons vanilla extract
Directions
1. Preheat the oven and position a rack in the center.
2. Preheat oven to 350°F. In a medium bowl, vigorously mix together the eggs, brown sugar, corn syrup, molasses, melted butter, vanilla, and salt, until smooth. (No need for a mixer, you can beat by hand using a wooden spoon.)
3. Spread the chopped pecans over the bottom of a frozen pie shell. Pour the filling over the pecans. Don't worry about burying the pecans; they will rise to the surface. (If you have reserved a few whole pecan halves, you can arrange them on the surface in a decorative pattern. Just dip them below the wet filling and let them rise again, so they get coated with the filling.)
4. Bake at 350°F for 30 minutes. After 30 minutes, tent the pie loosely with aluminum foil to prevent the crust and pecans from getting too browned. Bake for another 35 to 45 minutes until the filling has set. The pie should be a bit wiggly in the center.
5. Note that the pie will be puffed up a bit when you first take it out of the oven. It will settle as it cools.
Triple Berry Pie (12 Servings)
You can use either fresh or frozen blueberries, raspberries, and blackberries for this recipe by Lauren Allen with Tastes Better From Scratch. This Triple Berry Pie includes a lattice pattern to add an extra flair to your dessert and show off your baking talents!
You will want to grab your plate and dig into this delicious dessert ASAP!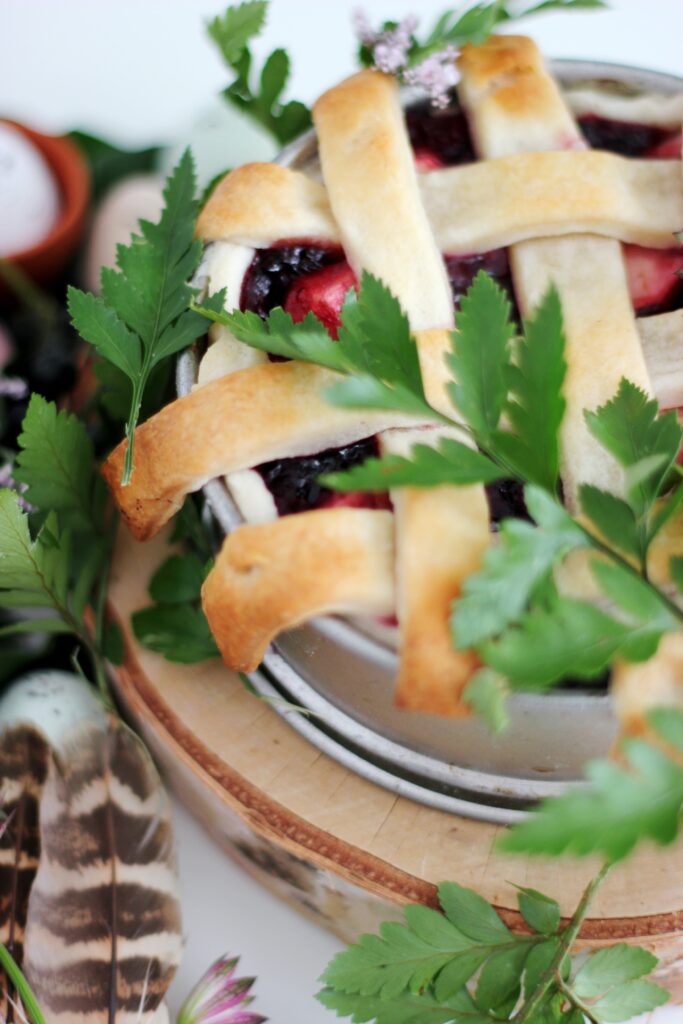 Ingredients
homemade pie crust for a 9" deep dish pan. This recipe makes 2 crusts: one for the bottom and one for the top
7 cups fresh or frozen raspberries, blueberries, and blackberries about 2 ⅓ cups of each type of berry*
1 cup granulated sugar (plus a little extra to sprinkle on top of the pie)
1 Tablespoon lemon juice
4 Tablespoons cornstarch
2 Tablespoons butter
1 large egg white beaten with a fork
Directions
Cook berries: Add berries, sugar and lemon juice to a large saucepan over medium heat. 
Simmer, gently stirring occasionally until warm and juicy, about 5-10 minutes. (You can taste it at this point and see if it's sweet enough for your liking. I don't like to make mine too sweet, but if you want it sweeter, you can add ¼ cup more sugar.)
Thicken filling: Spoon out about ½ cup of the juice from the pan into a bowl. Stir cornstarch into the juice until smooth. 
Bring pot of berries back to a simmer and slowly pour in the cornstarch. Gently stir mixture (being careful not to mash the berries), until thickened, about 2-5 minutes.
Cool and add to pie shell. Remove from heat and stir in the butter. Allow to cool for 15 minutes. Pour mixture into unbaked pie shell (in a 9 in deep dish pan).
Add lattice top or a whole top with holes pricked on top for steam to escape. (See directions for lattice crust below).
Pinch the edges of the top and bottom pie crusts together and crimp the edge, if you like. Brush a thin layer of beaten egg white over the top of the pie and sprinkle lightly with sugar. 
Bake at 400 degrees F for 40-45 minutes. Check it after about 25 minutes and place a piece of tinfoil over it if the top crust is getting too brown. 
Remove to a wire cooling rack and allow to cool for several hours. Once cooled completely, you can cut into it or cover it and refrigerate it overnight to serve the next day.
For the lattice crust
Roll out the crust. Roll out your crust on a lightly floured counter or on a piece of parchment paper. (I like to place a piece of parchment paper on top of a damp kitchen towel to keep it from moving around). Roll the pie crust into a large circle that's about 1-2 inches larger than the top edge of your pie dish.
Cut strips. Use a pizza cutter to strips. Cut them as wide as you'd like them to be (there's really no right or wrong way).  
Lay first layer of strips. Lay your longest strip across the middle of the pie then lay a few shorter strips on either side, parallel to each other and spaced evenly.  
Fold pack even numbered strips. Fold back the second and 4th strip and lay a shorter strip of dough perpendicular to other dough strips. Unfold those dough strips over the new strip.
Fold back odd numbered strips: Fold back the first, third, and fifth strips in the same direction and lay another dough strip across the pie. Unfold the first, third, and fifth strips over the new strip.
Repeat steps 4 and 5 until the pie is covered with a lattice crust.
Trim dough strips. If your dough strips hang over the edge of the pie, trim them to the edge.
Pinch crusts together. Pinch the lattice top with the bottom crust to form one unified outer edge. Crimp edges. 
Notes
To make ahead: This pie can be prepared completely one day ahead of time. You can also prepare the filling up to 3 months ahead of time and store it in the freezer. Then, the day before you make the pie, you can thaw it overnight in the refrigerator before pouring it into the unbaked pie crust.
To freeze: You can freeze the baked pie for up to 3 months. Then, thaw overnight in the refrigerator and allow to come to room temperature before serving.
The Great Pumpkin Pie Recipe (8-10 Servings)
This recipe is by Sally's Baking Addiction. This pie recipe works best with canned pumpkin pie filling; if you choose to garnish your pie with sugared cranberries, you should use fresh cranberries.
Pair this delicious dessert with a tasty, fall-inspired cocktail!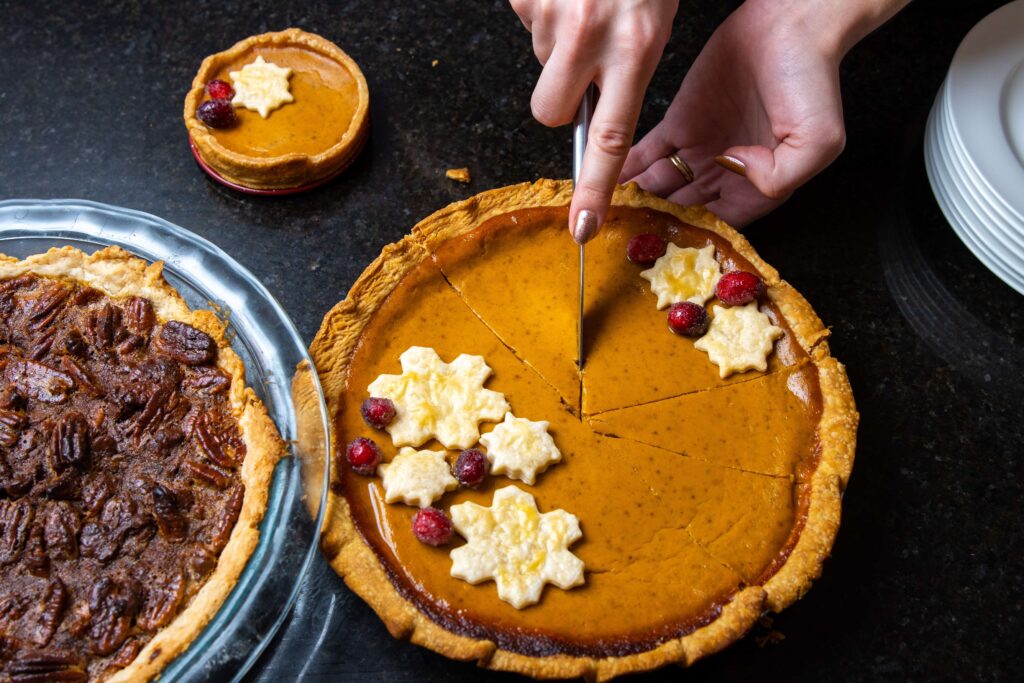 Ingredients
Pumpkin Pie
Homemade Pie Dough (full recipe makes 2 crusts: 1 for bottom, 1 for leaf decor)
egg wash: 1 large egg beaten with 1 Tablespoon milk
one 15oz can (about 2 cups; 450g) of pumpkin puree*
3 large eggs
1 and 1/4 cups (250g) packed light or dark brown sugar
1 Tablespoon (8g) cornstarch
1/2 teaspoon salt
1 and 1/2 teaspoons ground cinnamon
1/2 teaspoon ground ginger*
1/4 teaspoon ground or freshly grated nutmeg*
1/8 teaspoon ground cloves*
1/8 teaspoon fresh ground black pepper
1 cup (240ml) heavy cream
1/4 cup (60ml) milk (I use 1% – any is fine)
*You can replace these spices with 1 teaspoon of pumpkin pie spice. Be sure to add 1 and 1/2 teaspoons of cinnamon still.
Optional Décor: Sugared Cranberries
1 cup (120g) fresh cranberries*
2 cups (400g) granulated sugar, divided
1 cup (240ml) water
Directions
If garnishing with sugared cranberries, make those first: Place cranberries in a large bowl; set aside. In a medium saucepan, bring 1 cup of sugar and the water to a boil and whisk until the sugar has dissolved. Remove pan from the heat and allow to cool for 5 minutes. Pour sugar syrup over the cranberries and stir. Let the cranberries sit at room temperature or in the refrigerator for 6 hours or overnight (ideal). You'll notice the sugar syrup is quite thick after this amount of time. Drain the cranberries from the syrup and pour 1 cup of sugar on top. Toss the cranberries, coating them all the way around. Pour the sugared cranberries on a parchment paper or silicone baking mat-lined baking sheet and let them dry for at least 2 hours at room temperature or in the refrigerator. You'll have extra, but they're great for eating or as a garnish on other dishes. Cover tightly and store in the refrigerator for up to 3 days.
Make the pie crust through step 5 according to my directions and video tutorial in this pie crust recipe. Or use your favorite pie dough or store-bought.
Preheat oven to 375°F (190°C).
Roll out the chilled pie crust: Remove 1 disc of pie dough from the refrigerator. On a lightly floured work surface, roll the dough out into a 12-inch circle. Make sure to turn the dough about a quarter turn after every few rolls. Carefully place the dough into a 9-inch deep dish pie dish. Tuck it in with your fingers, making sure it's tightly pressed into the pie dish. Fold any dough overhang back into the dish to form a thick rim around the edges. Crimp the edges with a fork or flute the edges with your fingers. Brush edges lightly with egg wash mixture.
Par-bake the crust: Line the pie crust with parchment paper. Crunching up the parchment paper is helpful so that you can easily shape it into the crust. Fill with pie weights or dried beans. (Note that you will need at least 2 standard sets of pie weights to fit.) Make sure the weights/beans are evenly distributed around the pie dish. Par-bake the crust for 10 minutes. Carefully remove the parchment paper/pie weights. Prick the bottom of the crust all over with a fork to create steam vents, and return crust (without weights) to the oven for 7-8 more minutes or until the bottom is *just* starting to brown. (Review this how-to par-bake pie crust page if you need extra help with this par-baking step.)
Make the pumpkin pie filling: Whisk the pumpkin, 3 eggs, and brown sugar together until combined. Add the cornstarch, salt, cinnamon, ginger, nutmeg, cloves, pepper, heavy cream, and milk. Vigorously whisk until everything is combined.
Pour pumpkin pie filling into the warm crust. Only fill the crust about 3/4 of the way up. (If using a deep dish pie dish as instructed, you should only have a little filling left over. Use extra to make mini pies with leftover pie dough scraps if you'd like.) Bake the pie until the center is almost set, about 55-60 minutes, give or take. A small part of the center will be wobbly – that's ok. After 25 minutes of baking, be sure to cover the edges of the crust with aluminum foil or use a pie crust shield to prevent the edges from getting too brown. Check for doneness at minute 50, and then 55, and then 60, etc.
Once done, transfer the pie to a wire rack and allow it to cool completely for at least 3 hours before garnishing and serving.
Decorate with sugared cranberries and pie crust leaves (see note). You'll definitely have leftover cranberries – they're tasty for snacking. Serve pie with whipped cream if desired.
Cover leftovers tightly and store them in the refrigerator for up to 5 days.
As you prepare for your next family get-together, consider bringing one or more of these delicious desserts! You can even grab your apron and a loved one to create one together! With various pie choices, you are sure to find one everyone will love. If you enjoyed these recipes and want to try more great dessert recipes, you can find them in the Good Eats section of the Pack Report Blog.
Happy baking, friends!